A good drone does not always have to be expensive as there are many budget models out there that will still give you the same experience or at least something close to what you get from the pricey top tier models. These inexpensive drones are ideal for both photography and fun flying and can work for kids and adults.
Like with any other drone type, you need to make sure that what you choose is comfortable to fly and well-built to ensure it can take the abuse that comes with flying and serve you well for a long time. Long battery life and other functionalities like altitude hold and headless modes are also great to get. Here we look at some fantastic budget drone models that make a good buy for anyone.
List of the Best Drone Under 300 in 2021
1. Ruko F11Pro Drones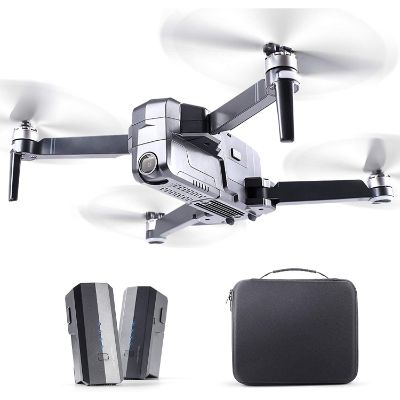 Buy now from Amazon
The Ruko F11Pro Drones takes our top overall spot as it is a fantastic quality drone with a lot to offer, and any adult will enjoy flying it. Key among its impressive traits is the 4K ultra HD camera that allows you to record and transmit live videos to distances up to 500 meters. The drone has a large capacity 2,500 mAh battery that provides up to 30 minutes flying time and charges in 3.5 hours.
Many other functionalities like auto-return, one-key takeoff and landing, headless mode, and tap fly will make flying more manageable and fun. Better still, the drone uses GPS to hover stably to ensure you always get top quality shots and comes in a lightweight storage case that is very handy for storing and carrying it.
Features
4K camera
2,500 mAh battery
30-minute flying time
300 to 500 meters of video transmission
Headless mode
One-key takeoff and landing
Pros
High-quality camera
Long video transmission range
High capacity battery
Longer flying time
Takes off and lands easily
Easy to fly in any direction
Lightweight carry case
Cons
Controls could be better
The app needs some improvement
2. SIMREX X900 Foldable Drone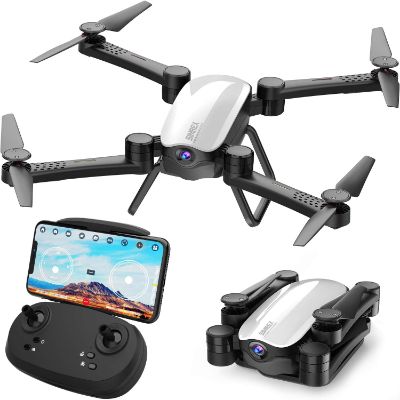 Buy now from Amazon
With the conveniently foldable design of the Simrex X900, you can be sure it will be an easy model to pack and carry almost anywhere. The drone folds into a compact size to ensure you can take it in even the smallest bags. Besides folding, the drone also has a high-quality camera that provides 1080P full HD videos and transmits them in real-time.
Other things that make this drone fantastic are altitude hold that allows the drone to maintain specific height for easy flying. Better still, it has a headless mode to ensure you can fly it in any direction even without seeing it and takes off or lands with just one-key.
Features
Altitude hold
Full HD 1080P video recording
Headless security mode
One-key takeoff/landing
Real-time video recording
Foldable design
Pros
Convenient foldable design
Decent quality videos
Easy to fly even when it is out of sight
Maintains altitude well
Takes off and lands easily
Cons
Limited control distance
Shorter fly time
3. Ruko GPS Drones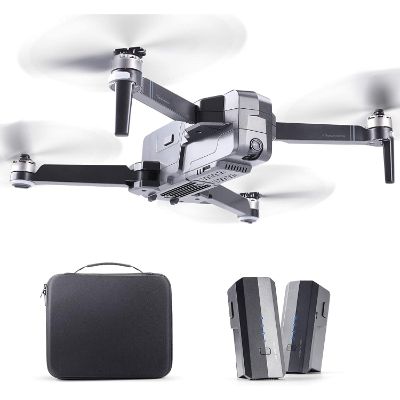 Buy now from Amazon
Ruko is an industry leader when it comes to drones, and so if you prefer to buy something from a top brand, you can trust that this model should be perfect for you. It is a great all-round drone that offers up to 60 minutes of flying time and many other unique functionalities.
The drone uses a powerful brushless motor that guarantees a long service life and a top performance. Also, it has a Follow Me mode that allows you to capture some impressive images, an auto-return function, and GPS to ensure you never lose it when flying, and a nice carry case for transport and storage.
Features
Last position GPS recording
Follow Me mode
Powerful brushless motor
60-minute fly time
Auto return function
Carry case included
Pros
Runs on a robust and reliable motor
Quick and easy to locate
Can return home automatically
Folds into a compact size
Easy to carry with provided case
Cons
Relatively smaller camera
4. SNAPTAIN SP510 GPS FPV Drone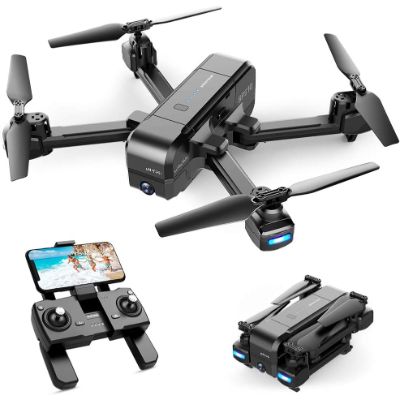 Buy now from Amazon
Snaptain is another top drone manufacturer you can always trust to have the perfect drone for you regardless of your preferences. This particular model is made to be easy to learn, which means it will be ideal for beginners. It has a UHD live video recording that ensures it never misses anything and includes Follow Me to capture some lovely images.
With the smart GPS positioning, you can be sure of always knowing the drone's location, while the auto-return function ensures you never lose it out there. Also, it takes off and lands in just one key and includes 3-speed modes to ensure you can quickly adjust the speed to suit your flying conditions.
Features
UHD live video recording
Follow Me mode
Smart GPS positioning
Auto Return
One-key takeoff/landing
3-speed modes
Pros
Easy to learn
Records some high-quality video
Easy to tell the last position
Returns back automatically
Follows you and takes fantastic photos
Speed can be adjusted
Cons
Does not fly well in high winds
Some app functions can be confusing
5. Potensic D58 FPV Drone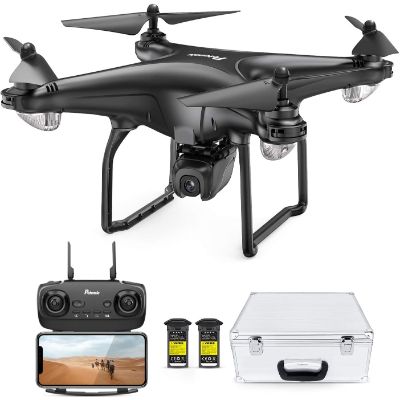 Buy now from Amazon
While it might not be the fanciest drone out there, the Potensic D58 still has everything that many users are always looking for in a drone. To start with, it uses a 5G WiFi video that makes recording video a breeze for you. What's more, it has a Follow Me function to ensure it can follow you and snap some fantastic images.
You never have to worry about losing the drone when out there because, besides the GPS positioning that lets you know its location, it has an automatic return function. The drone has orbit mode for taking some panoramic images and comes with a portable carry case.
Features
5G WiFi video recording
GPS auto return
Follow Me
Portable case
Orbit mode
90-degree adjustable lens
Pros
High-quality video recording
Returns home automatically
Can follow you and take pictures
Easy to carry around
Simple flying even for beginners
Cons
Not the best camera quality
Does not have motor strength for flying in strong winds
6. Contixo F18 FPV RC Drone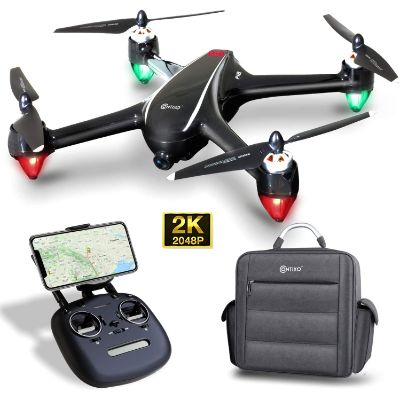 Buy now from Amazon
With the powerful brushless motor on this drone, you can be sure that it not only flies well under different conditions but also that it will hold up well for long service life. This drone also provides multiple flying modes as it includes various functions like headless mode, orbit mode, and the handy Follow Me.
Flying is made easier because it is GPS-assisted, and you never have to worry about losing the drone is it is out of sight, or the battery dies out as it has an auto-return function that ensures this never happens. Better still, you can fly it in any direction with ease, and it takes off and land quite easily with one key.
Features
Brushless motor
Point of interest
Auto return
GPS-assisted flight
Follow Me and orbit modes
Headless mode
Pros
Takes off and lands in one key
Powerful and long-life motor
Excellent flight with GPS assistance
Returns to the point of origin
Multiple flight modes
Nice carry case
Cons
Records only in 2K
The battery does not last very long
7. Potensic Drone with 4K Camera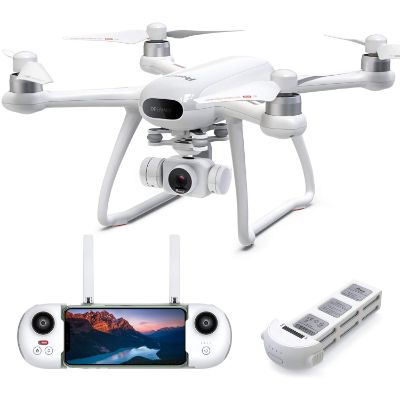 Buy now from Amazon
Any drone with a 4K camera like this always ensures you get some top quality images and videos. Besides excellent camera quality, this model still has a lot more to offer, such as a more robust and long-lasting brushless motor that ensures you get a longer service life and good flight even in windy conditions.
An auto-return function ensures you never have to worry about losing the drone when flying in bushy or heavily forested areas. It can also hold altitude well to make flying more effortless for you, and the drone also comes with an intuitive flying app and fast charging capability to minimize downtimes.
Features
4K camera
Brushless motor
Auto return function
Altitude hold
Intuitive flying app
2-hour fast charging
Pros
High-quality and clear enough camera
More powerful motor
Always returns to the point of origin
Holds altitude well
Longer control range
More stable flyting
Cons
The camera has stability issues
Instructions are not very detailed
8. Ruko U11 GPS Drone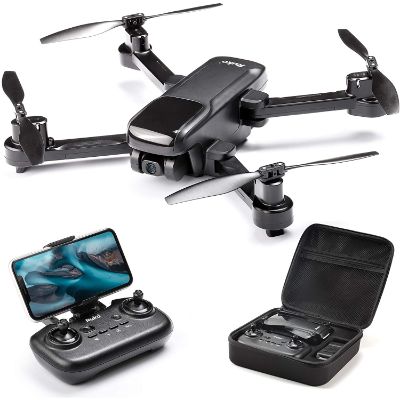 Buy now from Amazon
The sleek appearance of this Ruko drone is the first element that draws many potential buyers to it, and it is the kind that you will want to fly more often to enjoy its appearance. Besides the sleek look, the drone also offers an auto-return home function to ensure you never lose it, and it can fly for up to 20 minutes, which is quite a decent flight time.
The 4K UHD camera ensures you get some impressive images and videos, and with the Follow Me function, capturing them should be more effortless. Taking off and landing are quick and easy as there is only one key to push, and with the rechargeable controller, this drone eliminates the need to keep buying batteries.
Features
Auto return home
90-degree adjustable camera
20-minute flying time
4K ultra-HD camera
One-key takeoff and landing
Rechargeable controller
Pros
Easy to use even for beginners
Simple storage and carry
Return to the starting point
High-quality video
Takes off easily
Cons
9. Tomzon D65 GPS Drone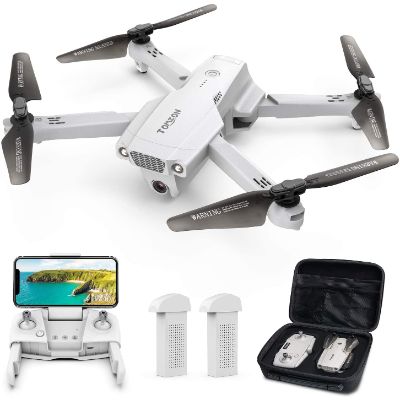 Buy now from Amazon
With a great all-round drone like the Tomzon D65, you can be sure of enjoying your flying time. The drone is made with beginners in mind as it is more effortless to figure out and fly. It has all the excellent functionalities you can expect from these budget drones, including the smart, fun flight that makes use of Follow Me, point of interest, and tap fly to make the experience more enjoyable.
The drone has a 4K UHD camera that provides high-quality images and a transmission range of up to 984 feet. Better still, like most others, it has an auto-return home function to ensure it always comes back to you. And flying is made easier by the GPS assists function and optical flow positioning.
Features
984-foot image transmission
4K UHD camera
Auto return home
Tap and circle fly
GPS assist flight
Optical flow positioning
Pros
Comes with a nice carry case
Decent image transmission range
High-quality camera
Always returns home
Long enough flying time
More beginner-friendly
Cons
Drifts in windy conditions
Needs better instructions
10. Droneeye 4DRC F4 GPS Drone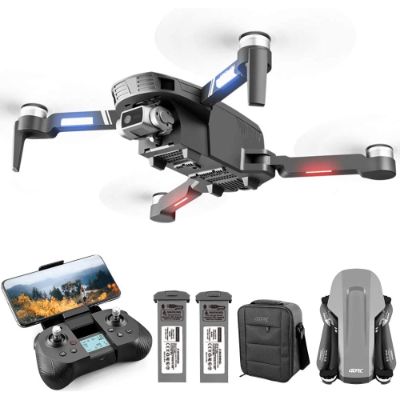 Buy now from Amazon
You can be sure that you will love this Droneeye even before you start using it as its appearance alone is quite confidence-boosting. When it comes to the actual use and functionality, the drone begins with a 4K FHD camera that makes it the best choice for those into photography as it provides some fantastic videos and images.
This top-notch drone is made for long service life and stable flying in any condition as it makes use of a well-built and powerful brushless motor. Also, it provides a long flying time of up to 60 minutes thanks to powerful batteries. With the follow Me mode, it captures some excellent selfies and is GPS assisted for easy flying and with lovely LED lights.
Features
4K FHD camera
Brushless motor
GPS return home
Follow Me mode
GPS assisted
LED lights
Pros
Powerful and long-lasting motor
Great quality camera
Longer flying time
Always comes back to you
Captures some amazing selfies
More stable hovering
Cons
Camera tilt function is not always responsive
The app should be more intuitive
Conclusion
For the drone enthusiasts looking for a good drone that offers fantastic features but does not cost much, you can be sure there is something for you on our list above, and all you need to do is pick what impresses you most.
With that said, the Ruko F11Pro Drones takes our op overall spot, while the SIMREX X900 Foldable Drone comes a close second and is also an ideal choice for those looking for something foldable.