If you are a serious drone pilot, sometimes you might need to spend a small fortune to get that perfect drone for your excursions. However, there are also some fantastic mid-range drones out there that do not cost as much, and with little to no customization, the drone can still deliver the same level of performance you get from the top tier models.
However, to make sure the mid-range drone you choose gives you excellent service, you need to choose your model wisely. While this often means shopping for many hours or even days comparing various options from different brands, here we help make it easier to narrow down your choices with a review of some top-rated models.
List of the Best Drone Under 1000 in 2021 on Amazon.com
1. DJI Mavic Air 2 Drone Quadcopter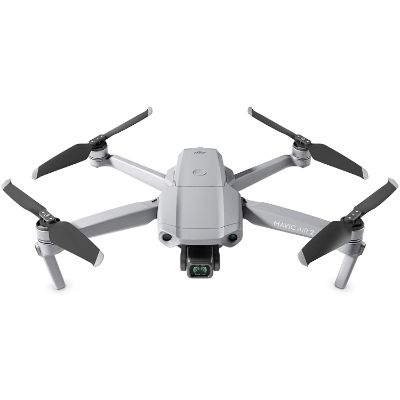 Buy now from Amazon
The top-notch camera that ensures you get impressive videos and images is what makes this drone such a fantastic model and why it is our best overall option. The drone allows for 4K videos recording, and you can be sure of getting the best image quality in any condition. Better yet, it has intelligent shooting modes for even better image quality.
The drone has a 34-minute flight time to ensure you get more than enough playtime, and it also does not take a long time to recharge, minimizing the downtimes. Other things like the 3-direction obstacle sensing that makes the drone easy to fly for beginners and intelligent camera tracking make this an even better option.
Features
48MP camera
4K video recording
Intelligent shooting modes
34-minute flight time
3-direction obstacle sensing
Intelligent camera tracking
Pros
Delivers superior quality images and videos
Improved flight time
Easy to fly for beginners
Wide App compatibility
Low noise propellers
Effective over-charging protection
Cons
The easy shot does not allow for 4K
App crashes a lot
2. DJI Mavic Mini Drone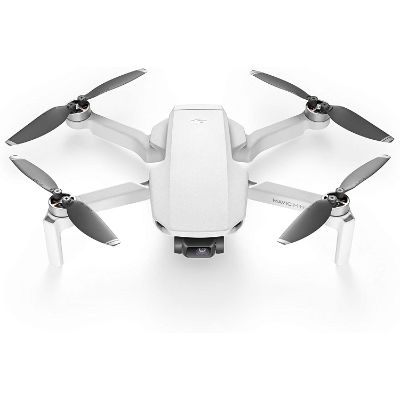 Buy now from Amazon
This DJI Mavic Mini drone is for those looking for something more lightweight and compact they can easily pack and carry for flying in different locations. The drone is also made to take some fantastic photos with a decent 2.7K camera and 3-axis motorized gimbal that ensures the camera is as stable as possible.
Controlling the drone is easy as it has App control with a sleek display to ensure intuitive operation. The app is also compatible with Android and iOS to ensure you can use it on almost any phone. And with the fast-charging base, there will be minimal downtimes as the battery recharges in just a few minutes.
Features
30-minute fly time
3-axis motorized gimbal
iOS and Android OS compatible
Sleek display
Fast-charging base
Pros
Compact but powerful
Ultra-smooth footage
Decent flying time
Highly stable camera
The app works with most operating systems
Cons
Buggy software
No collision detection sensors
3. Potensic T18 GPS Drone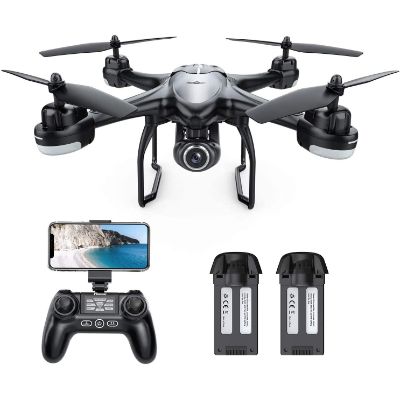 Buy now from Amazon
With a good all-round drone like this one by Potensic, you can be sure that it will not only fly well but also provides a fantastic video and photo-taking experience. This drone records videos in 1080P and transmits them live to ensure you will not miss a thing. And with the dual GPS return home, it always comes back to the starting point.
The wide-view camera is an excellent addition to the drone as it ensures you can capture a wide area. And this model also offers all-round function with altitude hold, headless mode, and one-key takeoff and landing.
Features
1080P live video recording
Dual GPS return home
Wide-angle camera
Altitude hold
All-round functions
Pros
Always returns to the takeoff point
Decent quality videos
Long-range control
Simple landing and takeoff
Follows and captures you automatically
Cons
Shorter flight time
The app does not work well on some latest Android versions
4. Contixo F18 FPV RC Drone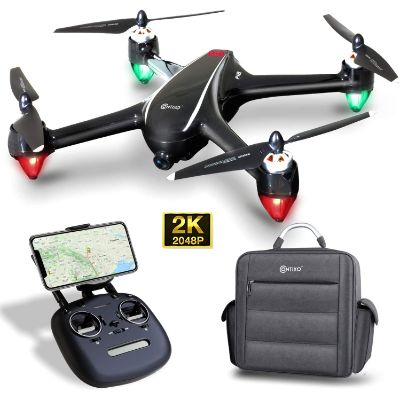 Buy now from Amazon
You will not need to buy a new drone for a long time to come with this one because besides being almost future-proof, the drone is built to last thanks to the long-lasting brushless motor. The motor also makes it more powerful to ensure comfortable flight even in adverse weather.
This feature-rich drone also has an auto-return function to ensure it always comes back to you in case of a low battery or after finishing the job. When using it, you are sure of a more stable connection as it uses 5G WiFi. Better still, the drone has the Follow Me mode to ensure it can follow you and capture images automatically.
Features
Brushless motor
Auto-return function
Point of interest
5G WiFi connectivity
Follow Me
GPS-assisted flights
Pros
Powerful and long-lasting motor
Beginner-friendly design
Safer flights
Stable and fast connectivity
Nice and sturdy carry case
Cons
Assembly can be a little hectic
Longer charging time
5. Potensic D80 RC Drone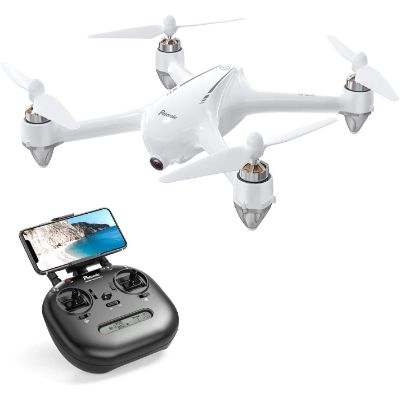 Buy now from Amazon
Whether it is the strong brushless motor or more solid overall construction, you can be sure this drone will give you exceptional service for a long time to come. Besides the durable build, the drone also has a more stable connection with 5.0 GHz WiFi and provides an operating range of up to an impressive 1,000 meters.
Like many other top brand models, it has an auto-return function to ensure you never lose it as it always comes back. Taking pictures should be more comfortable as you can set it to follow you and snap your images automatically. Better still, it has relatively higher flying speeds as it can go up to 25 miles per hour.
Features
Strong brushless motor
5.0 GHz WiFi
GPS auto return
Follow Me
25 MPH flying speed
Up to 1,000 meters control range
Pros
High-speed WiFi connectivity
Provides a higher flight speed
Always returns home
Never misses a moment
Long-lasting battery
Longer control range
Cons
Setup can be complicated and confusing
Battery takes long to charge
Hard to read instructions
6. 3DR Solo Quadcopter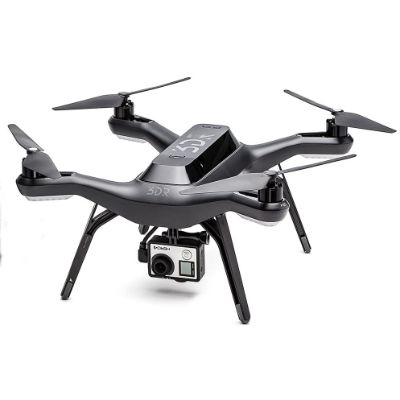 Buy now from Amazon
One of the first things about this drone that impresses most users is game-style control. This controller fits the hand perfectly and feels sturdy and easy to hold to ensure you have an easy time flying the drone. Better still, it comes ready for immediate flight, which is super convenient as there is little setup to do.
The pushbutton controls add to the ease of use as they allow you to control video and photo-taking without having to do much while still being in full control of the flight. Better yet, with this drone, you get a full-feature app that is also super convenient and a high-quality HDMI port to ensure you can connect it to almost any screen.
Features
Video game-style controller
Pushbutton controls
HDMI port
Full-feature app
Ready to fly bundle
Pros
Nice and easy-to-use controller
Simple camera control
More effortless flying
Connects to any screen
The app works with any operating system
Cons
7. Eachine GPS Drone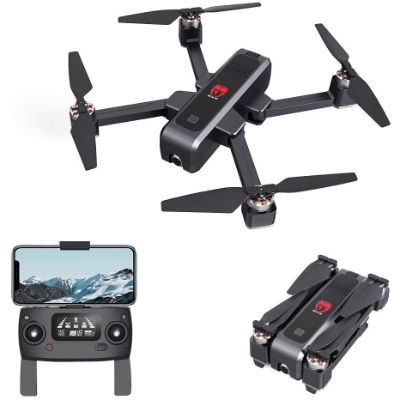 Buy now from Amazon
There is no doubt that this Eachine drone will serve you well for many years to come as it uses the more powerful and long-lasting brushless motor like more expensive models. Connectivity is also guaranteed to be stable and quick thanks to the 5G WiFi capability. Also, the camera is sturdy enough as it has a one-axis gimbal.
You can focus the drone on a specific area like a building or space with the point of interest function. Because it has the Follow Me function, it can track anyone in its field of view and automatically capture the images. The drone also has optical flow positioning and an ultra-sonic sensor to ensure maximum stability.
Features
Brushless motor
5G WiFi Connectivity
One-axis gimbal
Point of interest
Optical flow positioning
Ultra-sonic sensor
Follow me function
Pros
Highly stable camera
Powerful and long-lasting motor
Highly stable connection
Can focus on a specific point
Keeps a more stable altitude
Can track anyone in its field of view
Cons
Wanting quality check
Phone app requests too many permissions
8. Drone-Clone Xperts Drone X Pro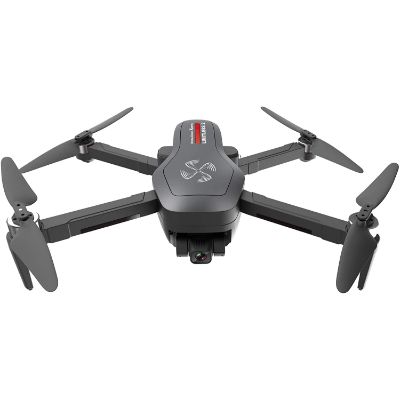 Buy now from Amazon
A smart drone like this one can make anyone look forward to using it. Besides the typical elements you get with other drones like Follow Me, it includes gesture control that makes controlling it easily by making different gestures. And you never have trouble bringing it back as it has GPS auto return.
The brushless motor provides more power for flying it even in windy conditions and is also more powerful, while the 25-minute flying time is quite decent. The images and videos you get are also top-notch as this drone has a 4K UHD camera and includes 5G WiFi FPV for stable wireless connectivity.
Features
GPS auto return home
4K UHD camera
5G WiFi FPV
Brushless motor
25-minute fly time
Follow Me
Gesture control
Pros
Stable and secure wireless connection
Handy return home function
High-quality camera
Long-lasting and powerful motor
Quite long control range
Cons
Uses button for camera angle adjustment instead of a wheel
The battery takes longer to recharge
9. FIMI X8SE 2020 Portable Drone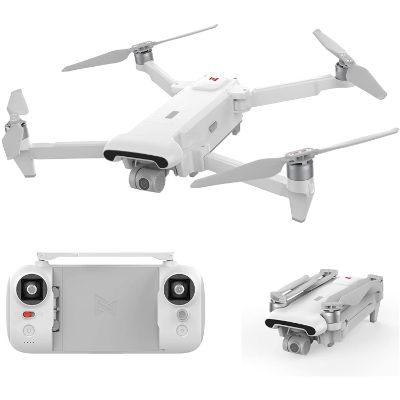 Buy now from Amazon
If you are a drone pilot that is always on the go, this FIMI drone should serve you well as it comes in a foldable and portable design that makes it easy to carry around. Better still, you get a decent flying time of 25 minutes, and the drone can go up to 8 kilometers making it ideal for use when outdoors.
The photo and video quality are guaranteed to be top-notch because besides using a high-quality camera, the drone includes a 3-axis gimbal that keeps it more stable. Also, the smart tracking mode ensures you lock onto the target easily for a nice shot. And you can use the drone in any weather given that it is rainproof.
Features
Foldable and portable
25-minute flying
Long-range fly distance
3-axis gimbal
Rainproof construction
Smart tracking mode
Pros
Easy to pack and highly portable
Can go further out
The battery lasts long enough
Highly stable camera
Quickly locks on to the target for a clear shot
Cons
The camera always goes back to factory settings
Crooked gimbal
10. Holy Stone HS700D Drone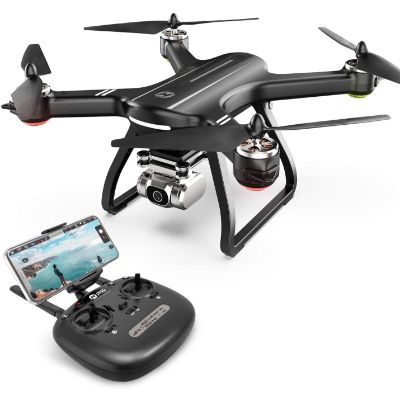 Buy now from Amazon
Despite being a fairly simple drone, the Holy Stone HS700D still has everything you can wish for, whether you want to have some run or take photos. It uses a 4K UHD camera to take some awe-inspiring images and, with 5G WiFi transmission t ensure you can transmit them in real-time via a stable and secure connection.
The GPS return home is handy as it means you are less likely to lose the drone when flying as it always comes back. Better still, the brushless motor is both powerful and long-lasting to deliver an exceptional service. And the drone includes both a modular battery and the handy Follow Me function.
Features
4K FHD camera
GPS return home
5G WiFi transmission
Brushless motor
Follow Me
Modular battery
Pros
Fast and reliable transmission
Superior quality camera
Handy return home function
Long-lasting and a fast-charging battery
Easy to use for beginners
Highly durable and powerful motor
Cons
Poor instructions
Does not fly well in heavily forested areas
Conclusion
If you are on the hunt for a good drone in the low to the mid-price range, this piece makes finding the perfect model a breeze as we offer more than enough recommendations. And now you only have to go through the article and choose what impresses you most.
But to make your choice even more straightforward, the DJI Mavic Air 2 Drone Quadcopter is our top overall recommendation, while the DJI Mavic Mini Drone is perfect for those that prefer something more lightweight and compact.