Mini drones are always more convenient when looking for something you can quickly pack and carry for flying in various locations. And if you add an excellent camera to one, you have the full functionality of a larger or standard size drone without the bulk that comes with one.
Therefore, mini drones with cameras are always fantastic. Given that there are countless mini drones with cameras out there choosing just one is often confusing and quite hectic.
All look good enough, and many manufactures present theirs as the best. Here we look at a few of the best-performing ones in the market to help you make a good and more informed choice.
Best Mini Drones with Camera in Reviews
1. Holy Stone HS170 Mini RC Helicopter Drone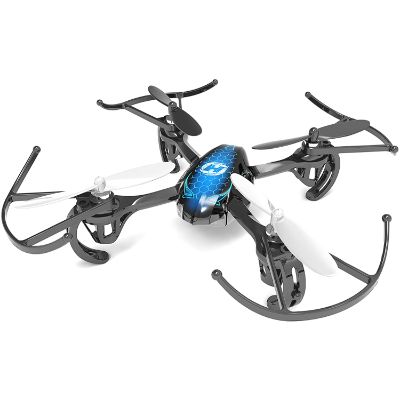 Buy now from Amazon
The headless security system is one of the things that make this helicopter drone special, as it allows almost anyone, including kids, to fly it with ease. Also, this system makes it easy to fly the drone even when not seeing it. You also never have to worry about interference when flying, thanks to the 2.4GHz technology.
Flying in windy conditions is much easier with this drone as it has effective wind-resistant. You can control it from as far as 50 meters, which is quite impressive for a mini drone. And for those that love doing stunts with their drones, this one can make some impressive 3 D flips.
Features
Headless security system
2. 4GHz technology
6 to 8 minute flight time
Wind resistant control
50-meter maximum control range
3D flips
Pros
Easy to fly for anyone
Flies with no interference
Faster charging time
Decent control range
Flies well even in windy conditions
Cons
Smaller battery capacity
No propeller guards
2. Drocon Kid's Mini Drone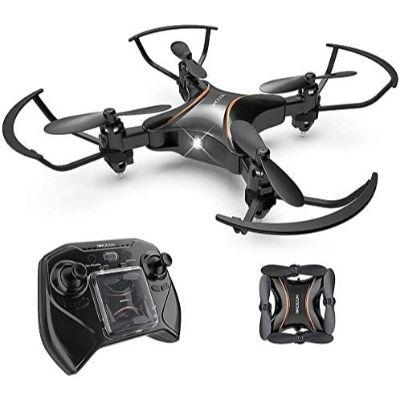 Buy now from Amazon
For the drone enthusiast looking for a mini drone with a camera but on a tight budget, this model is a fantastic fit. Besides being more affordable, it still has all standard drone functionalities, including altitude hold, to ensure it maintains desired altitude even when you release the throttle stick.
With this drone, you also get a headless mode that allows it to fly in all directions for easy control even when you cannot see it. Also, it has 3D flips and rolls capability to make flying more enjoyable. What's more, there is a one-key return function to allow you to call it back with ease and a 3-speed option for simple flight sped adjustment.
Features
Altitude hold mode
3D flips
3-speed modes
One-key return
Headless mode
Pros
Relatively more affordable
Foldable and portable
Speed is adjustable
Easy callback
Makes flying more interesting with stunts
Flies in all directions
Cons
3. Droneye 4DRC Mini Drone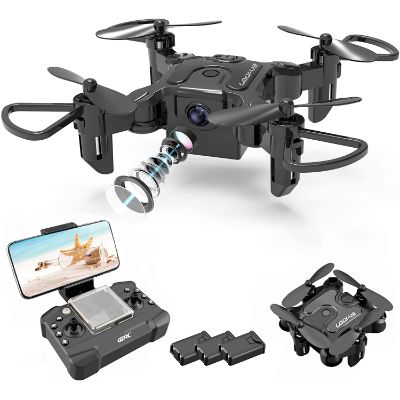 Buy now from Amazon
If you do not want to have to wist for the drone to finish recording before you can see your footage, this model is perfect as it offers real-time video transmission. Also, it has a headless mode to ensure you can fly it in any direction without having to worry whether you can see it or not.
Taking off and landing this drone is also super easy as there is only one key to push. What's more, the drone can make 3D flips for more interesting flying, and with 3-speed options, you can be sure of more control when flying.
Features
Live video transmission
Headless mode
One key return
3D flips
3-speed modes
30-minute flight time
Pros
Does impressive stunts
Flies in all directions
Easy callback
Tranmists videos in real-time
Takes off and lands easily
Speed is adjustable
Cons
Control comes with a learning curve
Not the best camera quality
4. Force1 Mini Drone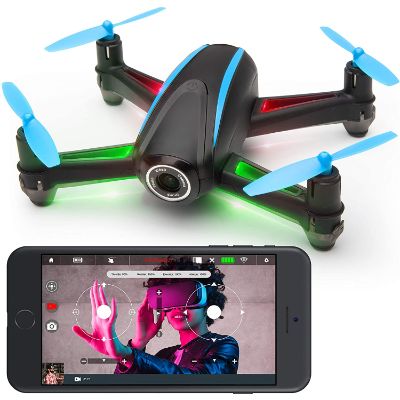 Buy now from Amazon
This being a VR capable drone, it will be ideal for gaming. Additionally, it is also a very convenient model for indoor flying as it has effective gravity and obstacle sensors that ensure it does not keep bumping into things.
The 720p HD camera ensures you take some top-quality images and videos, and you also get to transmit them in real-time when flying the drone. This drone has full functionalities as it has everything from altitude hold to headless mode for a full-size drone experience. Additionally, it can also make 360-degree flips.
Features
VR capability
720p HD camera
360-degree flips
Real-time video transmission
Full functionalities
Pros
Easy indoor flying
Perfect for use with VR
Foldable and portable
High-quality camera
Great for making stunts and flips
Cons
Overall build is not very rugged
5. Atoyx Mini Drone for Kids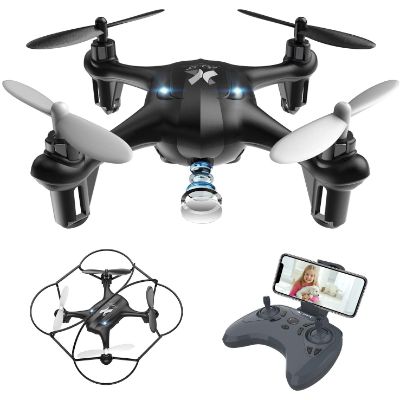 Buy now from Amazon
Landing and taking off is guaranteed to be super easy for kids and beginners when using this drone as they only need to push one button. Another element making this one of the best options for kids is that gravity sensors make flying a breeze.
Despite being meant for kids and beginners, this is still a full-function model that includes headless mode and altitude hold for easier flight control. Also, it has a top-quality camera with a broad view angle to ensure you take some fantastic shots. Better yet, it is well-built with durable but flexible material and blade guards for maximum safety.
Features
One key takeoff/landing
Gravity sensor
Altitude hold
Headless mode
120-degree wide-view camera
Detachable blade guard
Pros
Lands or takes off with ease
Easy to fly for kids and beginners
Durable but flexible material
Spare fab blades included
Captures wider areas
Saver with propeller cover
Cons
Low flying speeds
Longer battery charge time
6. Zuhafa Z2HC Drone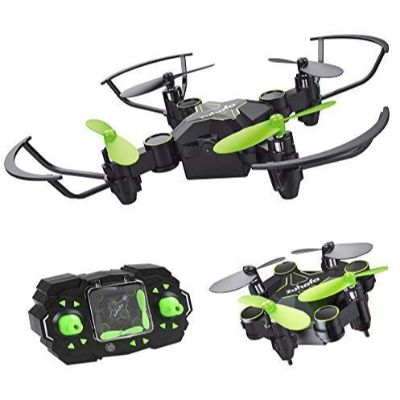 Buy now from Amazon
Zuhafa Z2HC Drone is a foldable mini drone that comes in a pocket-size to make it easy to fold and carry around. Besides being foldable, the drone also offers high-speed rotation to make flying more enjoyable. It includes a 720P camera that allows you to record some high-quality videos and take excellent photos.
This drone still offers all the functionalities you can expect to get with a standard one when it comes to the flight. They include altitude hold and headless mode for easier flying, even for beginner pilots. Many buyers will also love that the app is easy to use and is available for both IOS and Android.
Features
Foldable pocket-size
720P camera
Altitude hold
3D flips
Headless mode
High-speed rotation
Pros
Easy to fly for newbies
Super easy to carry size
High-quality camera
Holds altitude well
Rolls in different directions
Cons
Manual print is a little too small
7. Tech RC Mini Drone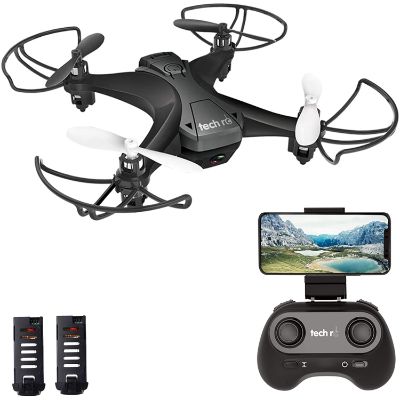 Buy now from Amazon
If you love recording videos with yoit mini drone, the fact that this one has a high-quality camera that records in 720p is perhaps one of the elements that will catch your attention. However, you will also be happy to know that the drone also allows for real-time transmission of the videos you take.
Mastering how to fly the drone takes little effort, even for absolute beginners, as the headless mode ensures you can quickly tell the directions when flying. What's more, the drone allows you to choose from 3-speed options and also takes off or lands rapidly with just the push of one key. Better still, the drone comes in a more portable size for easy transportation.
Features
Live video transmission
App control
Headless mode
Gravity sensor
Portable mini size
3-speed levels
Pros
Easy to learn flying basics
Stable and real-time video transmission
Controllable via app
Smaller and more portable size
Adjustable flying speed
Cons
Instructions booklet is not very detailed
8. Potensic A20W Mini Drone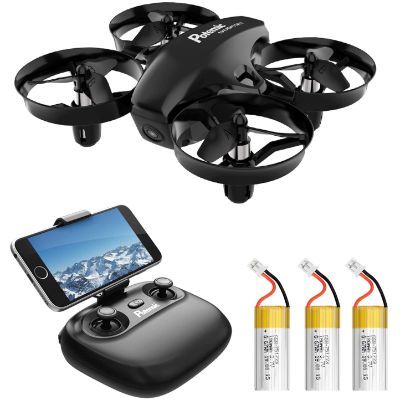 Buy now from Amazon
If you are the kind of pilot that prefers to plan the route for your drone well in advance, this model is the perfect option for you as it has a handy route setting function. What's more, despite being a super compact mini model, it still has full functionalities like altitude hold that makes flying more effortless.
Additionally, this drone has a headless mode that makes directional awareness even for the pilots. Also, there is a gravity sensor that makes things even more effortless for drone pilots. What's more, the drone records high-quality 720P videos and allows you to transmit them in real-time. Lastly, the drone comes with three batteries for a super long flying time and includes propeller guards for user safety.
Features
Route setting function
Headless mode
720p videos
Altitude hold
Gravity sensor
3 batteries provided
Protective guards included
Pros
Longer flying time
High-quality videos
Allows you to set the route
Easy to fly for beginners
Transmits videos in real-time
Safe for kids to use
Cons
App seems to have a few hitches
9. GoolRC Mini Pro Drone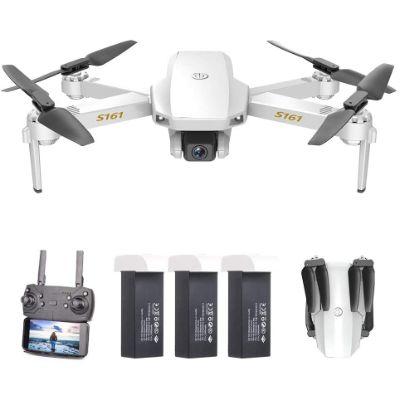 Buy now from Amazon
The camera's quality gives this drone an edge, as it uses a 4K HD camera to deliver awe-inspiring images. Better still, you will never miss anything as this camera has a live video transmission system. You can also fly much longer as the drone comes with three large-capacity batteries to minimize downtimes.
Altitude hold and a headless mode are also much welcome as they make flying easy even for the more inexperienced pilots. Also, when it comes to taking pictures or recording videos, you get an easy time with gesture control that is also highly convenient. Drone pilots will love that this model has an adjustable 180-degree camera angle
Features
4K HD Camera
Altitude hold
3 batteries
Live transmission system
Gesture control
Adjustable 180-degree camera angle
Pros
Superior camera quality
Longer flying time
Maintains altitude well
Takes videos or pictures with gestures
Camera angle is wide enough and adjustable
Free storage bag
Cons
Could use a good tutorial
Not steady enough in windy conditions
10. Adsvtech FPV Drone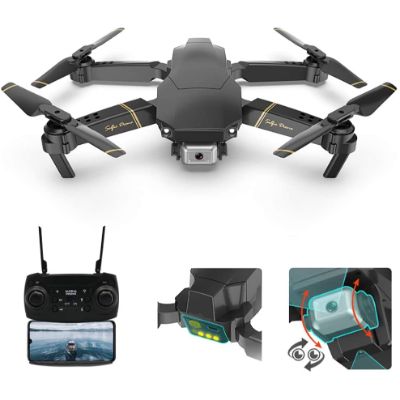 Buy now from Amazon
For drone photography enthusiasts, the 1080P dual cameras on this model are fantastic. With these top-notch cameras, you can be sure of recording someamazing video quality and capturing good images. Better still, you can even capture the photos or videos by gestures without ever having to rough the remote.
Controlling the drone is much easier as it works with a smart app that you can get for both IOS and Android devices. This drone caters to those that love doing 3D flips as it can make some impressive stunts and rolls at the push of a button. Overall it is also a more user-friendly model with all the functionalities of a full-size drone, such as altitude hold.
Features
1080P dual camera
App smart controller
3D flip
Altitude hold
Gesture control
Pros
High-quality dual cameras
Easy control via the app
Takes photos/images with gestures
Holds altitude well
Very ideal for doing stunts
User-friendly design
Cons
Conclusion
Mini drones are fantastic, and they can get even better for you if what you choose has a built-in camera. But, given the wide variety of such drones out there, you need to know how to pick just the right one. However, this should now be straightforward with our recommendations above.
That said, the Holy Stone HS170 Mini RC Helicopter Drone is our top overall model, while the Drocon Kid's Mini Drone is an ideal choice for those that prefer something inexpensive.