Drones do not always have to be complicated to fly, even if you are starting, as there are many beginner drones out there. What's more, if you are into photography and prefer something easy to navigate with GPS, there are many fantastic options.
However, when choosing one, you need to be extra careful to ensure you get value for money. Like with another drone type you buy, it is vital to make sure you choose one keenly to avoid disappointments.
It would help if you considered factors like the battery life, overall built quality, and the functionalities the drone has to offer. But, in this piece, we help make the job easier for you with a review of some of the best-performing ones out there.
Best Beginner Drone with Camera and GPS in Reviews
1. Ruko F11Pro Drones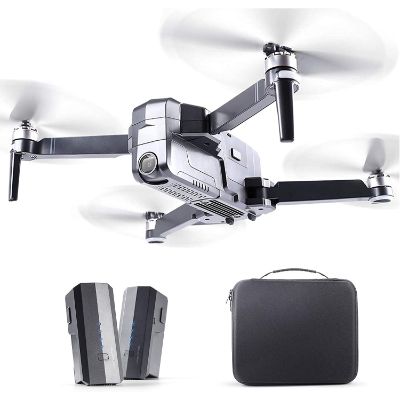 Buy now from Amazon
The 4K camera is one of the outstanding features of this Ruko drone. With this camera, you can be sure of always getting exceptional video quality. What's more, it has a 120-degree field of view to ensure you can capture a wider area, and the camera is also 90-degree adjustable to make focusing easier.
With this drone, you can transmit the videos to distances up to 500 meters. Also, it offers a long flight time as the battery can last up to 30 minutes, meaning you get an hour of flight with two batteries. Also, it takes and lands quickly with one key and has a headless mode to ensure you never lose it.
Features
4K ultra-HD camera
120-degree field of view
90-degree adjustable camera
2,500 mAh battery
500-meter live transmission
One key takeoff/landing
Headless mode
Pros
High-quality camera
Wider field of view
Adjustable camera angle
Large capacity battery
Stable live transmission
Easy landing and takeoff
Flies in all directions
Cons
Manual is not very detailed
2. SimileLine RC Drone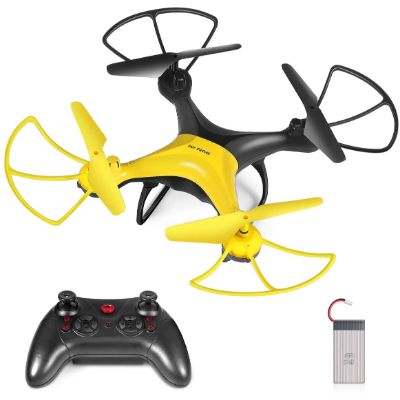 Buy now from Amazon
For anyone in the market for an inexpensive drone for beginners that includes both caner and GPS, this model is perfect. Despite being more affordable, the drone is still well built with a lightweight but sturdy ABS plastic housing. What's more, it is a feature-rich drone that has auto-hover for more convenient flying.
Other outstanding elements include the 3D flips capability, which means you can do impressive stunts for a more exciting flight. There is also a headless mode that allows you to fly the drone in any direction even when you cannot see it and cool LED lights to ensure you can fly it quickly at night. Better still, it is a one-key drone for easy takeoff and landing.
Features
ABS plastic housing
Auto hovering
3D flips capability
Headless mode
Cool LED lights
One-key drone
Pros
Lightweight but durable housing
Hovers automatically
Makes impressive flips and stunts
Flies in all directions
Nice LED lights for night flying
Takes off and lands easily
Cons
Steep learning curve
Some extra batteries would be nice
3. Drocon X708W Drone for Beginners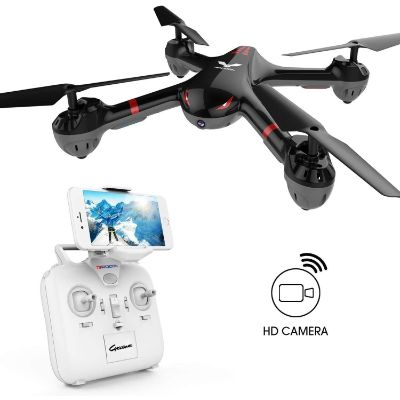 Buy now from Amazon
The built-in HD camera on this drone allows you to record some top-notch videos and take some impressive shots. This is also an easy drone to control via the app that is available for both Android and IOS devices. Better still, you get to transmit the videos in real-time via WiFi, which is also highly convenient.
Other functions like the headless mode and one-key return make flying this drone effortless for all beginners. Also, drone enthusiasts will love it can do some impressive 3D flips and stunts to add some fun element to flying.
Features
Built-in HD camera
In-app control
Real-time WiFi transmission
Headless mode
One-key return
360-degree flip mode
Pros
Superior quality camera
Easy control via the app
Returns quickly with the press of one key
Flies in all direction
Great for stunts and flips
Transmits videos in real-time
Cons
4. JJRC Drone 1080P HD Camera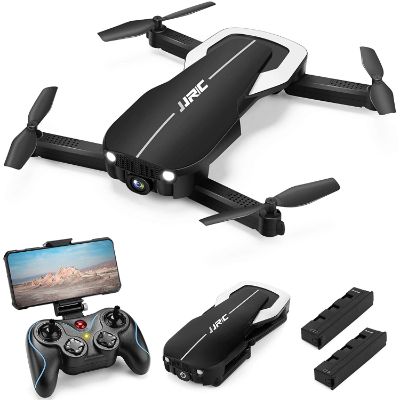 Buy now from Amazon
The camera quality always makes a big difference for any drone you choose, but with the 1080P one this model, you never have to worry about image or video quality. With this drone, you also get optical flow positioning and altitude hold to ensure more stable and easy flying regardless of your skill level.
The camera will always give you an easy time when it comes to photography as it is 90-degree adjustable. The drone can also fly up to 50 meters high and comes with a modular battery that is more convenient and easy to install.
Features
1080P HD Camera
Optical flow positioning
90-degree adjustable camera
Altitude hold
50-meter maximum height
Modular battery
Pros
High-quality camera
Stable flying
Camera is adjustable
Real-time video transmission
More convenient battery design
Cons
Does not go very high
Shorter battery life
5. Contixo F22 FPV Foldable Drone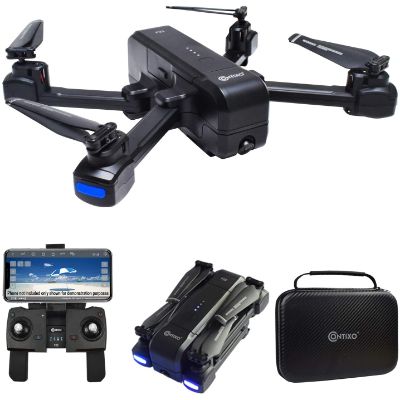 Buy now from Amazon
With any GPS-assisted drone like this one, you can always be sure of sturdy and stable flights and super easy control. The drone also includes an automatic hover function that allows it to hold position well and gesture control, ensuring taking photos is more effortless as you never have to use the controller.
With the 120-degree field of view, the camera captures a wide area to ensure you never miss a thing. What's more, with this drone, you also get a sturdy storage case for easy transportation and storage. Also, the fact that it is small, foldable, and portable makes it highly convenient.
Features
GPS assisted flight
Auto hover
120-degree FOV
Gesture control
Storage case
Pros
Wide field of view
Hovers automatically
More stable and easy flying
Simple photo and video taking
Easy to store and carry
Small and portable
Cons
Handles are a little hard to pull when new
Not the best customer service
6. Droneye 4DRC F3 GPS Drone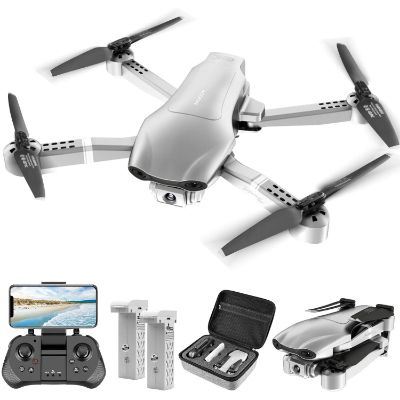 Buy now from Amazon
You do not have to finish your flight to view your videos when using this drone as it has live video transmission via 5GHz. Also, there are dual cameras that ensure you get a fantastic video and photo-taking experience. Additionally, it is the perfect choice when you want something you can use for selfies, thanks to the Follow Me mode and gesture control.
Once finished flying and recording, this drone comes back more quickly, thanks to the auto-return function. Other things like the headless mode ensure flying is more effortless even when you cannot see the drone as it can fly in any direction. What's more, there is a nice carry case for more effortless portability.
Features
5GHz FPV live video
Auto return home
Follow Me mode
Dual cameras
Headless mode
Two batteries
Pros
Liver video transmission
Flies in any direction
Comes with two batteries for a longer flight time
Covers a broader area with two cameras
Nice carry case
Returns home automatically
Cons
The material feels cheap plastic
Could be steadier
7. Hobbytiger H301S Ranger Drone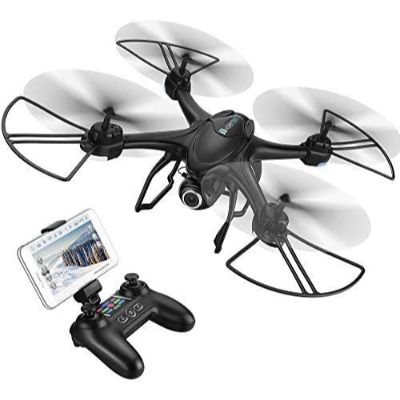 Buy now from Amazon
Whether it is the GPS return home that ensures you never lose your camera or the 720 HD camera that provides some high-quality images, you can be sure there is something on this drone that you will love. What's more, the drone has a headless mode to ensure you can fly it in all directions even when it is out of sight.
This drone holds altitude well for more stable and easy flying, and it has a wider 120-degree field of view that allows it to cover a wide area for some fantastic images. Also, there is little risk of even losing the drone no matter where you might be flying as it always returns home automatically.
Features
GPS return home
720 HD camera
Headless mode
Altitude hold
120-degree FOV
Pros
Long control range
Wide-angle camera
High-resolution videos
Holds altitude well
Flies well in all directions
Returns home automatically
Cons
8. Potensic D58 GPS Drone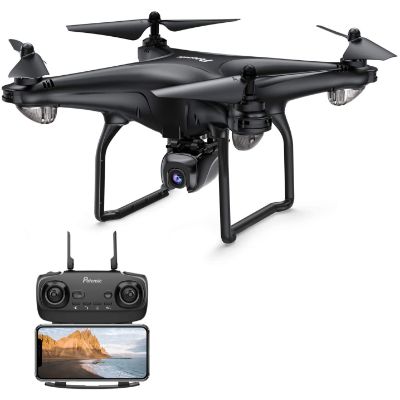 Buy now from Amazon
If you are more into drone photography, the 120-degree wide-view camera on this model will be ideal for you. The camera also records high resolution for some fantastic quality videos that you can also transmit in real-time via WiFi. Also, the lens is 90-degree adjustable to allow you to focus your camera where you want quickly.
The Follow Me mode makes taking pictures more effortless as the drone can follow you and snap automatically. Also, there is a dual GPS functionality that allows the drone to return home automatically. What's more, you get a decent flight time of at least 18 minutes, and the drone is also relatively compact.
Features
120-degree field of view
5G WiFi live transmission
Adjustable 90-degree lens
18-minute flight time
Follow Me mode
Dual GPS functionality
Pros
Wide-angle HD camera
Live video transmission
Adjustable lens for easy focusing
Decent flight time
Follows you and snaps images automatically
Returns home automatically
Cons
Difficulties loading maps
9. Altair Falcon AHP Drone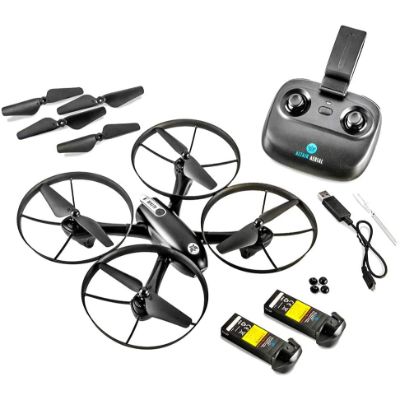 Buy now from Amazon
Altair Falcon AHP Drone provides an autonomous hover to make it easier to hold altitude without holding the remote constantly. Also, it comes with two batteries to minimize the downtimes as you can have one charging as you use the other. Better still, it is easy to tell its location at all times as it has GPS positioning.
When you get this drone, it is fully assembled to ensure it is ready for immediate use without assembling. Additionally, the camera has a 120-degree field of view and offers real-time transmission to ensure you never miss anything.
Features
Autonomous hover
2 batteries included
GPS positioning system
Fully assembled
Live video transmission
120-degree field of view
Pros
Ready for fly
Two batteries provide
Hovers automatically
Easy to tell its location
Transmits videos in real-time
Records a wide area
Cons
Shorter flight time
SD card not provided
10. Altair 818 Hornet Drone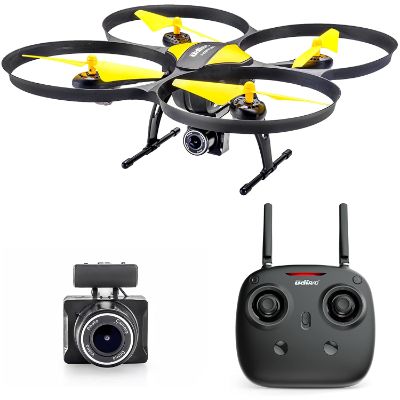 Buy now from Amazon
The high definition camera on this drone ensures you always take some fantastic videos. The camera also allows for real-time video and image transmission and includes multiple flight modes from altitude hold to a headless mode for more effortless and stable flying. And because it comes smartphone ready, you can easily control it straight from your phone.
Taking off and landing is a breeze as there is only one button to push. This drone has considerable skill settings to ensure it can cater to everyone, including beginners. Additionally, it is a compact and highly portable drone you can easily carry around.
Features
720p HD camera
Multiple skill settings
Multiple flight modes
Smartphone ready
One button takeoff
Headless mode
Pros
High definition camera
Works for all skill setting
Simple launch with one key
Comes ready for use with phones
Provides more flight options
Cons
The adjustment can be tricky before mastering the location of the button
Conclusion
A proper drone with a camera and GPS is essential for every beginner just starting as it ensures they get to learn quickly while also enjoying their flights. While ultimately, the ideal model for you depends on your preferences, there is a good model on our list for everyone.
But, to help narrow down your options, the top-notch Ruko F11Pro Drones is our best overall. However, for those looking for something inexpensive, the SimileLine RC Drone is perfect.