There is no doubt the DJI Mavic Mini is one of the best drones out there, regardless of your preferences or technique level. While it is also one of the best built with premium-quality materials and high-performing accessories, it is still not indestructible. Therefore at some point, you often need to buy more accessories.
Buying accessories for your DJI Mavic Mini also provides an excellent way to enhance its overall performance and make it better and not just to replace something broken.
When it comes to choosing accessories for the drone, you need to make sure you get the best ones. Here, we look at some of these accessories that you may need to enhance your drone's performance.
Best DJI Mavic Mini Accessories in 2021
1. SanDisk microSDXC UHS-I Memory Card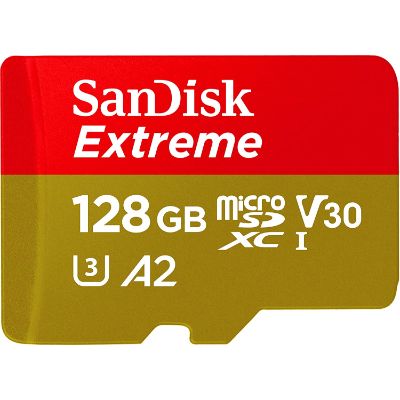 Buy now from Amazon
Storage is often the biggest issue for DJI Mavic Mini, but with this 128 GB memory stick, it should no longer be a problem for you. What makes it such a fantastic accessory is that it offers exceptional speeds with up to 160 MBs read speeds and 80 MBs write speed. It has also been built and tested to withstand the harshest conditions as it is both water and temperature proof.
Many drone pilots also love that it comes 4K UHD and full HD ready to ensure you can record some top-notch quality videos with no issues. Additionally, the memory card has easy file management and ensures faster loading via the app. What's more, it is backed by a lifetime warranty.
Features
Up to 160 MBs read speed
80 MBs write speed
Temperature and waterproof
4K UHD/full HD ready
Lifetime manufacturer warranty
Pros
High read and write speeds
Tested to withstand harsh conditions
Faster loading in-app performance
Comes ready high definition videos
Guaranteed to last a lifetime
Easy file management
Cons
Overheats a little when transferring large files
2. Samsung Electronics EVO 256GB MicroSDXC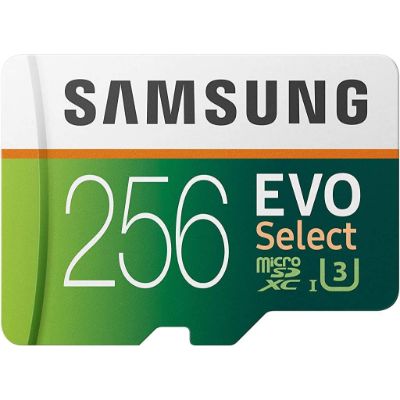 Buy now from Amazon
If you take many pictures or record many videos, a large capacity SD card like this 256GB one is a fantastic choice. Besides having adequate space for all your videos and photos, this SD card also comes ready for 4K UHD videos, allowing you to record some fantastic videos when flying.
The speeds are also quite impressive as it can read at speeds up to 100 MBS and write at 90 MBs. The card is also made to withstand a lot of abuse as it is water and temperature proof. What's more, it offers broad compatibility with various other gadgets besides the drone and does not corrupt easily.
Features
4K UHD video ready
Up to 100 MBs read speed
90 MBs write speed
Water and temperature proof
Extended compatibility
Pros
Built to last
High speed
Ready for 4K video
Works for a wide variety of devices
Does not corrupt easily
Cons
Does not insert or eject very well
3. Mavic Mini Replacement Spare Propeller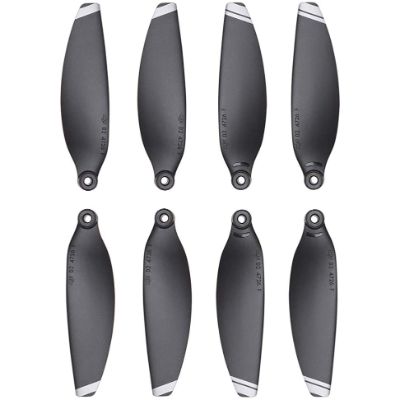 Buy now from Amazon
Since propellers are some of the things that are likely to get damaged when flying your drone, this set makes a fantastic accessory. It comes as a complete set with enough propellers for a total replacement. Also, they are well-built with heavy-duty plastic material and also lightweight as each weighs just 0.5 grams.
Additionally, these are super-quiet propellers as they have an effective noise-suppression design to ensure you can fly the drone without too much noise. What's more, they have a smooth and more attractive finish and come with all the hardware you need for fast and easy installation.
Features
0.5 grams each
Noise suppressing design
Complete set with hardware
Heavy-duty plastic material
Smooth surface finish
Pros
Super lightweight
Comes as a complete set
All hardware includes
Easy to install
High-quality material
Nice and attractive finish
Cons
More screws than necessary
A little pricier
4. DJI Mavic Charging Hub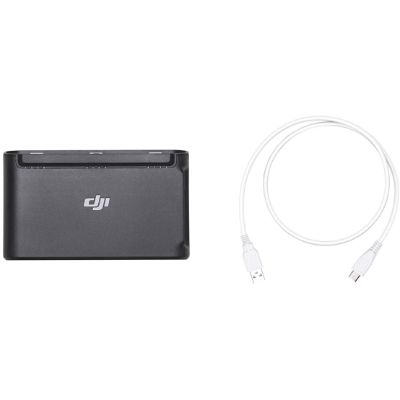 Buy now from Amazon
Whether you want a new and better charger or your current one is damaged, this two-way one is a great pick. What makes it such an excellent option is that it can charge up to 3 batteries sequentially, and in just 2.5 hours, they will all be full, meaning it has a decent charging speed.
With this battery charger, you get a type-A USB port to ensure that it can also come in handy as a power bank for charging other devices like smartphones. It has a decent capacity of 2,400 mAh to ensure you do not always have to keep it plugged in, and with the simple control panel, the operation is a breeze.
Features
Three battery charging
2,400 mAh capacity
2.5 hours charge time
Type-A USB port
Pros
Decent charging speed
Charges up to three batteries
Higher capacity charger battery
Simple control panel
Charges other devices
Cons
Batteries charge sequentially
5. Skyreat Prop Blade Stabilizer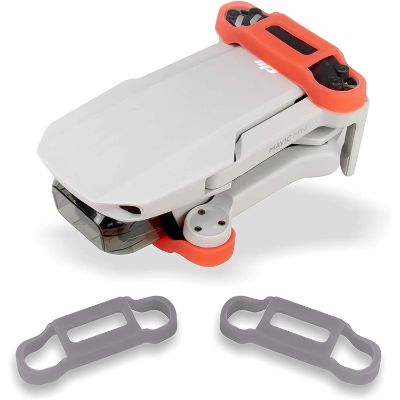 Buy now from Amazon
If you do not want your propellers to get damaged when in storage, a pair of stabilizers like these are the perfect buy. What makes them such a fantastic product is that they fit the DJI Mavic Mini and DJI Mini perfectly. Better still, they have a soft silicone material that helps ensure they will not scratch the drone and feels pleasant to the touch.
At just 0.6 ounces, these are lightweight drone accessories that do not add a lot of weight to the drone to minimize the risk of damage. The installation and removal are also straightforward as there is nothing much to do, and drone enthusiasts love that this is a more budget-friendly accessory.
Features
Perfect for DJI Mavic Mini and DJI Mini
Soft silicone material
Lightweight at just 0.6 ounces
Straightforward install design
Budget-friendly
Pros
Fits perfectly and snugly
Does not add significant weight to the drone
Soft but durable material
Easy installation and removal
Quite affordable
Cons
Issues fitting in the carry bag
A little too stretchable
6. Lykus M1 Water-Resistant Backpack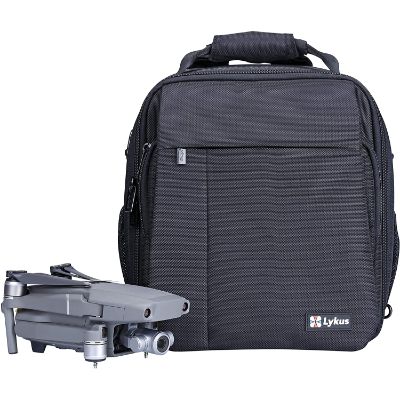 Buy now from Amazon
While many DJI Mavic Mini drones come with a carry case, sometimes you still need to get something better, and in such instances, a backpack like this one is a fantastic buy. It is such an excellent product with a hard shell and water-resistant enclosure to protect the gear.
It is also a 4-in-1 bag that can work as a backpack, crossbody bag, case, and shoulder bag. Better still, some adequately padded straps ensure carrying it is easier and more comfortable. Another thing that makes this a unique bag is that it has some soft internal dividers and includes some front and side pockets.
Features
Hard exterior shell
Soft internal dividers
Four forms
Anti-water cover
Front and side pockets
Pros
Highly flexible and versatile
The sturdy and protective shell
Easy to organize the interior
Adequately padded and comfortable straps
Keeps water out effectively
More compact size
Cons
Zippers are not very rugged
Not much space for other things
7. DJI Mavic Part 19 Charging Base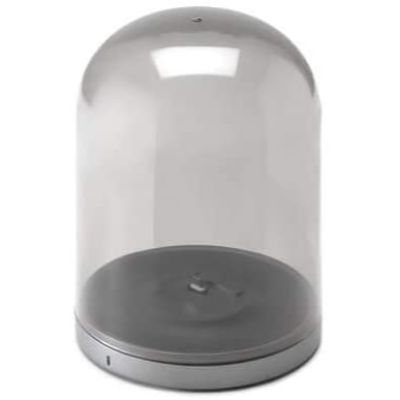 Buy now from Amazon
With an accessory like this one, you get something functional for your drone and a piece that can be decorative for drone lovers. The charging port includes a translucent jar you can use to display the drone as it chargers and charges quite fast compared to the others out there.
This drone operates at a wide temperature range, making it ideal for use in different environments. What's more, it comes in a sleek, industrial-grade built to ensure it looks excellent and also tough enough for regular use.
Features
Translucent be jar
Charging display
Sleek, industrial design
Wide operating temperature
Built-in micro-USB port
Pros
Easy monitoring when charging
Heavy-duty build
Work well as a display piece
Decent charging speed
Works well in different temperatures
Cons
The jar is plastic and not glass
8. Skyreat ND Filters Set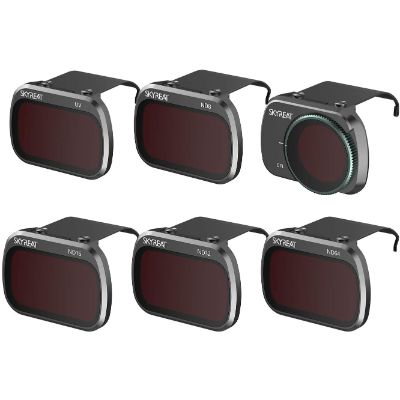 Buy now from Amazon
If you are looking to take your drone photography a notch higher, this filter set will be a fantastic choice for you. What makes it such an excellent product is that the filters use multicoated glass to reduce lens flaring and deliver pristine optics. Additionally, they help ensure you never get overly bright or washed out images.
Overall, these are also well-built and durable filters with aircraft-grade aluminum construction for long life. Many users will also love that they are easy to store and carry as they come in a hard plastic case. One more fantastic element about them is that they allow for a more prolonged exposure so that you can capture even more impressive images.
Features
Multicoated glass
Aircraft aluminum construction
Small hard plastic case
Effortless installation
Eliminates washed-out images
Pros
Heavy-duty build
Pristine optics quality
Quick and easy to install
Comes with a nice carry case
No washed out or overly bright images
Cons
Could be a little more affordable
9. O'woda Drone Megaphone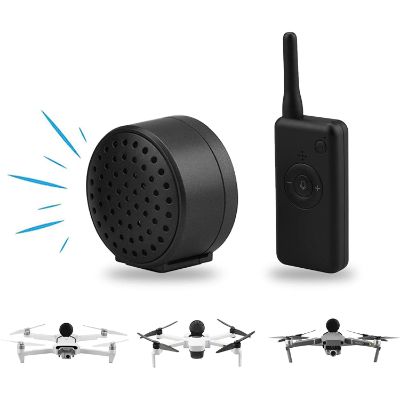 Buy now from Amazon
While a megaphone might not be the first thing that comes to mind when you think of drone accessories, there are countless things you can do with a good one like this. This megaphone comes in handy for everything from advertising to crowd control. What's more, you can control it from up to 100 meters.
With a noise rating of 100 dBA, this megaphone should be loud enough for almost any activity. As it is just 34.8 grams, you can be sure it will not add significant weight to your drone. Therefore, you can be sure it does not affect the flight quality. Better yet, you can quickly strap it on as it has long enough and sturdy straps.
Features
100-meter control distance
Wide application
Lightweight at 34.8 grams
Long and sturdy straps
100 dBA sound
Pros
Decent control range
Suitable for various uses
Small and portable
Nice fixing straps
Loud enough
Cons
10. Rlsoco Hard Case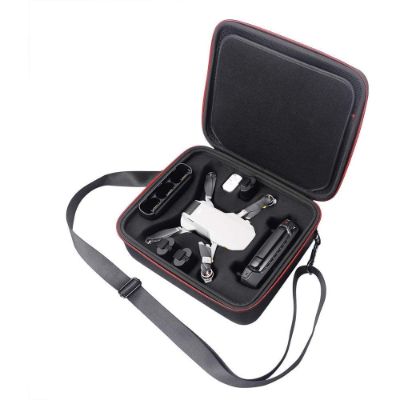 Buy now from Amazon
For those that prefer a more compact but still roomy enough case for carrying their DJI Mavic Mini drone and all its accessories, this model is an unbeatable option. What makes it such a fantastic choice is that it has enough room to accommodate the drone and all its accessories, including several batteries, making it ideal for all your gear.
With this carry case, you get a hard shell that ensures maximum protection for the drone and accessories. The cover is also waterproof for maximum protection for your gear. When it comes to the interior, there is a removable EVA support that makes it easy to organize it. Better still, the case includes a carry handle and shoulder straps for easy transportation.
Features
EVA interior support
Hardshell exterior
Top-notch double zippers
Non-sip carry handle
Shoulder strap
Pros
Soft, removable interior
Accommodates drone and all accessories
Heavy duty and protective shell
Great quality zippers
Super comfortable handle
Cons
Iner lid could be more secure
Conclusion
With proper accessories, you can easily take your DJI Mavic Mini a notch higher. And while ultimately the right ones for you depend on your preferences or what you want to improve, our review highlights some of the best ones out there.
For those looking for a memory card for ample storage space for their images and videos, the SanDisk microSDXC UHS-I will be a good buy. However, if you are looking for a nice carry case, the Rlsoco Hard Case is perfect.