If you are into drone photography and are looking for a good drone to use for your job, the good news is that you do not have to spend a lot of money to get one. There are now almost countless cheap drones for photography out there, and you have to find what works best for you.
For most informed and experienced drone pilots, things should be easy as they already know what to look for. If you are new to drone photography, things can sometimes be confusing, but this piece ensures you have a much easier time.
Here we provide some top-notch recommendations by looking at some of the best performings but still cheap drones out there you can use for your photography.
1. Potensic T25 Drone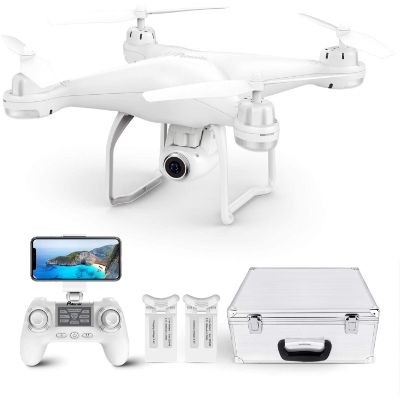 Buy now from Amazon
With a 120-degree wide field of view and a top-quality camera, the Potensic T25 Drone is a fantastic option for taking photos and recording videos. Better still, it has WiFi connectivity to allow you to transmit video and images in real-time. Additionally, you can control the drone from up to 300 meters.
This model also includes multiple other fantastic functionalities such as Follow Me mode to ensure it can follow and take your pictures automatically. Also, navigation is much easier as there is a dual GPS. And when you buy this drone, you get an aluminum carry case that makes it easy to store and carry the drone.
Features
120-degree field of view
Dual GPS
WiFi connectivity
Follow Me Mode
300-meter control range
Aluminum silver carry case
Pros
Safe and stable flight
Wider camera angle
Follow yo and takes photos automatically
Fast image/video transmission
Longer control distance
Good looking and sturdy case
Cons
Not for indoor use
Needs better instructions
2. Contixo F24 Pro 4K UHD RC Quadcopter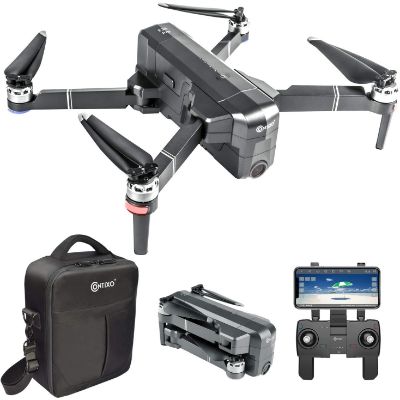 Buy now from Amazon
The 30-minute flight time you get with this quadcopter is quite decent and much better than what many other budget models provide. The drone has a 4K UHD camera to ensure you can take amazing images and videos. Also, it uses some powerful and foldable brushless motors to deliver an exceptional flight.
There is also a follow-me mode for automatic picture taking and gesture control to make the operation more effortless without using the remote control. Additionally, there is an intelligent battery management system and a more stable and reliable GPS.
Features
30-minute flight time
4K UHD camera
Brushless motor
Follow Me mode
Gesture control
Intelligent battery management
Pros
Longer flight time
High-quality camera
Powerful and durable motor
More robust and stable GPS signal
Simple control with gestures
Cons
Does not come with spare batteries
A few misleading descriptions
3. Eachine GPS Drones with Camera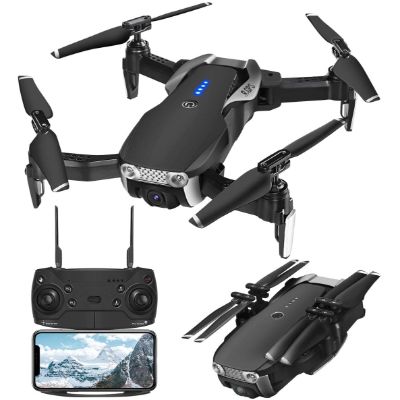 Buy now from Amazon
The 1080P camera highlights this top-notch Eachine drone, ensuring you always end up with the best image and video quality. The camera also has a wider angle and is also adjustable to allow for some top-quality shots.
With this drone, you get GPS positioning that makes sure you always know the drone's location and allows it to return home quickly. Other things like the Follow Me and Orbit mode make flying even more interesting for all drone pilots.
Features
1080P wide-angle camera
GPS return home
16-minute flight time
WiFi FPV live video
Orbit and follow me mode
Pros
High-resolution camera
Wide-angle camera
Real-time transmission
Multiple flight modes
Returns home automatically
Cons
4. Snaptain SP700 Drone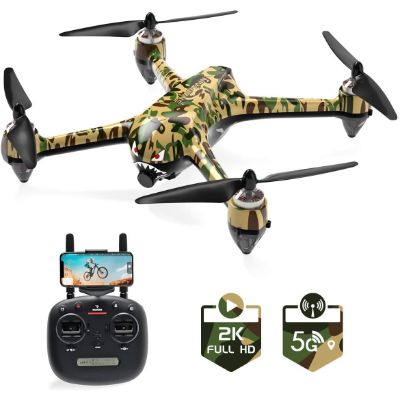 Buy now from Amazon
This 5G WiFi drone is fantastic when you want something that allows you to transmit images in real-time. The connection is also more stable and reliable to ensure better flight. Also, there are robust and maintenance-free brushless motors for long service life.
App control makes this drone easier to operate straight from your smart devices. Also, it is multi-modes with Follow Me and various other functions like headless mode. What's more, this drone has GPS return home and includes one-functions for easy take-off and landing.
Features
5G WiFi FPV
Brushless motor
App control
Follow Me mode
GPS return home
One-key functions
Headless mode
Pros
Always return home automatically
Powerful, maintenance-free motor
Multiple flight modes
Stable and reliable WiFi connection
Simple app control
Easy take-off and landing
Cons
The camera is not moveable when in flight
Steep learning curve
5. Potensic D58 GPS Drone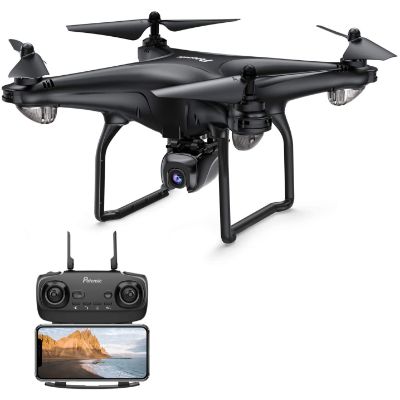 Buy now from Amazon
With the adjustable camera angle on this drone, you can easily focus the camera where you want to snap for even better image quality. Better still, it has a full HD camera and includes 5G WiFi to ensure real-time video transmission, so you never miss anything when in flight. Additionally, you also get a decent flight time o up to 18 minutes.
This drone has a GPS-assisted flight to ensure you have an easy time controlling it mapping out your path. The GPS's inclusion ensures you never lose the drone as you always know its location and can quickly bring it back home. And this drone also has a more solid overall construction for long service life.
Features
120-degree adjustable angle
5G WiFi live transmission
2K FHD camera
18-minute flight time
Follow Me mode
GPS assisted flight
Pros
The easy flight with GPS
Multiple flight modes
Real-time transmission
Full HD camera
Adjustable camera angle
Cons
6. Cheerwing W1PRO Drone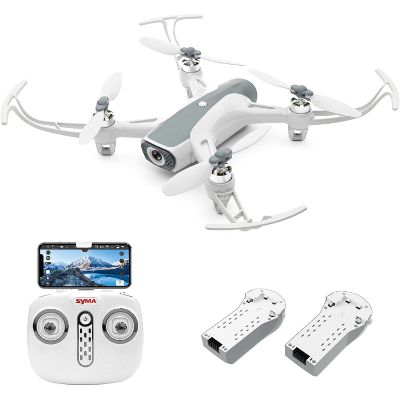 Buy now from Amazon
The lightweight and durable ABS housing makes this drone tough and ensures it can take a lot of abuse to deliver a long service life for an even better value for money. What's more, it uses brushless motors that are more powerful and maintenance-free to ensure exceptional performance. Also, there is a built-in GPS for more effortless positioning and to allow for automatic return home.
There is also a gestures control function to allow you to operate the drone just with gestures, which is often convenient when you do not want to use the remote. Also, there are other multiple flight modes like Follow Me, altitude hold, and headless mode. What's more, the drone takes off and lands quickly with just one key.
Features
ABS housing
Brushless motor
Auto return home
Gesture control
Follow Me mode
GPS positioning
Pros
Lightweight and durable housing
Powerful and maintenance-free motor
Always returns home automatically
Takes off and lands in one key
Easy to control with gestures
Multiple flight modes
Cons
Longer battery charge time
The app needs some improvement
7. Eachine E520S Drone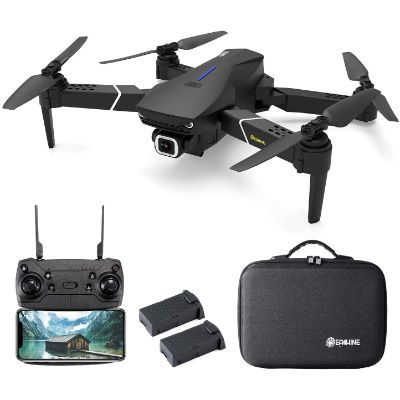 Buy now from Amazon
The longer flight time of up to 32 minutes is what makes this drone unique. It means that if you get two of the batteries, you can fly for at least an hour before having to recharge them. What's more, it also delivers exceptional image and video quality as it includes a 4K-quality camera that is also adjustable and with a superior resolution.
The drone also includes all-around functions from following me to altitude hold and headless mode. Additionally, you can take off and land the drone more effortlessly with just one key. You can control the drone from up to 250 meters, and it also comes with an excellent quality remote control with a firm grip.
Features
32-minute flight time
4K-quality camera
Follow Me mode
GPS position system
All-round functions
250-meter control distance
Pros
Longer flight time
High-quality camera
Comes with two batteries
Reliable built-in GPS
Can follow you and take pictures automatically
Cons
The app needs a lot of improvement
8. HR H5 RC Quadcopter
Buy now from Amazon
There is everything on this drone that you can wish for when shopping for something more affordable. To start with, the drone has 2.4GHz WiFi to ensure a more stable wireless connection and real-time image and video transmission. Also, the camera has a wider 120-degree angle that allows you to capture more expansive areas.
Mobile control also makes the drone easier to operate as, besides app and voice control, you can handle the drone using gestures. There is also a headless mode for safe flights and follow me technology to take some fantastic selfies. What's more, the drone has a one-key return home to ensure you never lose it.
Features
2.4GHz WiFi
120-degree wide-angle
Mobile control
Headless mode
One-key return home
Follow Me technology
Pros
Easy hand-free control
Very ideal for taking selfies
Real-time transmission via WiFi
Wide camera angle
Safe flight mode
Can make amazing stunts and flips
Cons
Does not go very high
Camera is only manually adjustable
9. Potensic D68 Drone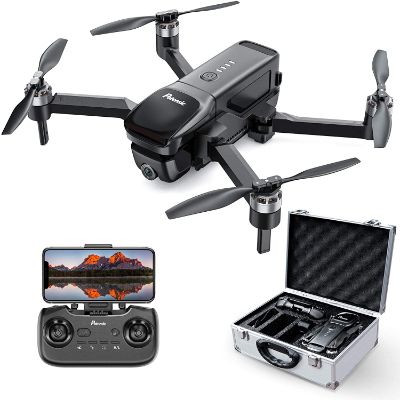 Buy now from Amazon
The Potensic D68 Drone includes a 4K camera that takes top-quality images and records some fantastic videos. What's more, the drone offers live transmission to ensure you can enjoy your recordings without ever missing anything. The design also has brushless motors that are powerful, easy to maintain, and with a quieter operation.
With this drone, you get a decent 25-minute flight time, and it also has an auto-return home to ensure you never lose it no matter where you might be flying. Also, it has optical flow positioning that allows for hovering even when the GPS has issues. And you are in more control over the flight thanks to the custom smart flight.
Features
4K UHD camera
Auto-return home
Brushless motor
25-minute flight time
Optical flow positioning
Custom smart flight control
Pros
High-resolution camera
Always returns home
More reliable motor
Decent flight time
Hovers more stably
Easily customizable flight
Cons
Calibration takes getting used to
10. DJI Store Tello Quadcopter Drone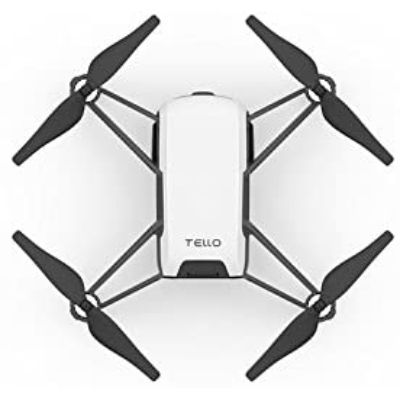 Buy now from Amazon
If you are shopping for a cheap drone for photography for your kid, this model should be fantastic as it is super easy to fly. It comes in a more compact and easy to handle design that ensures the young ones easily use it and learn how to fly. Also, it is designed to deliver some impressive quality images with top-notch image processors,
The video quality again never disappoints as this drone can capture up to 720p videos. Better still, it allows for real-time transmission of the videos from distances up to 100 meters, which is impressive enough. For kids that love doing stunts with drones, this one is capble of 8D flips, which you can be sure kids will love.
Features
VR headset compatibility
High-quality image processor
720p HD video capture
100-meter image transmission distance
2 antennas for intelligent switching
8D flip capability
Pros
More compact and easy to fly for kids
Works with VR
Decent control range
High-quality videos
Stable video transmission
Cool aerial stunts
Cons
Shorter flight time
Lowe image resolution
Conclusion
Drone photography does not have to be expensive as there are countless budget models out there, and you need to find the right one for you. Things are always much more straightforward with a little shopping around, and this review to help you out.
That said, the Potensic T25 Drone is our best overall model as it ticks every box from the video quality to the functionalities. But, if you are want something kids will love flying, go with the DJI Store Tello Quadcopter Drone.