Drone technology is always evolving, and its popularity is continually rising. And as more and more companies get into the market to satisfy the ever-increasing demand, drone prices are ever-growing down. Now you no longer need to spend thousands of dollars to get a good drone, whether it is for entertainment or work.
That said, if you are shopping for a drone on a small budget, you need to take extra precautions to ensure you do not end up with something substandard. But, because we know you might not get the time to comb through many descriptions and reviews to choose a good budget drone, here we help make things easier for you. We do this with a review of 10 top best drone under 150 models you can get without spending much.
List of Best Drone Under 150 in 2021
1. Snaptain S5C WiFi FPV Drone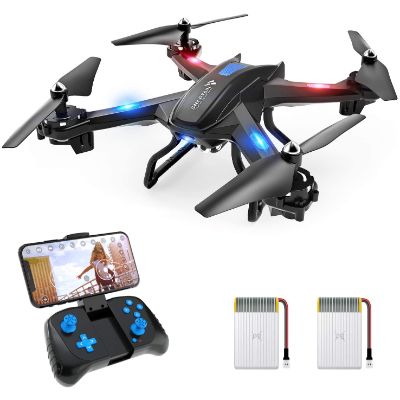 Buy now from Amazon
This Snaptain drone has a lot to offer, and it is the kind you can be sure will be ideal for both sport and work, which is why it makes the top of our list. The drone includes a 1080P HD camera that allows you to record some fantastic videos and live video recording.
Taking off and landing are quick and easy as there is only one button you need to push. Better still, the drone allows for voice control and has altitude hold for more effortless flying. Other things like the gravity sensor function and 360-degree flip capability make it an even more interesting drone.
Features
1080P HD Camera
One key takeoff
Altitude hold function
VR headset compatible
Gravity sensor function
360-degree flip capable
Smart voice control
Pros
Clear and high enough resolution camera
Takes off easily
Allows for live video recording
Easy to operate even for beginners
Holds altitude well
Cons
Provided screws are relatively small
Assembly can be a little tedious
2. Snaptain SP650 Drone with Camera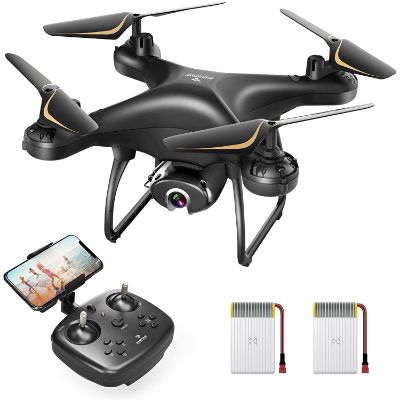 Buy now from Amazon
For beginner adults that want to learn how to fly a drone fast, this model will be a fantastic choice as it is easy to master, even for absolute beginners. Besides the ease of flying, it also offers a wide variety of other unique functionalities that make it even more convenient such as voice control.
Video recording is also a notch higher as this drone records in 1080P HD. There are multiple flying modes, from 360-degree flips to high-speed rotations, making it a much more fun drone to fly. Also, it holds altitude well and flies more stably.
Features
1080P HD live video recording
Voice control capable
High-speed rotation
Altitude hold
Headless mode
Multiple flight modes
Pros
Easy to learn even for beginners
Delivers some high-quality videos
Allows for voice control
Can hold altitude during flight
Provides different flying modes
Makes it possible to draw flight path on the phone
Cons
One key button needs improvement
3. ATTOP Drone with Camera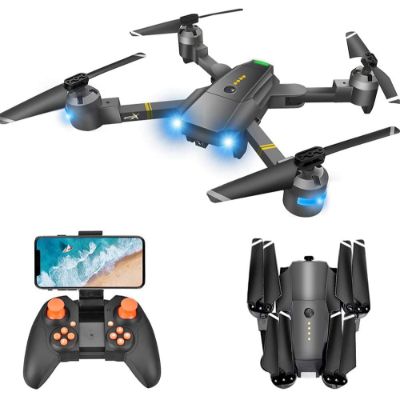 Buy now from Amazon
ATTOP makes this drone for all kinds of users as almost any adult can fly it with little to no practice. What makes it such an easy model to fly is that it has some simple control options and includes voice control to allow you to give it commands.
Other functionalities of this drone include the one-key takeoff to ensure you have an easy time getting it into the air, and when it comes to landing, it also gives you an easy time. There is also a handy headless mode, a wide view angle, and is compatible with VR to help take your gaming a level higher.
Features
Multiple flight modes
Voice control
Headless mode
One-key take off
VR game compatible
Pros
Easier to control
Takes off and lands easily
Smart voice control
Very ideal for VR gaming
Path planning mode
Foldable for easy storage and carry
Cons
Smaller than it looks
Video quality could be better
4. Snaptain A15H Foldable WiFi Drone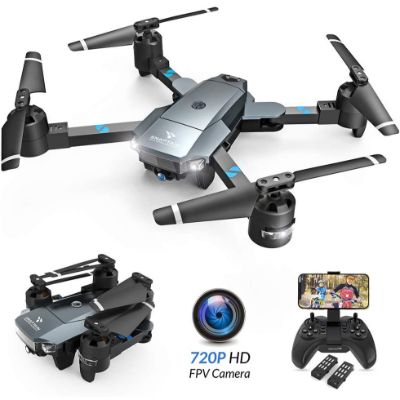 Buy now from Amazon
Anything with WiFi is always super convenient, and so even before using this Snaptain drone, you can be confident it will impress you. The WiFi capability makes it easy to pair to your phone for easy control. But, it also has smart voice control to give users an easier time when flying.
There are multiple flying modes on the drone to give you a more exciting time as they will include some fantastic flips, gravity sensors, and altitude hold modes. The one-key return is excellent as it makes landing the drone a breeze, and as a bonus, you get a pleasant fly-by trajectory.
Features
WiFi drone with voice control
One-key return
3D flips capable
Multiple flight modes
Fly-by trajectory
HD pictures and videos
Pros
Foldable for convent storage and carry
Takes off and lands fast and easily
App controllable drone
Provides a ling fly time
Captures high-quality images and videos
Cons
Does not record good vides in the dark
Flips are a little too fast
Poor take off shots
5. Snaptain A10 Mini Drone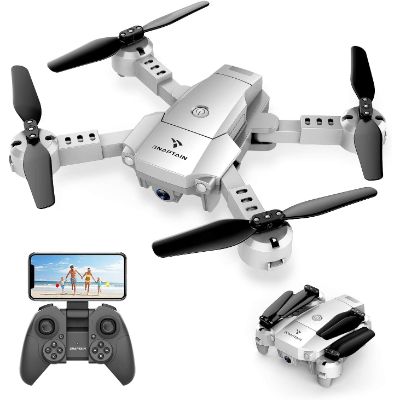 Buy now from Amazon
Whether it is the gesture control or voice control that you prefer, you can be sure this mini drone will give you an easy time when it comes to flying it. Better still, it has a fast and stable WiFi connection to ensure you have an easy time pairing it with your phone and other smart devices.
This drone offers many other impressive functionalities like high-speed rotation and allows you to choose from a myriad of fun flying modes to ensure you get to enjoy flying how you prefer. The foldable design is also super convenient as it makes the drone easy to pack and store or carry.
Features
Gesture control
Voice control capable
High-speed rotation
WiFi connectivity
Foldable design
Multiple fun flights
Pros
Easy to pack and carry
Allows for multiple control options
Stable and fast connectivity
Convenient headless mode
Allows you to choose from different flying options
Cons
Quite a small drone
Not the most pleasant finish
6. Sanrock Camera Drones for Kids and Adults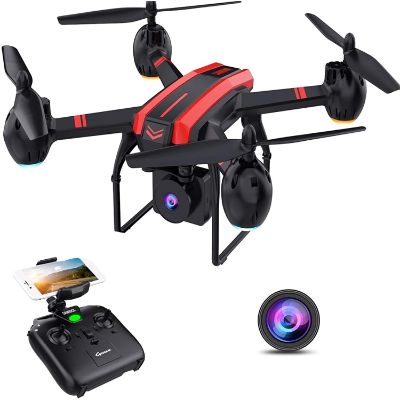 Buy now from Amazon
This Sanrock drone is built to accommodate both kids and adults, and so you can be sure it has a lot to offer. It will be a fun drone to fly as it can make 3D flips, hold altitude, provide a trajectory flight, and has a headless mode that allows you to fly it almost any way you prefer.
With the WiFi love video recording, you can see everything the drone captures in real-time from your phone. And the video and image quality is also quite impressive for the size and price of the drone. This drone delivers a decent flying time of 17 minutes, and it is made for a long service life with ABS housing.
Features
WiFi Live Video
App control capable
Headless mode
Altitude hold
Trajectory flight
3D flips
Gravity sensors
Pros
Works well for both kids and adults
Record great quality videos
Holds altitude well
Records the trajectory flight
Gravity sensors allow for more comfortable flying
Can make some nice 360-degree flips
Cons
The battery needs to be removed for charging
The instructions manual is not very clear
7. Droneeye 4DRC F3 GPS Drone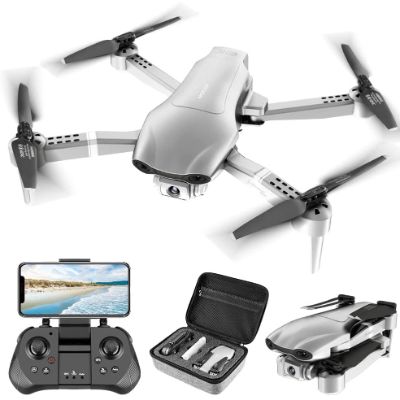 Buy now from Amazon
This foldable and compact drone is just what you need if you are looking for something you can carry and use in different locations. What's more, it comes in a nice carry case to ensure you can pack and store it easily.
The drone records some top-quality video and captures some impressive images thanks to the dual cameras, with one at the front and another at the back. You never have to worry about losing it, as it has an automatic return home function to ensure it always goes back to the starting point. There is also a follow-me function, waypoint flight, and 90-degree adjustability to ensure even more fun flying.
Features
Foldable design
Dual cameras
Auto return home
App control
Follow Me mode
90-degree adjustable
Waypoint flight
Pros
Longer control range
Easy to control via the app
Includes two cameras to ensure you never miss a thing
Returns home automatically
Includes an extra battery pack
Compact design and comes with carrying case
Cons
The camera is not 4K as advertised
Does not have a micro SD slot
8. Orrente Drone for Adults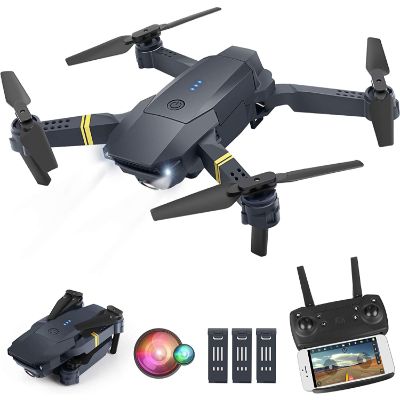 Buy now from Amazon
There are many things that users will love about this drone for adults, but the top-quality camera that records in 1080P HD is one of the key ones. This drone offers a real-time transmission of the recording straight to your phone via the app to ensure you never miss any moment.
Better still, the drone has trajectory flight and gravity sensor function. Because the drone comes in a foldable design, you can be sure of an easy time folding and carrying it to different locations. Also, taking off and landing will be easy as you only need to use one key.
Features
1080P HD camera
FPV real-time transmission
Foldable design
Updated sensor and processor
One-key takeoff and landing
Pros
Records high-quality videos
Real-time transmission via the app
Easy to carry as it is foldable
High-quality and durable build
Takes off quickly with one key
Cons
Batteries require more frequent recharging
Has some flimsy plastic components
9. Dragon Touch Foldable Drones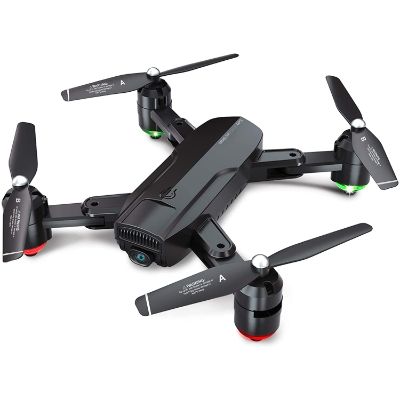 Buy now from Amazon
Dragon makes this drone as fun as possible, and it will be ideal for every adult, given that it takes little effort to figure out how to fly it. One of the first things that draw many potential buyers is that it has a high quality FPV camera that takes fantastic pictures and videos and transmits them in real-time.
The modular battery is also more convenient when it comes to charging. Other things like the Follow ME function and automatic hovering ensure you have a fantastic time flying the drone and taking photos. Better still, the drone has a convenient one-key takeoff and landing.
Features
FPV camera
Auto return home
Modular battery
Carrying case
Follow ME function
Automatic hover
Pros
Easy to pack and carry
Includes an auto-return function
A modular battery is more convenient
Hovers automatically for stability
The high-quality camera transmits in real-time
Takes offs and lands using one key
Cons
A little too light
Relatively shorter fly time
10. Eachine E520S GPS Drone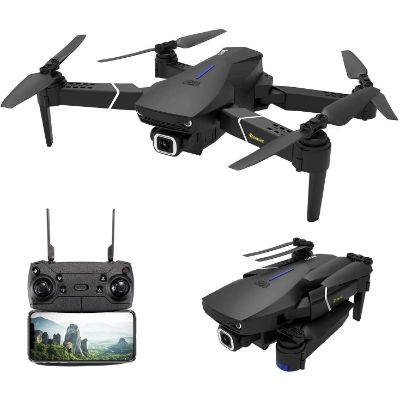 Buy now from Amazon
You will hardly get a budget drone with a better quality camera than this one. Besides the top quality camera, the drone also makes it easy to record videos and capture images using the 5G WiFi FPV camera. What's more, it has all-round functions that include a headless mode, altitude hold, and the super-convenient one-key takeoff and landing.
Other impressive features of this drone include the GPS positioning for more effortless navigation and the Follow Me functionality that ensures you never miss anything as this drone follows and captures you automatically. Also, with the 1,200 Mah battery, it gives you a decent flying time.
Features
5G WIFI FPV
Foldable design
1,200 Mah battery
GPS positioning system
All-round functions
Pros
Beginner-friendly design
Relatively longer fly time
Super high-quality camera
Can be folded for storage and transportation
Can follow and capture you
Long enough control distance
Cons
Not very ideal for flying in windy conditions
No foam carry case
Conclusion
A budget drone can still give you all the superior functionalities you would expect from the top tier and pricier models, but you have to choose a good model to ensure this. With that in mind, you can be sure there is something for everyone on our list above.
However, to help make it even easier to narrow down your choices, the Snaptain S5C WiFi FPV Drone takes our top overall spot, and the Snaptain SP650 Drone with Camera is our best option for beginners.