As fun as drones can be to fly, dealing with a massive one is always very hectic. The good news is that as technology improves, their size has been reducing over the years, and now nano drones are more prevalent than before. Nano drones are tiny, and most are small enough to fit in your palm.
Besides the smaller size that makes nano drones easier to handle and highly portable, they still offer most of the full-size models' functionalities. However, for this to be so, you need first to find a suitable model, and in this piece, we help make this easy with a review of some top-rated options.
List of The Best Nano Drone Under 50 in 2021
1. Newest Syma X20 Drone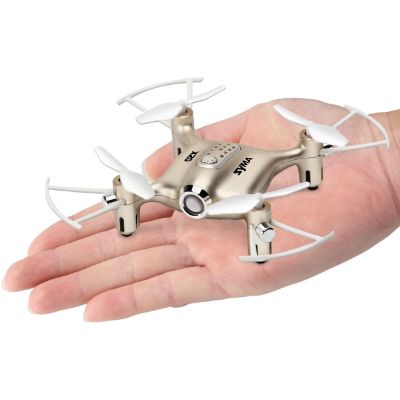 Buy now from Amazon
The first product on our list is the Newest Syma X20, and it is our best overall model give that it has everything you want in a nano drone. To start with, it has a 6-axis gyro quad-rotorcraft that ensures flight stability and allows it to achieve various movements. Better yet, it has a headless mode to let it fly in any direction, even when you cannot see it.
Takeoffs and landing are super-easy as there is only one key you need to use. Additionally, the drone has an altitude hold to allow for hovering, And for those that like doing stunts, the 360-degree flip takes care of this. One more thing users love is that the drone is exceptionally well-built with a rugged frame to ensure maximum durability.
Features
Headless mode
6-axis gyro quad-rotorcraft
One key takeoff
Altitude hold
360-degree stunt flip
Pros
Very ideal for indoor playing
Takes offs and lands easily
Achieves various flight movements
Holds altitude well
Can make some impressive stunt flips
More stable flight
Cons
A little too lightweight for flying under heavy wind
Requires calibration before use
2. Droneye 4DRC V2 Foldable Mini Drone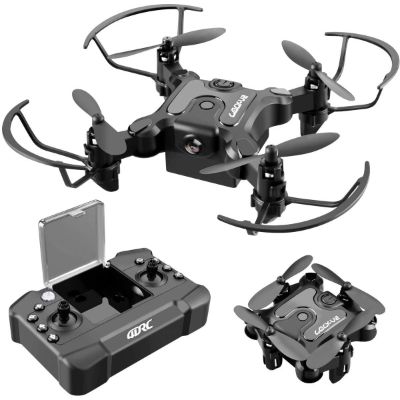 Buy now from Amazon
This model will be a perfect choice for kids that are just getting into flying drones as it is very beginner-friendly. The small and compact drone is super easy for the little ones to carry, and hence they can use it from almost anywhere. Also, it is easy to fly as it takes off and lands in just one key.
Despite its simplicity, the drone still has all the functionalities of a full-size drone, such as altitude hold and headless mode. It also allows for speed adjustments with 3-speed options, provides a longer 28-minute fly time, makes 3D flips stunts, and has a 6-axis gyro system to ensure it can do some impressive movements.
Features
Altitude hold
One key return
3-speed control
Headless mode
3D flips stunt
6-axis gyro system
28 minute fly time
Pros
Compact and lightweight
Multiple speed options
Does some impressive stunts
Simple take off, return and landing
Stable and effortless flying
Longer flying time
Cons
Packaging and pictures are a little misleading
Propeller quality is wanting
3. Atoyx AT-66 Mini Drone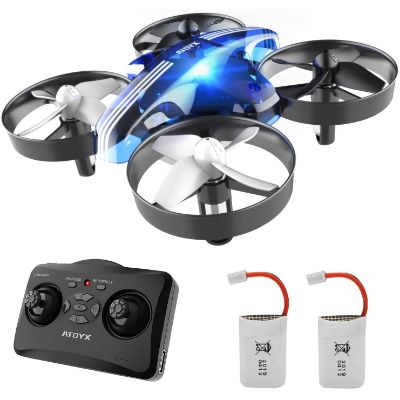 Buy now from Amazon
Here is another amazing nano drone that will work well for beginners and kids. But besides being easy to use, it still has a lot more to offer. First, it has a headless mode to make it easy to fly even when you cannot see it and ensure you never lose it. Also, it can hold altitude well when you want it to hoover.
With this drone, kids can make some 3D flips, making flying more exciting, and they also have a more comfortable time landing and taking off. What's more, it includes pleasant LED lighting and is made with highly durable and non-toxic material for maximum safety.
Features
3D flips
Headless mode
Altitude hold
LED lighting
One key takeoff/landing
Non-toxic and durable material
Pros
Well built for a long service life
Pleasant LED light
Does impressive flips
Hovers well
Easy to fly when not seeing it
Landing and takeoffs are a breeze
Cons
Manual is not very clear
Batteries run out fast
4. ATTOP Mini Drone for Kids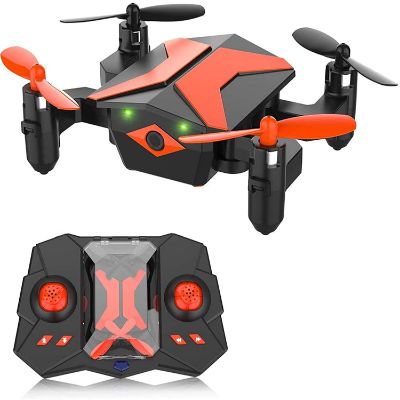 Buy now from Amazon
ATTOP is a top drone brand that seems to have something to suit everyone's preferences, and for those looking for a nano done, this particular one is fantastic. What makes t such an amazing init is that it is easy to fly as it takes off and lands using just one key. Flying it is also guaranteed to be more interesting as it can make 3D flips.
With this top-quality drone, you get a LED light that makes navigating in the dark easier. Better still, with the headless mode, you can fly it in any direction as the drone will never lose its way. Other things like the more compact and portable design and 6-axis gyro, make this an even more impressive drone.
Features
One-key takeoff
Headless mode
LED lighting
3D/360-degree flips
2.4Ghz 6-axis gyro
Pros
Foldable and portable
Lands and takes off easily
Nice and bright lighting
Impressive 3D flips
Allows for various flight movements
Flies in any direction
Cons
It comes with a learning curve
Relatively shorter battery life
5. Drocon Mini Drones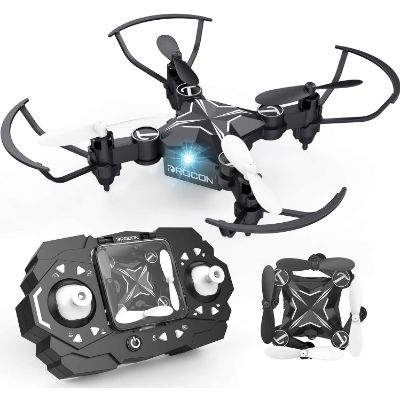 Buy now from Amazon
There is everything you can wish for on this Drocon mini drone, which makes a perfect choice for anyone. One of its most unique elements is that it has been designed for 360-degree anti-clockwise flying making it more enjoyable to fly. Better still, the drone has one-ket takeoff and landing and a headless mode to ensure it never loses direction when flying.
Additionally, there are 3-speed modes on this drone to ensure you get more control over the flying. What's more, it hovers much better than others as it has altitude mode. Overall, it is a safer drone to fly as it includes concealed propellers, and it is also a well-built model with highly durable materials.
Features
Altitude hold mode
One-key takeoff/landing
Headless mode
3-speed modes
360° anti-clockwise flying
Pros
Easy to fly even for beginners
Adjustable flying speed
Quick and easy landing or takeoff
Stable flight and hovering
Soft propellers are safer for kids
Cons
Shorter battery life
Controller is not rechargeable
6. Eachine E010 Mini Drones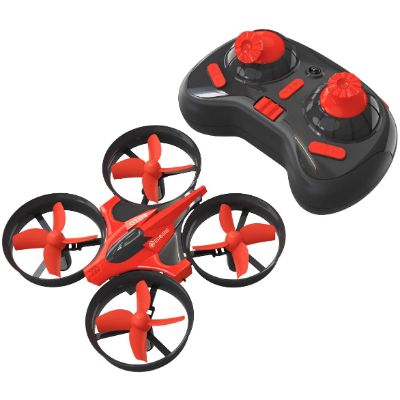 Buy now from Amazon
A simple drone like this one is just what you need when you want something that your little ones or a beginner drone user will have an easy time figuring out. What makes this such an amazing drone is that it is easy to fly and always returns to the origin point with just one key. Hence, almost anyone can fly this nano drone.
This drone has other top features that you can expect from a typical drone, such as the 6-axis gro and 3D flips that will allow for a wide variety of flying movements. This drone has headless for flying in any direction, LED light for easy navigation in low light conditions, and is also well built with a safe and durable material.
Features
2.4GHz 6-axis gyro
Remote control
Headless mode
3D flips
One key return
LED lights
Pros
Returns quickly to the point of origin
Makes a wide variety flying movements
Allows for 360-degree flips
Can fly in any direction
Easy and comfortable remote control
Safe and durable design
Cons
Short flight time
Relatively longer recharge time
7. GoolRC T36 Mini Drone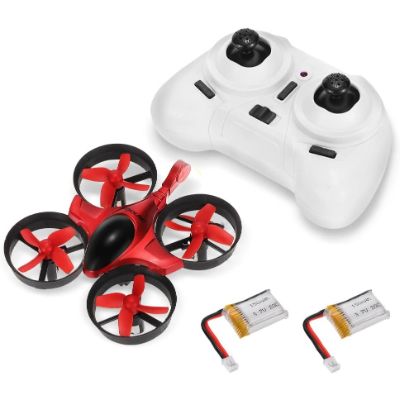 Buy now from Amazon
Every person seems to have a specific thing they like most about drones, but it is always something easy and comfortable to fly for many. With the gesture remote control on this model, that is just what you get. This remote control makes flying fun even for the little ones, and it will help teach proper drone flying technique,
The good things about this drone do not stop there as it also has other impressive things like one key return and takeoffs. Better still, it has a headless mode for more comfortable flying, a 6-axis gyro also to improve the flight and 3D flip capability. Additionally, you get a headless mode, adjustable speed setting, and nice LED light.
Features
3D flips capable
One key return
Gesture remote control
Headless mode
High/low speed
6-axis gyro
LED light
Pros
Easy to use and fun remote
Returns easily
Quick and easy takeoff
Flyable in any direction
Very ideal for flying stunts
Adjustable speed
Cons
Shorter 5-minute flying time
Poor instructions
Does not hover well
8. Sky Viper Nano Drone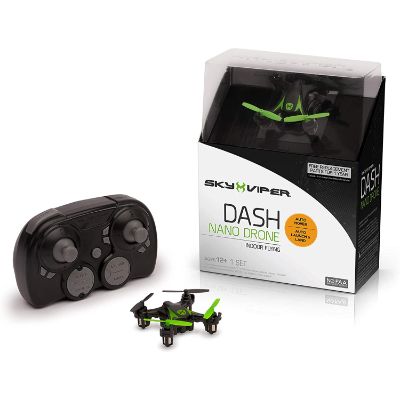 Buy now from Amazon
For those that prefer a more feature-rich drone that will offer a more immersiveand enjoyable experience regardless of your skill level, this Sky Viper model is unbeatable. One of its most outstanding features is the auto-hover capability that allows it to hove with the push of just one button. This drone allows you to choose from 8 amazing stunts that you can make the push of one key.
Also, the drone can land and launch automatically and hence giving users a much easier time when it comes to flying. There are also dual flight modes to choose from, which are automatic and manual. Better still, it has built-in GPS for navigation and multiple other functions like Follow Me.
Features
Auto hover capability
8 one-touch stunts
Automatic land and launch
Dual flight modes
Built-in GPS
Pros
Easy to use remote control
Hovers automatically
Provides multiple stunt options
Lands and launches automatically
One-button stationary hovering
Cons
Only ideal for indoor flying
Propellers are exposed
9. Atoyx AT-96 Mini Drone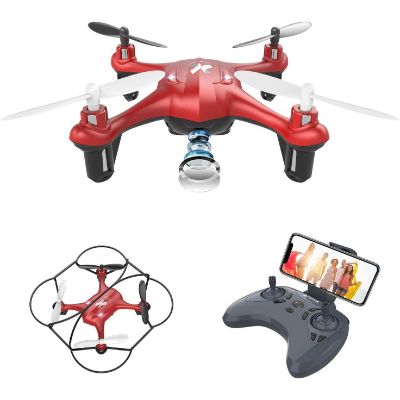 Buy now from Amazon
For those into taking drone photographs and prefer something small that will be more portable, the Atoyx AT-96 is a perfect choice. What makes this drone fantastic for photography is that it has a 120-degree wide-view camera and transmits the images and videos in real-time via a stable WiFi connection.
Better still, this drone is also easy to fly as it takes off and lands quickly with the push of just one key and also has gravity sensing technology for mores table flying. Additionally, the drone can make some impressive 360-degree rotations and is also well-built with protective and more durable material.
Features
120-degree wide view angle
WiFi transmission
Remote control
Gravity sensor
One-key takeoff and landing
360-degree rotation
Pros
Durable with protecting material
High-quality camera
Seamless wireless connectivity
Tranmists images and videos in real-time
Easy flying with gravity sensor
Takes off and lands easily
Cons
Takes more practice and time to master
10. SNAPTAIN SP350 Mini Drone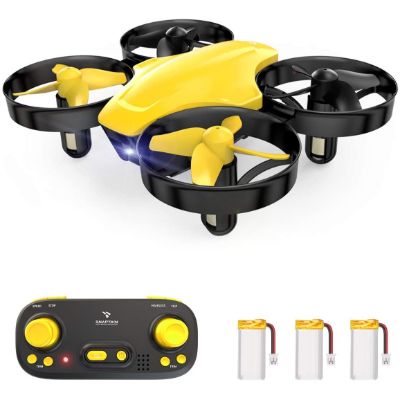 Buy now from Amazon
Snaptian is another top drone manufacturer that you can always trust. With this particular model, they aim to make something that will give kids and beginners an easy time when it comes flying. One of its most outstanding elements is that it allows them to adjust the speed fast and efficiently by choosing from 3 options.
What's more, the drone has 3D flips capability to allow you to do some impressive stunts, circle fly function that ensures you can set it to hoover at a specific pint and altitude hold for hovering. Additionally, it has 3 powerful batteries to deliver a longer flight time and propeller guards to make it a safer model even for kids.
Features
3-speed modes
3D flips capable
Altitude hold
Circle fly function
3 powerful batteries
Propeller guard rings
Pros
Great for kids and beginners
Allows you to choose from different speed options
Makes some impressive flips
Hovers nicely at one point
Longer flying time
More effortless operation
Cons
Lots of side to side drift
Limited color choices
Conclusion
A nano drone offers the convenience of being more portable and easier to store given its small size. But, with a good model, you still get most if not all the functionalities of a full-size model, and with our review above, finding the perfect one should be a breeze.
That said, the Newest Syma X20 Drone is our top overall recommendation, but for those looking for something that kids and beginners can fly, the Droneye 4DRC V2 Foldable Mini Drone will be a perfect choice.