The Mavic Mini Fly More is one of the most popular drone models out there. But, like any other top-notch and advanced drone type, they can sometimes attract a hefty price tag. Therefore, to make sure you get a good deal and better value for money, it is always better to go for a Mavic Mini Fly More combo kit.
These kits include different accessories that you need to fly the drone but at a reduced price as it comes as a package. But, like anything else drone-related, you cannot just settle on any combo kit you get, as some can be even more expensive than buying the items separately.
Therefore, to help ensure you get something that will give you value for money, here we review a few top-rated options for recommendations.
Best Mavic Mini Fly More Combo in 2021
1. DJI Mavic CP.MA.00000167 Air 2 Fly More Combo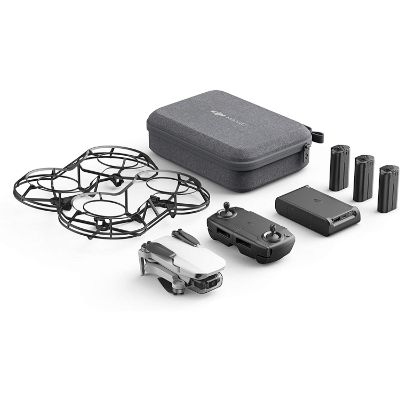 Buy now from Amazon
This combo makes the top of our list as it seems to tick all the boxes, from the quality of the drone you get to the value for money it provides. The drone offers a high-quality camera with intelligent shooting mode and various intuitive shooting functions to ensure you take superb images and videos.
Drone pilots also love the longer flight time of up to 34 minutes and the fact the batter also recharges much faster for minimal downtimes. When it comes to the flight, some highly sensitive sensors ensure you never run into things, and the drone also offers wider app compatibility for use with almost any phone.
Features
Powerful camera with intelligent shooting mode
Heavy-duty carry case
34-minute flight time
Three direction obstacle sensing
Intuitive shooting functions
Wide app compatibility
Pros
Improved flight time
A high-quality and powerful camera
Comes with a fantastic carry case
More effective obstacle sensor
Can work with various apps
Makes aerial photography easier
Cons
Seems to have an issue with the activation
2. DJI Mavic Mini Combo FlyCam Quadcopter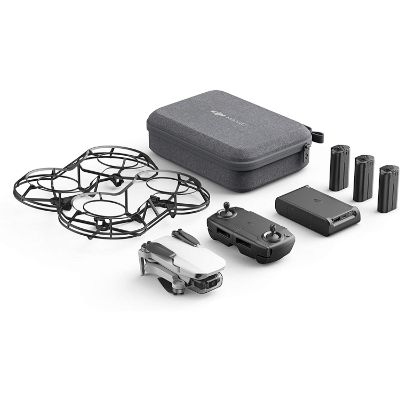 Buy now from Amazon
This drone's super-lightweight design is meant to ensure you never need to get a license to fly it as it is only 0.55 pounds. With a battery life of 30 minutes, the drone ensures you get to enjoy flying longer before you have to land and recharge or change the batteries.
The image and video quality are also guaranteed to be top-notch as this drone has a 12MP camera and shoots 2.7K HD video. Besides the high-quality camera, the drone also has a 3-axis motorized gimbal to ensure it remains more stable when in flight.
Features
Super lightweight design
30-minute battery life
2.7K HD video
12MP camera
3-axis motorized gimbal
Pros
Lighter fro flying with no restrictions
More budget-friendly
Decent flight time
High-quality video and pictures
More camera stability
Cons
Buggy app software
Outdated GEO fencing
3. DJI Spark Fly More Combo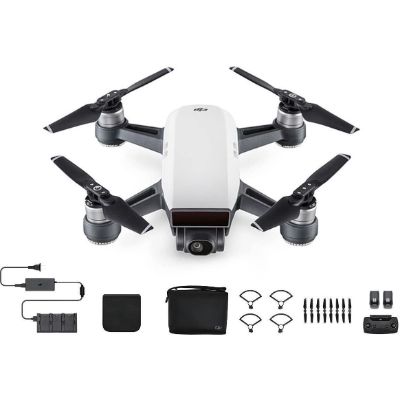 Buy now from Amazon
With this DJI combo drone, you get multiple and intelligent flight modes to ensure you can fly your drone just how you like it and get more flying options for different environments and situations. The drone also includes a high-performance camera for the best quality images and videos.
Besides being high-quality, the videos are also easy to take, thanks to the quick shit function. Also, you can be sure of more stable flight and photo-taking thanks to the 2-axis gimbal stabilization. When compared to other models, this drone also offers more powerful propulsion speeds.
Features
Intelligent flight modes
High-performance camera
Mechanical gimbal stabilization
Powerful propulsion speed
Quick shot videos
Pros
High-quality camera
Provides more flight mode options
More stable design
Flies at higher speeds
Easy and precise control
Cons
The battery comes loose easily
4. DJI Mavic CP.MA.00000123.01 Mini Fly More Combo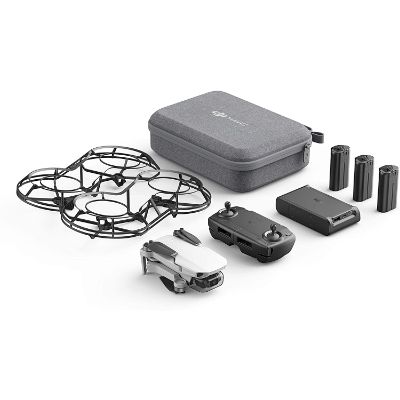 Buy now from Amazon
With a flight time of up to 30 minutes, this drone is perfect for both armature and professional drone pilots. You never have to worry about running out of battery charge without knowing, as the drone has an intelligent battery management system that gives you a real-time status update.
Safety is also guaranteed since the combo package also includes some propeller guards. What's more, the drone has an excellent remote control that provides a perfect grip for pilots and more precision and is easy to use. Again, the components come in a nice carry case that makes them easy to store and carry.
Features
30-minute fly time
Built-in DJI smart battery management
Propeller guards included
Perfect-grip remote control
Hard carry case
Pros
Safer to fly with a propeller guard
Easy and efficient battery management
Simple to use remote with perfect grip
Soft and protective carry case
Decent flying time
Cons
Carry case is not very spacious
Not very good for flying in windy days
5. DJI Mavic Collapsible Quadcopter Drone Bundle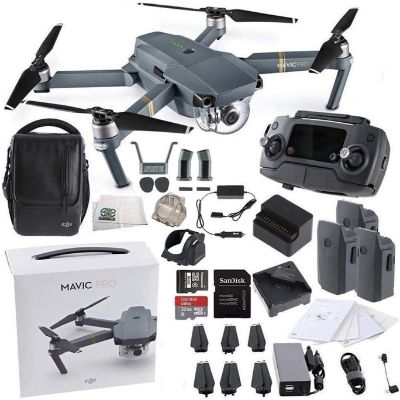 Buy now from Amazon
There is everything on this drone you can ever wish for if you prefer something simple and easy to fly that still does some impressive stunts. The drone has a pocket-sized remote that ensures more effortless operation and uses smart flight technology that provides safer and easier flying regardless of the terrain.
When it comes to photography and video taking, this model also does not disappoint as it delivers true 4K video and has a top-notch 12MP camera. Additionally, you can be sure of more stability when taking photos thanks to the 3-axis mechanical stabilization system. Also, a 16 GB SD card ensures you have adequate space for what you capture.
Features
Pocket-sized remote control
Smart FlightAutonomy technology
True 4K video
3-axis mechanical stabilization system
12-megapixel camera
16 GB SD card
Pros
Small and easy to use remote
Smart flight technology
High-quality images and vide
More stable flight
Comes with a free SD card
Foldable and quick-release propellers
Cons
Lots of small parts that can get lost easily
6. DJI Mavic Pro Fly More Combo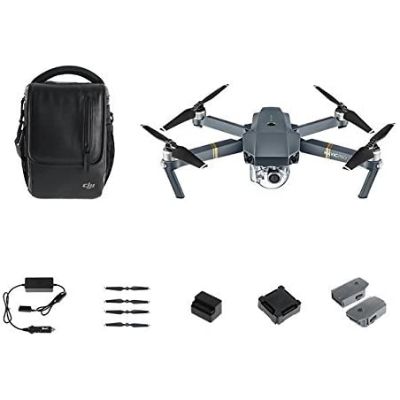 Buy now from Amazon
Whether it is the longer flight time or 4K video capture, you can be sure there is something about these combo options that will impress you. Despite its relatively lower price tag, the drone provides at least 27 minutes of continuous flight time and with both top-notch photos and videos for an unforgettable experience.
This drone offers higher speeds than most others in its class as it can fly at speeds of up to an impressive 40 MPH. What's more, there are some extra propellers that ensure you still have a spare ion case the original ones are damaged. Additionally, the drone combo comes in a nice carry bag for easy transportation.
Features
27-minute flight time
4K video capture
40 MPH flight speed
Extra propellers
Shoulder bag
Pros
Higher fling speeds
Decent battery life
High-quality video capture
Easy to carry with a nice bag
Comes with spare propellers for an even better value
Cons
Charging station not included
Carr bag is relatively small
7. DJI Mini 2 Fly More CP.MA.00000306.01 Combo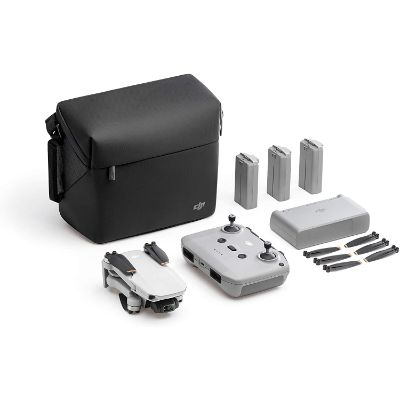 Buy now from Amazon
By providing a 4x zoom function, the camera on this drone ensures you will have a safe and comfortable time transitioning between shots. The drone has a more stable flight path to improve the omage quality as it uses a 3-axis gimbal. And when it comes to video transmission, you can transmit what you record to distances up to 10 kilometers in real-time.
The 31-minute battery life is quite decent and will ensure you have minimal downtimes as you do not have to stop much to change the batteries. Also, with level 5 wind-resistance, you can be sure of an easy time flying the drone even in windy conditions. And this is also a more affordable combo bundle
Features
4x zoom
3-axis gimbal
Intelligent modes
HD video transmission
31-minute battery life
Level 5 wind resistance
Pros
The safe and more convenient transition between shots
More stable flying
Lomg enough flight time
Tranmists videos up to 10 kilometers
Lightweight and portable
Higher wind resistance
Cons
The camera can be a bit weird
GPS is a little problematic
8. DJI CP.PT.00000069.01 Fly More Combo-US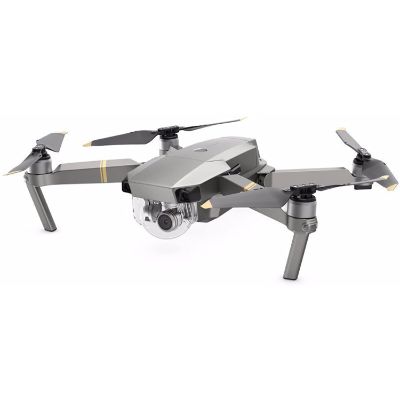 Buy now from Amazon
If you hate noisy drones, this model should be perfect for use as it provides a quieter flight thanks to the effective noise reduction mechanism that reduces the flight noise by up to 4 dB. Also, the drone has enhanced endurance, making it very ideal for those looking for something that can take a lot of abuse and regular use.
Flights are also more stable with the 3-axis gimbal. The drone has a top-quality 12-megapixel camera and delivers a 4K video resolution when it comes to video and image quality. The 30-minute flight time is quite decent, and this drone also comes in a foldable and portable design.
Features
Quieter flight
Enhanced endurance
30-minute flight time
3-axis gimbal
4K video
12MP camera
Pros
Provides a quieter flight
Foldable and portable
High-quality camera
High video resolution
More stable flight
Decent enough flying time
Cons
Movement and manoeuvres take some getting used to
9. DJI Mavic Mini Fly More FlyCam Quadcopter Bundle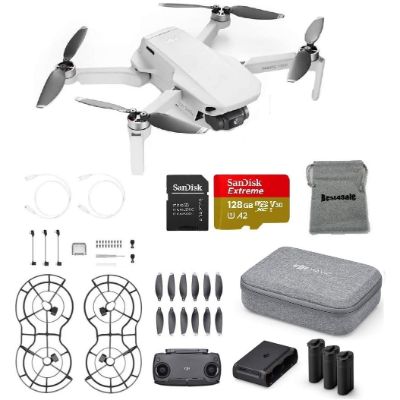 Buy now from Amazon
At a total weight of just 250 grams, this drone is designed to be ultra-portable, and you can be sure it will be easy to pack and carry to any location you might want to use. Despite being lightweight, the drone still flies well even in windy conditions.
What's more, this drone has a 3-axis motorized gimbal that ensures maximum stability, and this is more so when taking photos to provide the best quality. There are some advanced sensors on the drone to ensure it is more effective when it comes to avoiding obstacles, and it has a decent 2.7K video resolution.
Features
Weighs just 250 grams
360-degree propeller guard
Advanced sensors
2.7K Quad HD videos
3-axis motorized gimbal
Pros
Ultra-lightweight drone
More stable camera
Effective obstacle avoidance
Decent video resolution
Propeller guard included
Easy to use the app
Cons
10. DJI Spark with Remote Control Combo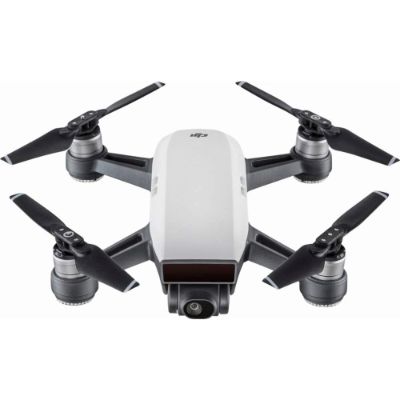 Buy now from Amazon
Here is the perfect option for you if you prefer just a basic bundle that includes only the drone and remote control. It is also a more affordable choice that will be ideal for budget shoppers. What's more, the drone is still top-quality with a 2-axis gimbal for stability when taking pictures.
There is built-in GPS navigation that ensures piloting the drone is more effortless, and you also get a longer control range from up to an impressive 1.2 miles. Additionally, this drone delivers flying speeds of up to 3 miles per hour and has a more effective obstacle detection mechanism.
Features
2-Axis stabilized gimbal
Flight anatomy with obstacle detection
3 MPH top speed
1.2-mile control range
GPS navigation
Pros
More stable camera
Highly affordable combo
Senses obstacles more effectively
Decent maximum control range
Higher flight speeds
Cons
Conclusion
A combo bundle always gives you better value than buying the drone and the different components separately. Also, it ensures you have everything you need in one pack, and if you are on the market for one, there is something for you on our list.
With that in mind, the DJI Mavic CP.MA.00000167 Air 2 Fly More Combo is our best overall option as it is a fantastic combo that offers excellent value. At the same time, the DJI Mavic Mini Combo FlyCam Quadcopter is perfect for budget shoppers.