If you are into drone photography, a 4K camera model is always a fantastic choice as it will allow you to take some fantastic pictures and videos. The only problem is that these drones can be quite pricey, given they are also often high-end models with some impressive functionalities.
But, there are still some affordable models out there, and you need to shop around a little. This article helps make it easier to find a top-quality 4K drone without spending much. We do this with an overview and review of some top-rated budget 4K drones currently in the market.
List of Best 4k Drone Under 300
1. Eachine E520S GPS Drone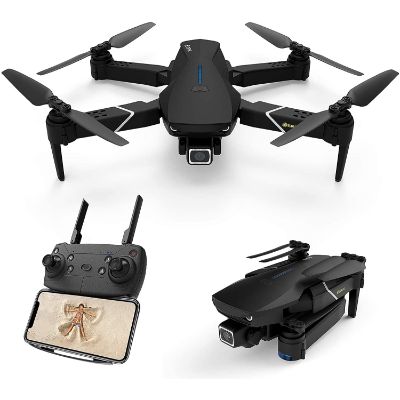 Buy now from Amazon
This Eachine drone makes the top of our list as it has a lot to offer, starting with a 5G live transmission to ensure you get to see the top-quality videos in real-time. Also, it has a Follow Me mode to ensure you can snap selfies or take videos automatically and hands-free. Also, it has effective navigation and positioning thanks to the built-in GPS.
This drone has some all-round functions that include a headless mode and altitude hold to make flying easier for you. Additionally, it has one key takeoff and landing to make flying more convenient. The 16-minute flight is quite decent, and you also get to map out your favorite routes.
Features
5G live transmission
Follow Me mode
GPS positioning system
All-round functions
16-minute flying time
One-key takeoff/landing
Pros
Allows for live video transmission
Handy for hands-free video/photo taking
Takes off and lands easily
Easy navigation with precise positioning
Decent flying time
Allows you to map out a route
Cons
Takes longer to recharge
Shorter control distance
2. EACHINE E520 4K Drone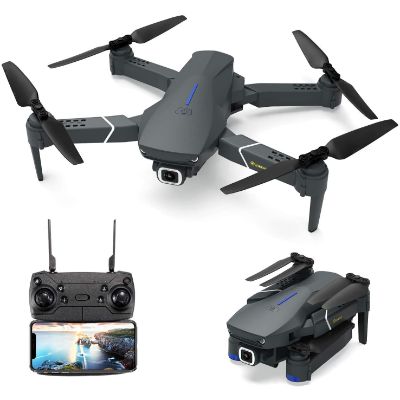 Buy now from Amazon
If you are on a super tight budget when shopping for a 4K drone, this mode is an even better choice as it is even more affordable. Besides the smaller price tag, it has a lot to offer, and one of its unique functions is the 120-degree wide camera angle that allows you to take amazing images and videos.
It also has an auto-hover mode and follows me mode that always comes in handy when you want to fly the drone without always using the remote. Also, the 1,200 mAh battery has a decent capacity, and you also get various other functions like one-key takeoff or landing, fly-by trajectory, and headless mode.
Features
120-degree wide camera angle
Auto hover mode
Follow Me mode
1,200 mAh battery
Fly-by trajectory
One key takeoff
Pros
Highly affordable
Hovers automatically
Wider enough camera angle
Can follow you and snap automatically
Decent battery capacity
More comfortable to fly for newbies
Cons
Hard to fly when it is windy
Wanting remote quality
3. Contixo Quadcopter 4K HD Camera Drones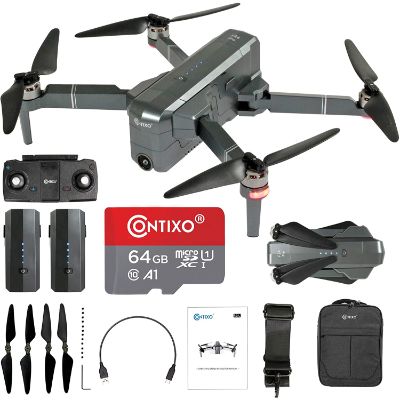 Buy now from Amazon
With this Contixo drone, you can be sure of getting longer flight times of up to m60 minutes. Additionally, it has an impressive range of up to 1,200 meters. Also, navigation is more effortless with the built-in GPS. And the drone is packed with multiple functions like headless mode, altitude hold, and one-key takeoff.
When you buy this drone, you get a 64GB SD card to ensure you have more than enough memory for storing all your photos and videos. And you can be sure of long service life as the drone has some powerful brushless motors that never require any maintenance.
Features
Brushless motors
Foldable design
GPS navigation
64 GB SD card
1,200-meter max range
60-minute fly time
Pros
Multiple smart functions
Powerful and durable motors
Foldable for maximum portability
Easy navigation with built-in GPS
Comes with a large capacity SD card
Long-range control
Longer flying time
Cons
App seems to have connectivity issues
4. Potensic D88 5G WiFi FPV Foldable Drone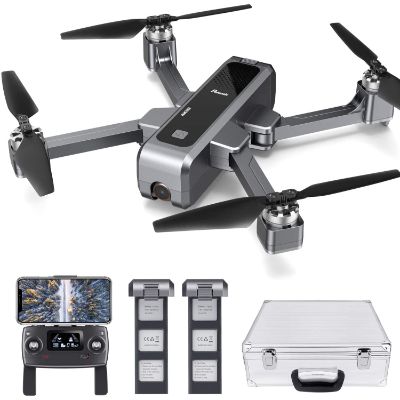 Buy now from Amazon
With a more advanced drone like this one, you can be sure of more exciting times flying it. The drone has a lot to offer, and one of its main highlights is the GPS return home that ensures you never lose it. Also, the drone has an ultrasonic altitude setting that ensures it holds altitude well in different environments.
Other fantastic functions include optical flow positioning and Follow Me technology that are very handy when flying the drone. Also, it has a 3,400 mAh battery that offers a longer flying time than most others out there. What's more, the brushless motor is more powerful and durable and starts quickly in any weather.
Features
GPS return home
Ultrasonic altitude setting
Optical flow positioning
Brushless motor
3,400 mAh battery
Follow Me technology
Pros
Works for both kids and adults
Large capacity battery
Follows you to take aerial photos
Robust and more durable motor
Holds altitude well
Comes with extra propellers
Cons
Only one battery
Video could be steadier
5. Ruko B7 4K Drones for Kids
Buy now from Amazon
When you want a more stable and safer flight, the Ruko B7 is the drone to turn to as its optical flow positioning ensures that it is just what you get. This drone is also well-built with ultra-tough housing to ensure it can stand a lot of abuse to offer many years of exceptional service. Additionally, the drone is foldable for portability and easy storage.
While the 36-minute flying time is not the longest, it is more than enough for a drone meant for kids. The drone is more straightforward to fly, and many users should figure it in just a few sessions. What's more, when you buy it, you get a nice carry case for the drone and all the accessories.
Features
Optical flow positioning
Ultra-tough housing
36-minute fly time
Foldable design
Pros
Easy to store and carry
More stable and safer flight
Super tough build
Decent flight time
Easy to fly for newbies
Carry case included
Cons
A little blurry when flying in windy conditions
Should be a little faster
6. SYMA X500 Drone with UHD Camera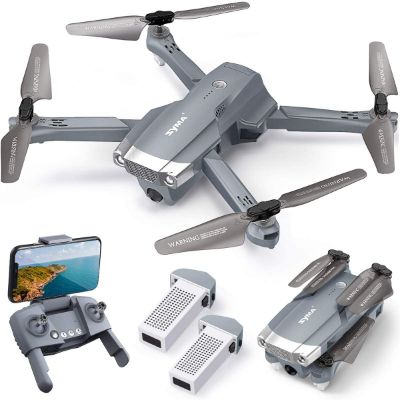 Buy now from Amazon
With this drone, kids and adults can be confident of getting more than enough flight time as the batteries last up to an impressive 56 minutes. But, besides the close to an hour flight time, this drone also has an auto-return home to ensure you never lose it and allows for real-time video transmission.
The drone also has a light positioning that ensures you get a more stable and safe flight. This function also helps make this drone more comfortable to fly, even for beginners. Other impressive elements of the drone are the Follow Me function and the fact that it has a more intelligent flight to give the users a more enticing and easy time.
Features
56 minutes flying time
Auto return home
5GHz FPV transmission
Light positioning
Follow Me
Intelligent flight
Pros
Longer flying time
Returns home automatically
Real-time video transmission
Stable and safe flight
Great for aerial photography
Built-in GPS for more intelligent flying
Cons
Not completely waterproof
7. Tomzon D25 4K Drone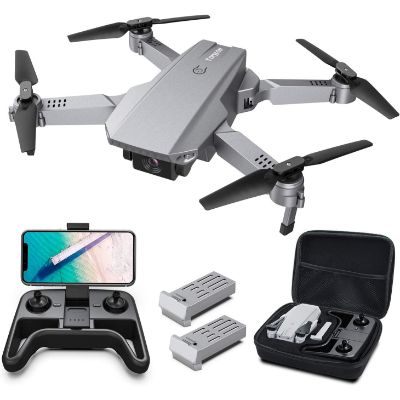 Buy now from Amazon
Tomzon D25 4K Drone is a top-notch quality drone with a lot to offer, starting with optical flow positing that ensures you always get safer and more stable flights. The optical positioning also provides that the drone does not swing from side to side when hovering, which is highly convenient when taking photographs.
Because this model has a headless mode, you can fly it in any direction even when you cannot see it. Also, it allows you to take photographs with hand gestures, which is highly convenient. Additionally, you can make some impressive 3D flips when flying, making the drone more interesting to fly. Better still, the camera is 90-degree adjustable.
Features
Optical flow positioning
Headless mode
Hand gesture photographing
3D flips
90-degree adjustable camera
Pros
Provides more stable flight
Easy picture taking with gestures
Adjustable camera angle
Does impressive stunts
Adjustable flying speed
Cons
The camera takes some figuring out
8. Drone-Clone Xperts Drone Quadcopter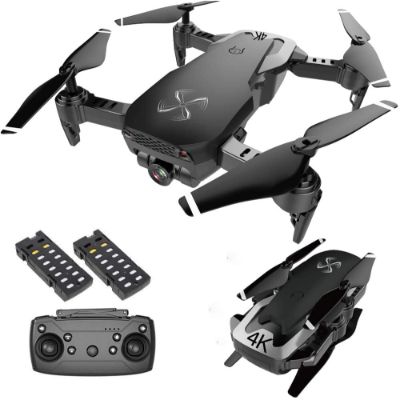 Buy now from Amazon
You do not always need a complicated drone to enjoy flying, as a simple and more basic 4K one like this one can still work well. What makes this an amazing drone is that it has accurate and straightforward gesture control to allow you to prompt it to take photos or start recording videos with gestures only. Also, you can even control its movement with gestures.
Other impressive elements of the drone are the inclusion of two cameras to ensure you take some remarkable images and one key take of and landing to make flying more effortless. Additionally, the drone has real-time video transmission to ensure you never miss anything and auto return home so that it always comes back to the starting point.
Features
24 to 30 minute fly time
Follow Me mode
Real-time transmission
Dual camera
Gesture control
One-key take off
Pros
Easy and convenient gesture control
Great for taking aerial photos
Transmits videos and images in real-time
Includes two cameras
Simple takeoff and landing
Cons
Does not come with a carry case
Some of the propellers can be problematic
9. EACHINE EX5 Mini Drone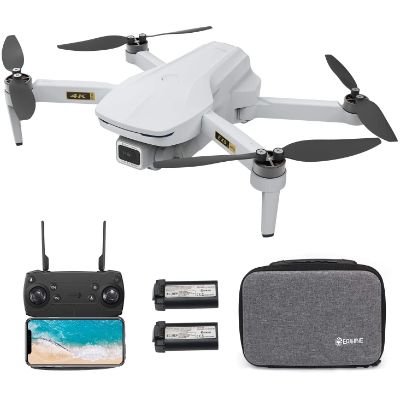 Buy now from Amazon
There is everything on this drone that a typical enthusiast can wish for, including some powerful and durable bruwshless motor. This drone provides a 60-minute flight time that is more than enough for both kids and adults. Also, it has an auto-return home mode to ensure it always comes back to the starting point to ensure you do not lose it.
With this drone, you get up to 1,000 maters control range that should be okay no matter where you are using it from. Better still, it has a foldable design that makes it easy to carry around to differnet locations. And with the Follow Me function, it will be convenient when you want to take aerial photographs.
Features
60-minute fly time
Auto return home
1,000-meter control range
Foldable design
Follow Me function
Brushless motor and aviation-grade propellers
Pros
The small and compact drone
Folds down easily
Always returns home automatically
Longer flight time
Controllable from further out
Can follow you and take aerial photos
Cons
10. Autel Robotics Foldable Drone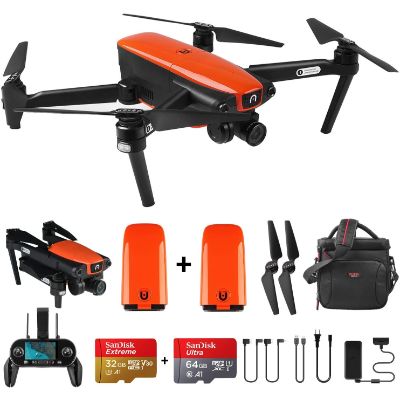 Buy now from Amazon
Foldability means you will have an easy time storing and carrying this drone from one point to another. What's more, the drone has a 4K wide-angle lens that ensures you capture a wide area when taking pictures. You never have to worry about bumping into obstacles no matter where you are flying as it has 3-way sensors.
Flying is also more effortless and precise as the drone has GPS satellite positioning that also allows for 3D mapping. With the autopilot functions, you can fly the drone autonomously when you want. Many users also love the easy one-touch fly actions to ensure it is easy to take off and land.
Features
Foldable design
4k wide-angle lens
3-way obstacle avoidance
GPS satellite positioning
3D mapping technology
Autopilot functions
Pros
Easy to carry and store
Effective obstacle avoidance
Top-quality lens
Very ideal for mapping out route
Can fly autonomously
Easy one-touch fly actions
Cons
Conclusion
With a good 4K drone, you can be sure you have an effective and easy way of taking your photography a notch higher. Now finding that perfect model should be effortless as there is something for everyone on our list above.
However, the Eachine E520S GPS Drone is our top overall recommendation, while the EACHINE E520 4K Drone is perfect for those looking to spend the keas amount of cash.