The DJI Mavic Mini is one of the most popular drone models for professional and amateur drone pilots. What makes it such a prevalent drone model is that it is easy to fly and comes with some fantastic features and functionalities.
However, to ensure you get long service from this drone, you need to make sure you have a good case for storing and carrying it. The good news is that there are plenty of good cases for this drone in the market, and so you can be confident you will have more than enough options.
However, to help make it easier to choose the right one for you, here we look at some of the best-rated options available in the market.
List of The Best dji Mavic Mini Case
1. Mavic Mini Satchel Rucksack Drone Accessory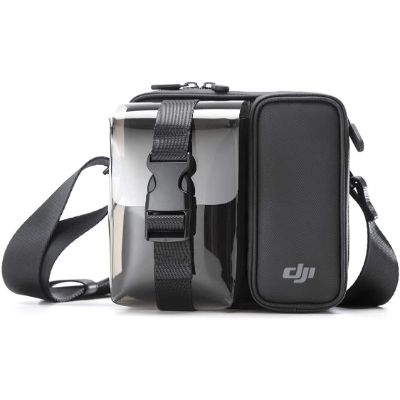 Buy now from Amazon
At the top of our list is this fantastic case designed to carry all your Mavic mini accessories, including the remote controller and charging hub. Additionally, besides the Mavic Mini, it is also quite a versatile base that you can use for other drone types like the Osmo Action and Osmo Pocket. When it comes to construction, it again never disappoint as it has a high-quality polyester material.
With this drone case, you get a well-organized interior with compartments for different accessories, and there is also a nice external pocket for extra storage. What's more, the case has some secure double zippers, high-quality buckles, and adjustable straps that will ensure you have an easy time carrying it around.
Features
77% polyester material
Fits Osmo Pocket, Osmo Action and Mavic Mini
Adjustable carry strap
Secure plastic buckles
Double zippered
External pocket
Pros
Durable but lightweight material
Works for various drones
Easy to carry with adjustable strap
High-quality zippers
Handy exterior pocket with flap
High-quality buckles
Cons
Small front picket zipper opening
External pocket is not water-resistant
2. YSTFLY Mini Travel Portable Bag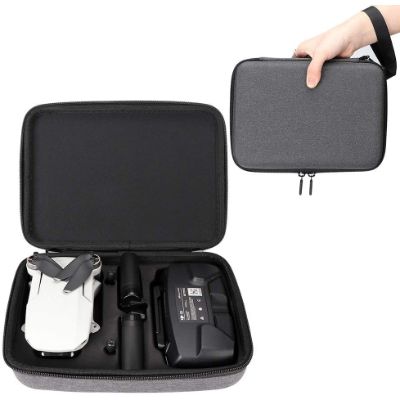 Buy now from Amazon
This model is perfect for the drone pilots shopping for a more affordable case to hold their Mavic Mini and accessories. It is a highly affordable unit that also comes in a small and compact size to ensure it is easy to store and gives you an easy time when it comes to carrying it around as it does not take up significant space on your backpack.
Additionally, the drone has a lovely hand strap that provides a more secure grip when handling. With the smooth surface on the case, it has a sleeker look and takes little effort to clean up. Many buyers will love that it opens up entirely for easy accessories placement and that the interior is partitioned to make organization easy.
Features
Strong EVA material
Small and compact
Secure hand straps
Partitioned interior
Double zippers
Pros
Highly durable material
Easy to keep accessories organized
Nice hand strap
Good quality double sippers
Smooth and easy to clean surface
Opens up completely
Highly affordable
Cons
3. PGYTECH Carrying Case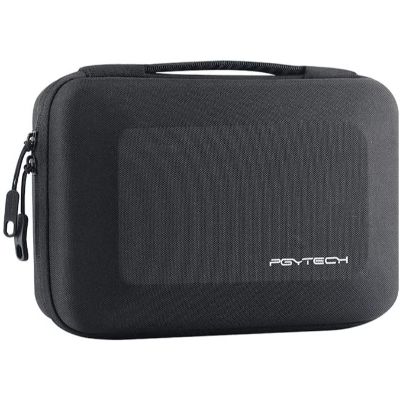 Buy now from Amazon
With this PGYTECH carry case, you get a compact drone carry bag that will be perfect for those who do not have a lot of room for carrying their drone. Despite the smaller size, the case still has an easy to organize interior with useful partitioning and dedicated spaces for your Mavic Mini accessories, which is highly convenient.
When it comes to the construction, this model also does not disappoint as it has a rigid EVA shell that can take a lot of abuse and a wear-resistant fabric on the inside to protect the delicate drone parts and accessories. Additionally, you also get a middle leaflet that provides extra storage for small things and a nice sleeve for your smartphone.
Features
The partitioned and well-organized interior
Smooth wear-resistant interior fabric
EVA hard shell
Hiden handles
Middle leaflet for extra storage
Smartphone storage sleeve
Pros
Easy to organize interior
Smooth and durable fabric
Sturdy outer shell
Easy t carry with hidden handle
Lost of extra storage space
Cons
Smaller than expected
Not enough room for some charging stations
4. TOMAT Mavic Carrying Case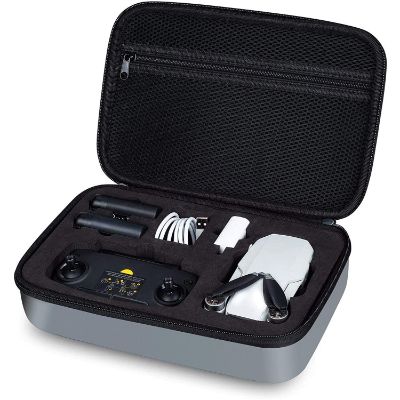 Buy now from Amazon
There are countless things that drone pilots will love about this carry case, but perhaps the main ones are the impressive overall appearance and the EVA outer shell that is designed to take a lot of abuse to ensure you get value for money. Additionally, the drone case has a nice interior surface with foam partitioning.
Still, this model has a nice zippered mesh pocket on the interior that provides much-needed extra storage for other things you need when flying the mini-drone. Better yet, the case has some nice waterproof double zippers that keep water out and allow you to close the bag securely. Also, there is a comfortable top carry handle for easy portability.
Features
Zippered internal mesh pocket
EVA hard outer shell
Removable foam partitioning
Top carry handle
Waterproof double zipper
Pros
Well-organized storage
Extra storage space with mesh pocket
Hard and scratch-free shell
Partitioning is removable for versatility
Nice carry handle
High-quality and waterproof zippers
Cons
Has a funky smell when new
Not truly a hardshell
5. Skyreat Portable Carrying Case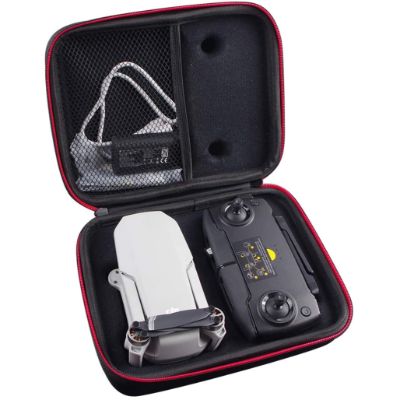 Buy now from Amazon
With this highly portable Skyreat carry case, you can be sure you have a top-quality product designed to offer many years of exceptional service as it has a premium quality EVA shell. The interior is also lovely and smooth with velvet fabric that helps protect your drone and accessories from scratches and other damages.
There is also a padded and non-slip handle to make it easier to carry the drone around. When it comes to organizing the stuff, the molded interior surface ensures you have an easy time as there is a dedicated slot for the different items. This case also has a storage sleeve inside to hold a few extras you might wish to carry and comes with reliable zippers.
Features
High-density EVA build
Sleek velvet interior
Padded and non-slip handle
Solid zipper tactile material
Molded interior partition
Sleeve storage space
Pros
Superior quality shell material
Sleek and soft interior surface
Easy to organize drone and accessories
Comfortable handle
High-quality zippers
Extra storage with internal sleeve
Cons
6. SYMIK P250-MM Hard Case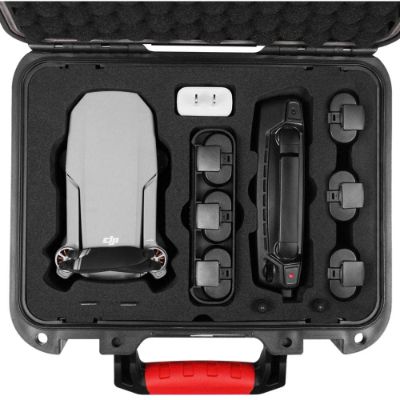 Buy now from Amazon
If you want a genuinely hardshell case with a professional-grade construction that ensures it can take lots of abuse, this one is perfect. The case is built like a tank and can take anything you through its way, making it ideal for regular use in different locations. Additionally, it is also effective at protecting the drone as it has an EVA foam insert.
There is plenty of well-organized space on this case to make sure you have an easy time storing up everything you need to fly the drone. The storage space includes three bonus storage cases inside that you can use to keep small stuff and a unique slot for storing your propellers. Better yet, you can be sure of an easy time carrying it around as it has a great handle.
Features
PP plastic alloy build
Special propeller slot
EVA foam insert
Rugged exterior
Non-slip handle
Bonus interior storage compartment
Pros
Heavy-duty material
Allows for easy propeller storage
Handy extra storage cases
Rugged to withstand more abuse
Cozy and protective foam interior
Comfortable and slip-free handle
Cons
Quite a heavy case
Larger than expected
7. Djipart Mavic Mini Case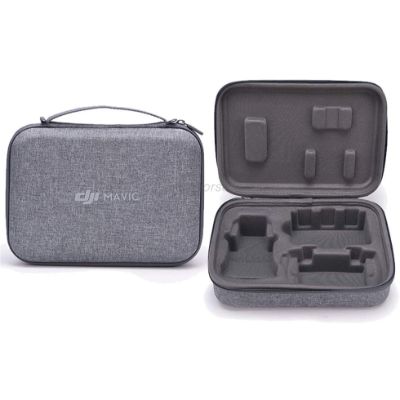 Buy now from Amazon
The handheld design of this case is its main highlight, and it ensures you have an easy time carrying your drone and that you maintain easy access as it is always in your hand close to you. But, because this is a more compact and rigid enough drone, you can still pack it up into your backpack with no issues or damages.
Additionally, the case has perfect molding inside to ensure you have an easy time organizing the drone and all its accessories. Also, the interior has solid blocks on the lids that prevent damages to the gear by ensuring they do not move. One more thing drone lovers love is the spacious carry handle with a non-slip surface.
Features
Handheld design
Smooth fabric cover
Precision molding interior
Sturdy EVA shell
Lid blocks
Pros
Handy lid blocks prevent rattling
Convenient handheld design
Nice and stylish fabric over
Easy to organize interior
Sturdy and rigid enough shell
Cons
8. Fromsky Mini Drone Travel Case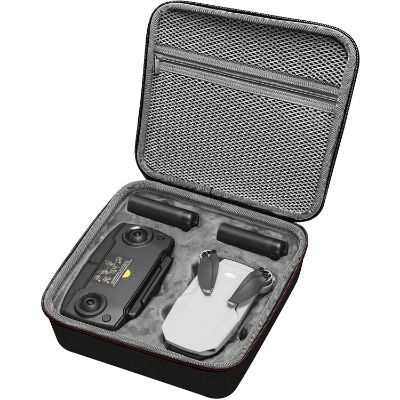 Buy now from Amazon
With the soft velvet lining on this drone carry case on the interior surface, you never have to worry about scratches and other damages to your drone of accessories. Besides the safe interior, the exterior surface is also protective enough as it has a hard EVA outer sell that can take a lot of abuse when on the go.
There is also a hand strap and a nice carry handle on the case, making it easier and more comfortable to carry around. Additionally, this case is entirely waterproof to ensure water never damages your gear, and with the double zippers, it is more convenient to use and secure.
Features
Soft velvet lining
Zippered mesh pocket
Hand strap included
Hard EVA shell
Molded interior
Double zipper
Pros
The lining ensures maximum safety for your gear
Extra interior storage space
Easy to carry with comfy hand strap
Sturdy outer shell
Easy to organize the interior
Waterproof surface
More portable with nice carry handle
Cons
Ring cover will not sit well
9. Smatree Hard Carrying Case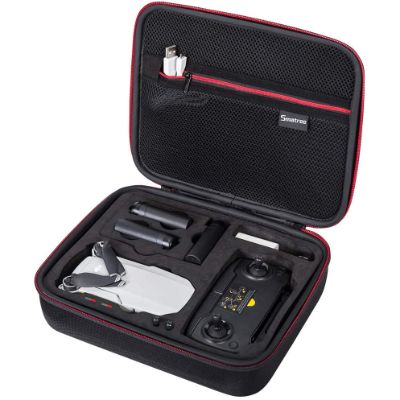 Buy now from Amazon
By including both a carry handle and shoulder strap, the manufacturer ensures that drone pilots will have an easy time carrying this handy case. What's more, the grip is non-slip, and the shoulder strap is also super comfortable. Besides the ease of carrying, this pack is also made to last with a heavy-duty hard shell.
The interior also has a high-density EVA material that ensures maximum protection for your gear and provides a cozy look. Additionally, there is a zippered mesh pocket on the lid to provide extra storage space.
Features
High-density EVA material
Hardshell case
Built-in carry handle
Shoulder strap
Mesh pocket
Pros
Comfortable and easy to carry
Multiple carry option
The soft and protective interior surface
Hard and rigid shell
Extra storage pocket
Cons
Not the most aesthetically pleasing
Zippers are not entirely waterproof
10. Smatree Waterproof Hard Case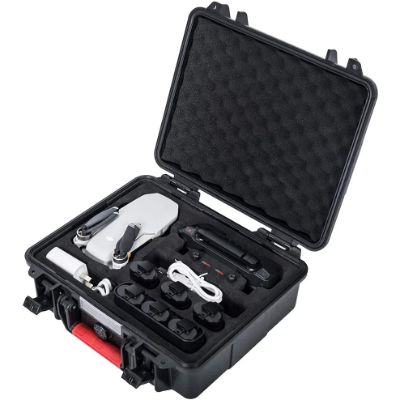 Buy now from Amazon
Just by looking at this Smartree mini-case, you can tell it has been designed to give you a long service life. This case has a more rugged ABS material construction that can take a lot of beating as it is resistant to crushing and scratches. What's more, it is entirely waterproof to ensure you never have to worry about water damaging your drone.
There is a soft and flexible foam material for the interior that ensures it does not damage or scratch the drone when in transit. The foam also has perfect molding to ensure it keeps the accessories well-organized. Additionally, the drone has a built-in carry handle for maximum portability.
Features
ABS material
Soft, flexible foam
Rugged, anti-crush surface
Built-in carry handle
Pros
Completely waterproof construction
Protective foam interior
The durable and sturdy shell
Resistant to scratches and crushes
Easy to carry around
Cons
Conclusion
DJI Mavic Mini drones are fantastic, but to get the best from them, you always need to make sure you have the best accessories, and one of them is a good carry case. That said, now you never have to worry about finding an ideal pack as our list above provides enough recommendations.
Each model on our list is top-notch, but the Mavic Mini Satchel Rucksack Drone Accessory is our best overall and top recommendation. Simultaneously, the YSTFLY Mini Travel Portable Bag is perfect if you are looking for something more affordable.