If you want to enjoy flying your drone and minimize the risk of damaging it when doing so, you need to have a landing pad. Landing pads provide a cushioned spot for landing drones and make it easier to take off or land as you know exactly where you have to place it. Also, they can help you improve your flying precision as landing on a pad requires more accuracy.
While you can always make a DIY landing pad, it will not be as good as the professionally made ones. Also, landing pads are quite affordable, and so it is always cheaper to buy that spend a lot of time and effort making one. If you are on the lookout for a landing pad, we help make your choice easier with some detailed reviews.
List of The Best Drone Landing Pad in 2021 Reviews
1. Kinbon Drone Landing Pad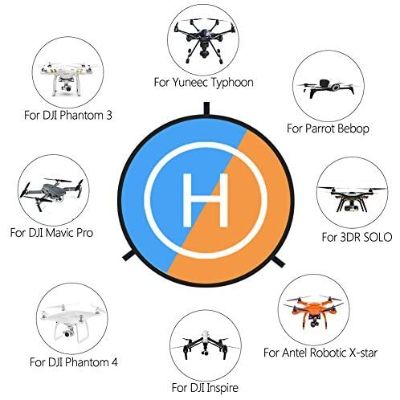 Buy now from Amazon
Regardless of the drone type and size you have, you can be sure this Kinbon landing pad will work for you as it is a 30-inch universal model that accommodates almost any drone out there. What's more, it is built to last with a high-quality and waterproof nylon material. And another unique element is that it is double-sided.
Besides being double-sided, the sides have different bright colrs to ensure you can spot the pad easily when your drone is in flight. Additionally, the pad comes with various accessories such as reflective strips for use at night and stakes to keep in place on windy days. The fast-fold design makes the pad easy to pack and carry for maximum portability.
Features
Universal 30-inch pad
High-quality nylon material
Double-sides
Dual colors
Fast fold design
Rich accessories
Pros
Durable and waterproof material
Accommodates all drone sizes
Bright and easy to see colors
Usable on both sides
Easy to fold and portable
Reflective strips for night flying
Cons
Takes some practice to use
Stakes could be firmer
2. Yaloon Drone Landing Pad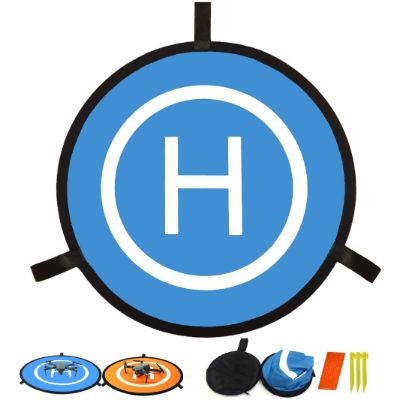 Buy now from Amazon
This model is our most affordable option for the drone pilots on the lookout for the best cheap drone landing pad. Despite the small price, it is still built to offer exceptional service with durable and waterproof nylon material. Because it comes in a bright orange shade, the drone is super-easy to locate when flying.
Other additionals to the drone include the reflective strips and landing nails. Reflective strips make it easy to locate the pad when flying at night or in low light conditions, while the pins allow you to secure the landing pad under windy conditions. Additionally, this pad comes with a carry bag and clear directions on how to use it.
Features
Fast foldable design
Durable nylon material
Landing nails
Reflective landing strips
Carrying bag
Pros
Folds quickly and easily
Durable and waterproof material;
Easy to keep in place
Highly affordable
Ideal for night flying
Cons
Relatively smaller
Does not hold up very well in extreme cold
3. Homga Universal Drone Pads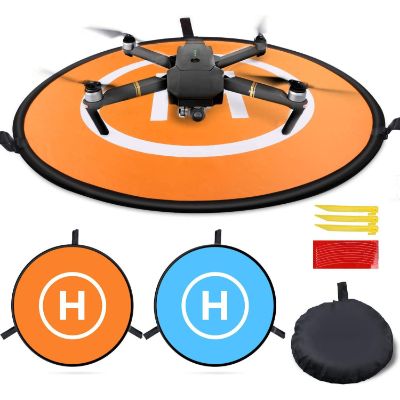 Buy now from Amazon
With a universal drone landing pad like this one by Homga, you can land almost any drone model out there with no issues, and at 30-inch in diameter, it is also large enough. This drone has a heavy-duty nylon material that is long-lasting and effective at keeping out water to ensure it does not damage your drone.
Being a foldable drone landing pad, you can easily pack and carry it to different sites, ensuring you can use it no matter where you might be flying the drone. The drone also includes reflective strips for nighttime visibility, and it has some landing nails to keep it in place when flying in windy conditions.
Features
Universal 30-inch pad
Heavy-duty nylon material
Foldable and portable
Landing nails
Carry bag provides
Handy reflective strips
Double-sided with dual colors
Pros
Accommodates all drones
Made to last
Easy to carry around
Usable at night
Easy to locate at night
Both sides are usable
Cons
Folding looks complicated at first
4. Fstop Drone Landing Pad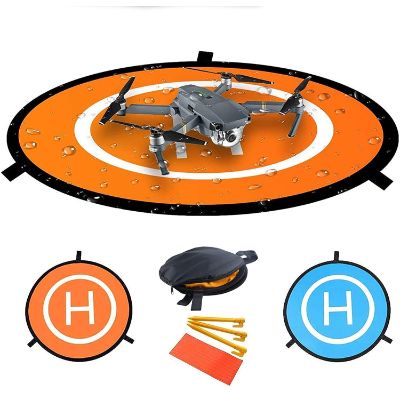 Buy now from Amazon
Fstop makes this product with 100% nylon material, and so you can be sure it will last a long time and be more resistant to the elements, and effective at keeping water out. With the fast-folding design, you can also pack and carry it to different sites. Additionally, it comes with a handling bag that makes this even more comfortable.
The universal compatibility of the drone makes it ideal for use with most drones out there. And because it has a reflective sticker, you will never have any issues spotting it even when flying at night or in other low light conditions. Also, you can use the nice landing nails to keep the unit secure under windy conditions.
Features
100% nylon material
Fast-fold design
Universal drone compatibility
Reflective sticker
Waterproof surface
Handling bag
Pros
Heavy-duty and durable material
Easy to spot at night
The surface keeps out water
Secures easily to the ground
Works for a wide variety of drones
Easy to store with a nice carry bag
Cons
Carry bag quality is wanting
5. PGYTECH Drones Landing Pad Pro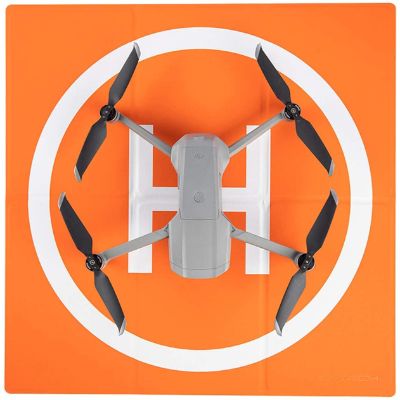 Buy now from Amazon
The heavy-duty PU material means you never have to worry about this pad getting damaged by the elements or absorbing water that can damage your drone. Hence, you can be sure of getting a long service life and good value for your money. The pad comes in a double-sided design with two different colors making it even more useful.
Overall, it has a more stylish finish that makes it an exciting product to own and an excellent choice for those who value appearance. Because it is a fast-fold model, you can be sure it is super easy to carry around. It is also a universal drone that works for most drone models and is usable at night thanks to the reflective strips.
Features
PU material
Double-sided two-color design
Fashionable finish
Fast-fold
Works for most drones
Pros
Lightweight and compact
Easy to fold and portable
Waterproof and sturdy material
Pleasant and easy spot finish
Wide drone compatibility
Cons
Reflective strops are a little off
Not very secure for windy conditions
6. RCstyle Drone Landing Pad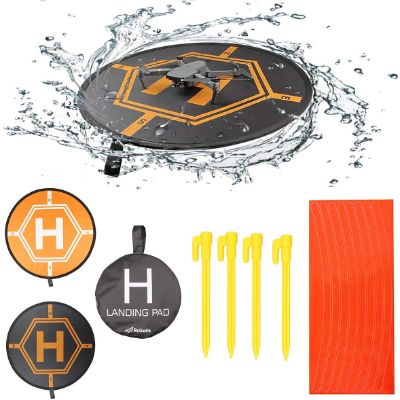 Buy now from Amazon
While the fast-fold design that allows users to fold the drone into a compact size quickly draws many people to this unit, there is still more to it. Hence, it is an excellent buy. To start with, it has a double-sided design to ensure you have two usable sections that come in different but still bright shades for easy spotting.
The inclusion of reflective strips means the drone will be super-easy to spot when flying at night. The nylon material is heavy-duty for maximum durability and also completely waterproof. Again, this pad comes with landing nails to help secure it when flying in inclement weather, and there is also a nice carry case.
Features
Fast-fold
Double-sided design
Waterproof material
Landing nails
Reflective strips
Carrying case
Pros
Folda quickly
Lightweight and more portable
Effective at keeping water out
Both sides are usable
Great for night flying
Cons
Quality of some of the accessories is wanting
7. Fstop 36-Inch Drone Landing Pad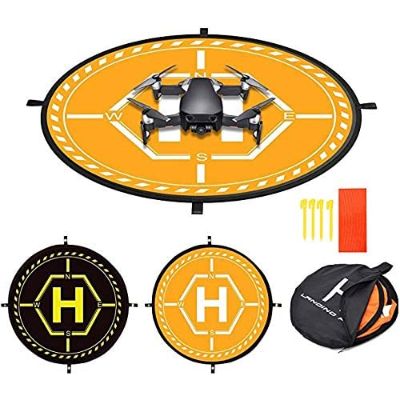 Buy now from Amazon
The premium-quality nylon material is the highly of this Fstop product as it ensures it will be many years before you ever have to worry about finding a replacement. But, this is also one of the most extensive options on our drone landing pad review. At 36 inches in diameter, it is ideal for use with almost any drone out there.
Additionally, this is a double-sided model with a black side for normal flying and an orange one with a reflective strip for easy spotting at night. Overall, this is a super-convenient model you can easily pack and carry to different sites. Also, you never have to worry about the elements as it is entirely waterproof and sun-resistant.
Features
Premium-quality nylon material
36-inch spacious design
Double-sided and double color design
Super-convenient
Waterproof and sun-resistant
Pros
Easy to carry and store
Heavy-duty material
Spacious universal design
More convenient design
Dual sides for different uses
Keeps elements out
Cons
Carrying bag is not very good quality
Pegs are problematic to store
8. Binbinli Drone Landing Pad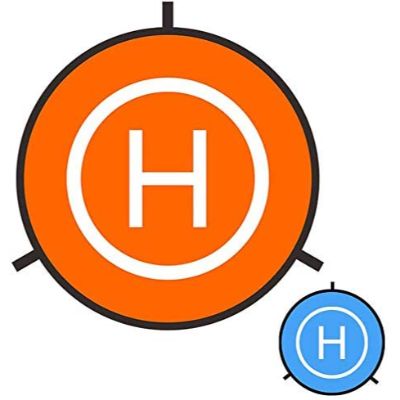 Buy now from Amazon
Here is another universal 30-inch landing pad that should work for most typical drone models and sizes out there. Better yet, it is foldable and portable to make sure that drone pilots can carry and use it at all their favorit locations. When it comes to the construction, it features a 100% nylon build that makes it highly durable and completely waterproof.
Overall, the drone comes in a more fashionable design that ensures it has a sleeker and attention-grabbing appearance so that it always stands out. What's more, like most other top pads, it has a double-sided design that makes it more versatile. Other things that users will love include reflective strips and land nails.
Features
Universal 30-inch pad
Foldable and portable
100% nylon material
Fashionable design
Double-sided two-color design
Three land nails
Pros
Works fro most drones
Highly durable material
Easy to fold and carry
More pleasant finish
Waterproof surface
Cons
Could be a little heavier
Needs better stakes
9. SYMIK LP500E Pad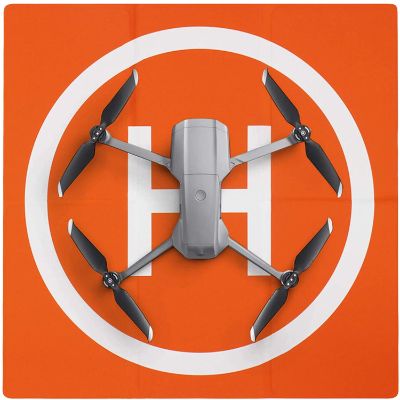 Buy now from Amazon
Like many other top drone landing pads, this one comes in a double-sided design that ensures you can use it both in the day and at night. What's more, it has a fantastic color that provides the perfect contrast with the surrounding environment, making it even easier to spot. With the fast-fold design, you can easily pack and store the drone.
This drone comes with a premium carry pouch to ensure an even easier time packing and carrying it. Also, it is an extremely compact unit when folded but still spacious enough in an open position. Additionally, the surface is completely waterproof and more resistant to other elements like the sun.
Features
Double-sided design
Waterproof surface
Fast-fold design
Extremely compact
Superior contrast
Premium storage pouch
Pros
Super easy to spot
Two usable sides
Effective at keeping water out
Folds easily
More compact and portable
Cons
Staking it down is a little complicated
A little too light
10. Hoodman HDLP3 Drone Launch/Landing Pad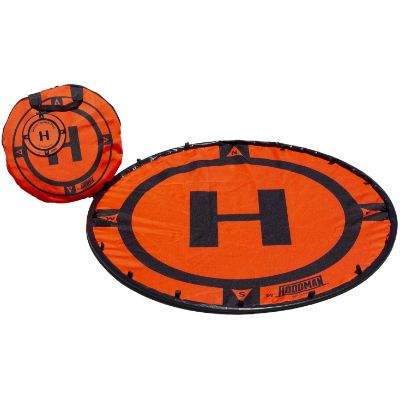 Buy now from Amazon
If you do not mind spending a few extra bucks on a larger, premium-quality pad that you can use to launch and land any drone out there, the Hoodman HDLP3 is an unbeatable choice. With a 3-foot diameter, there is hardly any drone out there that cannot land on it, and hence it will be the perfect choice regardless of what you fly.
Setting up the pad takes little time and effort as the unit springs up into shape with ease when you release it. The drone also comes with a nice carry case that ensures you have a simple way of folding and storing it. Other outstanding elements of this drone include the rustproof components and weighted perimeter.
Features
3-foot diameter
Easy setup design
Rustproof components
Carry bag provided
Weighted perimeters
Pros
Super-large diameter
Springs into shape quickly
Easy to pack and store
Components do not rust easily
Stays in place under windy conditions
Cons
Conclusion
A proper landing pad makes your drone launches and landings faster, easier, and safer. Hence, these pads will directly help enhance your drone's service life and make you fly better. As you shop for one, you need to be careful not to end up with a substandard knockoff, but things should be easier for you with this piece to help you out.
That said, the Kinbon Drone Landing Pad is our top overall recommendation, while the Yaloon Drone Landing Pad is what we recommend for those looking for an inexpensive option.