Backpacks always come in handy for carrying a wide variety of things, including drones. But, unlike other stuff, you cannot carry your drone with just any backpack. Something with enough space to hold the drone and all the accessories and has well-organized space to ensure you do not damage the drone components and accessories when on transit.
The good news is that there are some particular backpack types meant for drones. But, you cannot just settle on any backpack that claims it can hold and store your drone. As you choose a bag for carrying your drone, make sure it is durable, easy to organize, spacious, and also looks good when carrying.
List of The Best Drone Backpack in 2021
1. USA Gear Backpack Case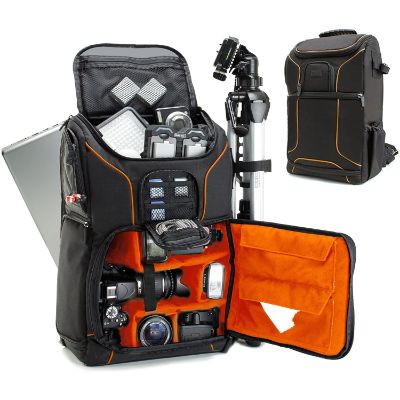 Buy now from Amazon
For our best overall product, we have this fantastic backpack case from USA Gear that will not only carry any foldable drone out there but a wide variety of other things. While not explicitly meant for drones, this backpack has enough storage for all your drone accessories and holds a wide variety of photography components.
When it comes to the overall build, it is a heavy-duty product guaranteed to offer many years of excellent service as it has a thick and durable material. Additionally, it has some top-quality metal zippers with a soft rubber puller. Another fantastic element is that the backpack has a tripod holder, rain cover, and excellent interior dividers.
Features
Padded laptop compartment
Multiple storage pockets
Metal zippers
Soft rubber pullers
Customizable interior with padded dividers
Tripod holders
Pros
Holds a wide variety of equipment
Easy to organize interior
Heavy-duty zippers
Easy to open with soft pullers
Nice laptop holder included
Comes with a rain covers
Cons
Some compartments are too small
Shoulder straps could be more comfortable
2. USA Gear Drone Mini Backpack Case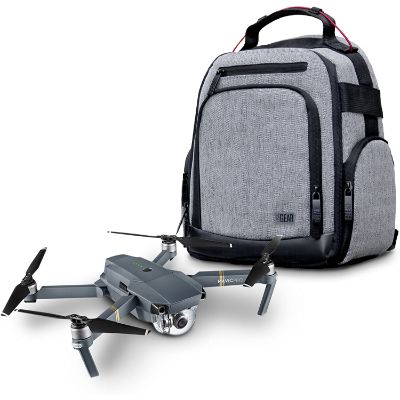 Buy now from Amazon
Here is a perfect choice for the drone pilots shipping for a more affordable back for their gear. Despite being a budget model, the backpack is still well-built with a durable material that is also weatherproof to ensure it can protect your equipment from the element and give you a longer service life.
Additionally, the backpack has an easy to organize interior with excellent dividers that help you arrange all your drone accessories for safe transport. Better yet, the interior is scratch-resistant and adequately padded for extra protection for your gear. Overall, this is a more compact and lightweight backpack that should be super easy to carry around.
Features
Water-resistant baselining
Customizable interior dividers
Scatch-resistant interior
Padded interior surfaces
Weatherproof construction
Pros
More compact design
Cozy interior surface
Easy to organize the backpack
Highly affordable
Adequately-padded carry straps
Cons
Relatively smaller capacity
3. Beschoi DSLR Backpack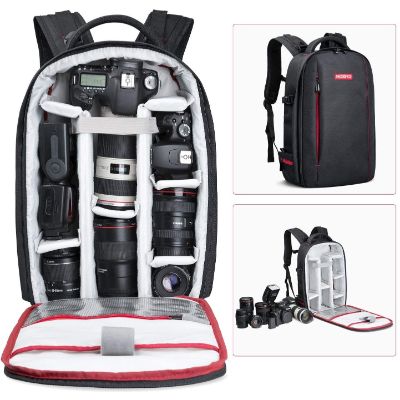 Buy now from Amazon
For drone pilots that are also into photography, this backpack will be a good buy. While it is made explicitly for photography equipment, it has large enough compartments that can hold almost any drone model out there. Additionally, it is a well-built backpack with a heavy-duty nylon material and with reinforced stitching.
Organizing your gear should be a simple task with this backpack. It includes some sturdy movable drivers that you can arrange in different ways depending on your accessories. Your equipment should also be secure enough with the antitheft zippers while. Carrying it should also be comfortable with adequately padded and adjustable straps.
Features
Water-repellant nylon material
Heavily reinforced stitching
Antitheft zippers
Movable dividers
Padded shoulder strap
Pros
Comfortable and adjustable straps
Durable and water-resistant material
Secure antitheft zippers
Easy to organize interior
More durable stitching
Plenty of storage pockets
Cons
Stitching on slaps needs improvement
Needs more flaps
4. TARION Waterproof Camera Backpack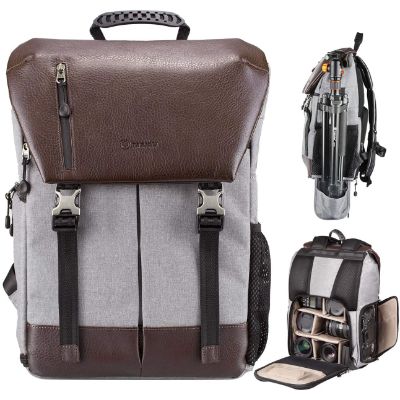 Buy now from Amazon
With a tremendous all-round backpack like this on by Tarion, you can be sure you have a safe and secure way of carrying your drone to different locations. Additionally, the drone comes in handy in almost any weather as its IP65 waterproof rating means it is sufficient to keep most of the elements out.
There is also a rain cover if you need extra protection. When it comes to the storage space, this is a 17-liter capacity backpack, meaning there is plenty of room, including a 15.6-inch laptop compartment. And when it comes to using, the bag will not disappoint as it is comfortable and easy to carry with ergonomic back support and padded shoulder straps.
Features
IPX5 waterproof certified
15.6-inch laptop compartment
Rain cover included
17L capacity
Ergonomic back support
Padded shoulder straps
Pros
Large gear capacity
Waterproof construction
Comes with an excellent rain cover
Comfortable and easy to carry
Shock-proof lining
Chic and unique design
Cons
The upper section flap makes access harder
Thin waist straps
Poor carry handle design
5. Estarer SLR/DSLR Waterproof Backpack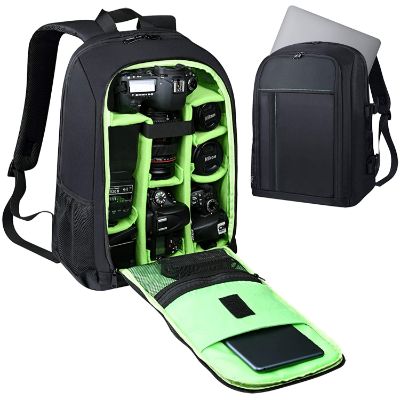 Buy now from Amazon
Being a multipurpose backpack, this product by Estarer is a perfect choice for those looking for something to carry their photography gear drone or even for regular bag uses. And the backpack has the required build to ensure it can take the abuse that comes with everyday use, thanks to the tough nylon material.
Other outstanding backpack elements include the highly durable YKK zippers that glide smoothly for easy opening and reinforced top handle for easy carry. Besides the handle, the backpack also has some adequately padded straps. When it comes to organizing your stuff, the movable divides will be very handy, while the rain cover is handy in inclement weather.
Features
Water-resistant nylon materials
Multipurpose design
YKK smooth zippers
Reinforced top handle
Padded straps
Movable dividers
Rain cover provided
Pros
Easy to carry with straps and handle
Ideal for various uses
Easy-glide zippers
Keeps water out effectively
Easy to organize interior
Cons
No easy access
Needs better flaps
6. CADeN CND10-BK Backpack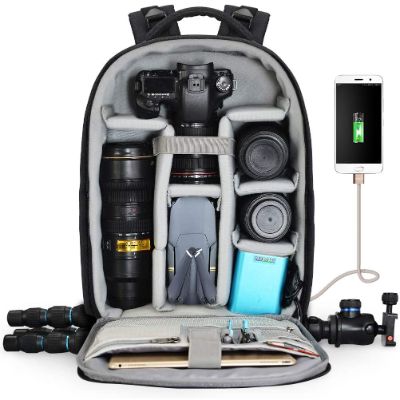 Buy now from Amazon
The large capacity CADeN CND10-BK allows you to carry all your gear when taking pots on your drone or other camera types. It has some easy to move dividers that allow for easy gear organization. And because this is a multifunction backpack, you can use it for much more than just storing or hauling drone and camera equipment.
The drone is also well-built with 900D polyester nylon material that is also effective at keeping out water. Besides the material, the backpack has a double waterproof finish. Other things like the multilayer foram inner padding, hidden zipper that provides extra security, and the comfortable handle that absorbs sweat make this an even better backpack.
Features
Large capacity
Multifunction backpack
900D polyester nylon
Double waterproof
Hidden zipper design
7-layer PE foam inner padding
Sweat-absorbent handle
Pros
Suitable for various functions
Holds more gear
Heavy-duty material
Waterproof design
Secure hidden zippers
Comfortable carry handle
Cons
7. Endurax ShellX P01 Extra Large Backpack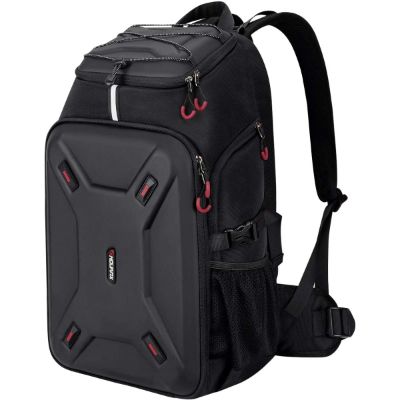 Buy now from Amazon
This drone backpack's large capacity is perhaps what will impress most potential buyers as it means you get to carry lots of stuff. Also, the backpack offers many years of service and ensures your gear is safe as it has a hard out shell that can take a lot of abuse. For the interior, there is adequate padding and soft material that is more gentle on your stuff.
There are lots of storage spaces in the interior as this backpack includes several small and medium-size pockets. Better still, some excellent dividers make it easy to organize your things. Additionally, there is a multifunction side pocket you can use for various things. And when you buy it, you get a waterproof rain cover.
Features
Extra-large capacity
Rugged outer shell
Lots of small pockets
Thick, protective padding
Accessory organization pad
Multifunctional side pocket
Pros
Rugged hard protection
Easy to organize
Contains numerous pockets
Thick and protective interior padding
Comfortable straps
Comes with a cover
Cons
8. Lowepro LP37099 Drone backpack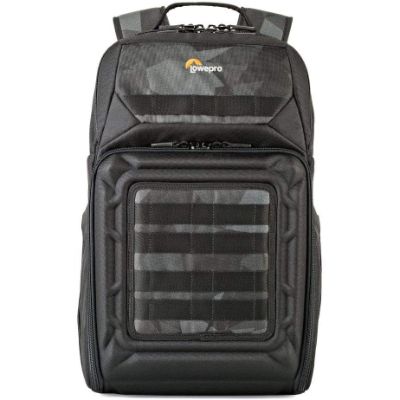 Buy now from Amazon
Lowepro LP37099 is a specialized backpack meant for drones, and so you can be sure it will be convenient when it comes to packing up your drone for storage or transport. The bag has a highly durable construction with lightweight targeted protection and a compression-molded shell that makes it rugged enough to withstand a lot of abuse.
There is a removable organization panel on this backpack and a flexible divider to make it easy to organize the bag's interior. Better yet, there is cradle fit pockets that can hold laptops up to 15 inches and 10-inch tablets. Additionally, the users also love that besides the straps, this backpack also has a sturdy top handle for more carrying options.
Features
Flexible dividers
Targeted lightweight protection
Removable organization panel
Cradle Fit pocket
Compression-molded form shell
Pros
Tough and durable shell
Easy to organize interior
Secure and removable panel
Includes pocket for laptops
Lightweight and compact
Dedicated phone pocket
Cons
9. MOSISO Camera Backpack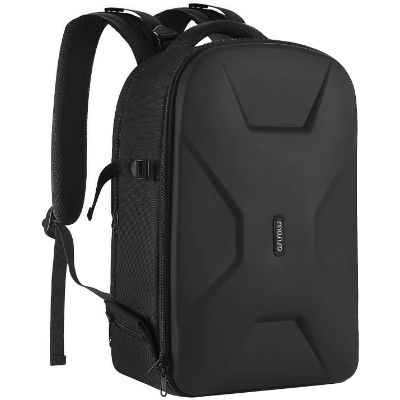 Buy now from Amazon
While the protective hardshell that also makes this backpack waterproof is one of the main things that make it a unique product, there is still more to it. Some of its best traits include the padded foam layer inside that helps protect your drone and other things and a high elastic back cushion that minimizes back pain.
This backpack's full open design makes it easy to access your stuff and makes packing up easy as you get better access to the backpack. A highly durable handle makes carrying more effortless, and a clip strap to ensure you can hang things like sunglasses or towels.
Features
Waterproof hardshell protection
Foam padded layer
High elastic back cushion
Full open design
Durable handle
Clip strap
Pros
Comfortable and sturdy handle
Tough and weatherproof shell
Adequately padded interior
Designed to ease back pain
Easy to access
A dedicated spot for hanging sunglasses
Cons
A little hectic to clean
Sides could have been harder
10. PGYTECH OneMo Backpack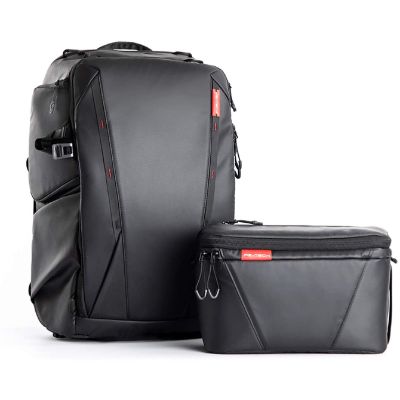 Buy now from Amazon
With these 2-in-1 bags, you get greater versatility since they can hold a wide variety of things and have a large capacity. Combined, they provide a capacity of up to 35 liters, which is the highest on our review. Also, they are well-built with heavy-duty material for both the frame and interior.
There are also multiple fol dividers on this backpack to make it easier to organize the gears. Additionally, it has a more secure antitheft pocket that you can use for your valuables and some waterproof zippers that ensure the elements do not damage your stuff. And there is also a handy built-in rain cover.
Features
25-liter capacity
2-in-1 backpack
Multi-fold dividers
Secure antitheft pocket
Built-in rain cover
Waterproof zippers
Pros
Super high capacity bags
Versatile with two different bags
Easy interior organization
Smooth and waterproof zippers
Nice rain cover
More secure pockets
Cons
Waist straps are not very good
Sheds some color when new
Conclusion
A good backpack provides one of the best ways to carry and store your drone. Besides being easy and comfortable to carry, backpacks also offer more storage space and security.
If you are on the lookout for one, the USA Gear Backpack Case is our best overall model and top recommendation, while the USA Gear Drone Mini Backpack Case is what we recommend for those looking to spend the least amount of cash.