If you have a drone, you need to make sure you also have a safe and convenient way of storing and carrying it. This is where having a suitable carry case comes in. Carry cases are also vital for protection given that drones can be quite delicate, and if not correctly stored, you can end damaging them, which is a huge loss given some can cost thousands of dollars.
While many drones come with a carrying case for storage and transportation, some do not. Therefore, you need an aftermarket one. Additionally, the factor case is often substandard as it is an add on product. Because there are countless drone carrying case options out there, we help make it easier to choose one with some comprehensive reviews.
List of The Best Drone Carrying Case in 2021
1. Smatree Carrying Case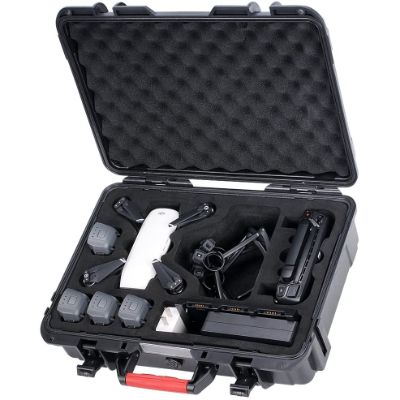 Buy now from Amazon
At the top of our list is the fantastic Smartree case with a lot to offer, starting with a more durable construction that uses ABS material to take a lot of abuse. Additionally, the drone has an anti-scratch surface to ensure it maintains a pleasant appearance longer. Also, the case is completely waterproof for use in any weather.
Other fantastic elements of this drone carrying case include the built-in carry handle that makes it easy to carry around. Better still, it has a custom cut foram for the interior to ensure you have an easy time organizing the drone and all its accessories. Overall, this is also a more compact model that can fit a regular backpack.
Features
High-density ABS material
Completely waterproof
Scratch-resistant finish
Built-in carry handle
Custom cut foam
Pros
Rugged and durable exterior
Does not scratch easily
Easy to organize
More compact design
Protects from moisture and water
Easy to carry around
Cons
Inserts are not glued in place
There is a little bowing
2. Smatree DJI Tello Drone Carry Case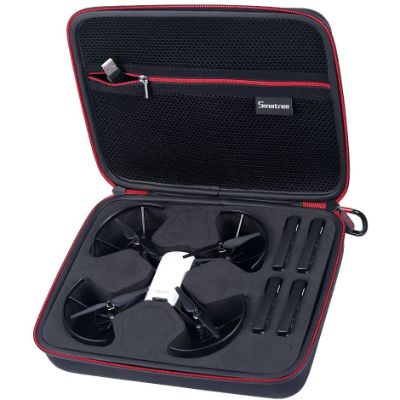 Buy now from Amazon
For those that have a smaller drone model like DJI Tello and are looking for something more affordable, this case by Smatree should be a perfect choice. Besides being affordable, the case also makes it easy to organize all the drone accessories as it has some cutom-cut inserts with dedicated space for all drone components.
This is also an easy drone to carry around as besides being more compact and lightweight, it comes with a comfortable hand strap. Additionally, it is made to last a long time with a high-density EVA material. For those that also like carrying a few extra accessories, there is also a spacious pouch inside.
Features
Custom cut inserts
Budget-friendly
Hand strap
High-density EVA Material
Extra accessories storage pouch
Pros
Relatively more affordable
Easy to organize
Comfortable hand strap
Durable high-density material
Lightweight and easy to carry
Cons
Limited drone compatibility
A little too small
3. D DACCKIT Carrying Case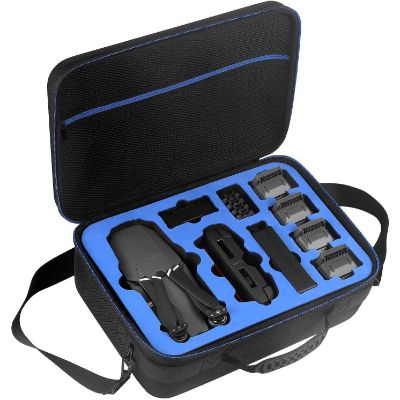 Buy now from Amazon
With a simple but spacious carry case like this one, you can transport or store almost any foldable drone out there, provided it is not oversize, making this a fantastic multifunction model. Another element that makes it great is that it offers multiple carrying options by including both a unique handle and an adjustable carrying strap.
Overall, this drone is also well-built with a heavy-duty housing material that can take a lot of abuse. What's more, the interiors is easy to organize as the compartments are perfectly cut out. You can also carry up to 5 batteries and all the drone accessories, including the charger and remote control.
Features
Zippered mesh pocket
Unique carry handle
Heavy-duty housing
Holds up to 5 batteries
Detachable and adjustable Shoulder Strap
Pros
Large capacity storage space
Works for various drone models
Well organized interior
Multiple carry options
Multifunctional design
Cons
Not a very deep case
Limited color choices
4. Anbee Tello Portable Carrying Case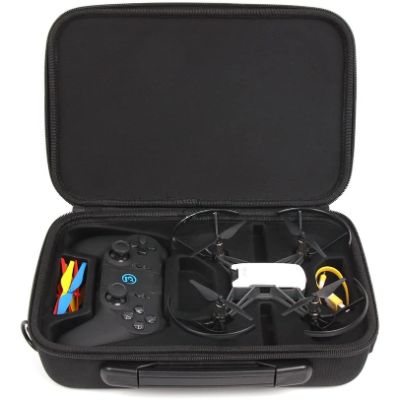 Buy now from Amazon
Whether it is the custom heaver interior that makes it easy to organize all your drone stuff or the heavy-duty nylon material that makes this quite a sturdy drone carry case, you can be sure there is something you will love. Additionally, you can use the case with confidence in any weather as it is entirely waterproof.
Carrying this drone around should not give you any issues as it is compact enough to fit on your backpack and lightweight for anyone to carry, even with a drone and accessories. Also, there is a comfortable carry handle and adjustable strap to make carrying even more effortless.
Features
Custom EVA interior
Adjustable shoulder strap
Carry handle
Compact and lightweight
Sturdy nylon material
Pros
Well-built with a durable material
Interior allows for easy organization
Easy to carry with handle or strap
More compact design
Completely waterproof
Cons
Batteries rattle a little in their compartment
5. HUL Aluminium Carrying Case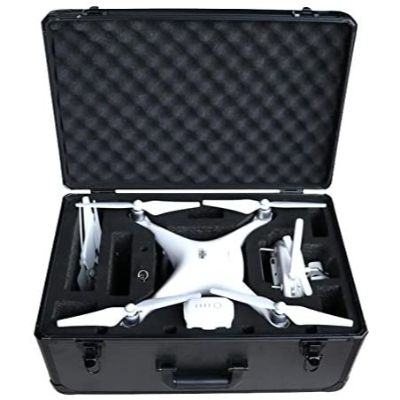 Buy now from Amazon
If you want to be sure you will not have to buy another drone carrying case for many years to come, this heavy-duty model will be a fantastic choice. It is a rigid unit made from high-quality aluminum material that can take a lot of abuse for many years. Also, the material will not scratch easily to ensure the drone maintains a pleasant look.
Besides the durable frame, the interior is equally durable with ABS plastic panels that are pre-cut to fit a wide variety of compartments for easy organizations. Other things that make this a nice carry case include the comfortable carry handle that perfectly fits most adult hands and the sleek overall finish.
Features
Aluminum frame
ABS plastic panels
Pre-cut compartments
Sturdy carry handle
Scratch-free-surface
Pros
Tough and durable
Easy interior organization
Wide drone compatibility
Comfortable and easy to carry around
Cons
Some compartments are a little narrow
Not entirely waterproof
6. MC-Cases Professional Carrying Case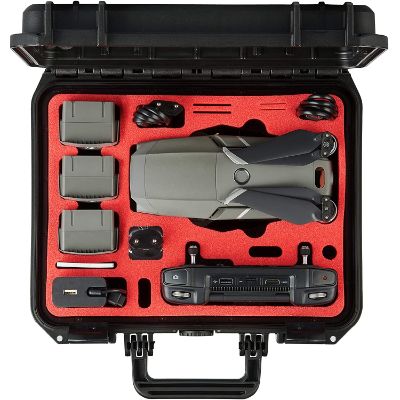 Buy now from Amazon
If you think that you will need to carry your drone in inclement weather a lot, this carry case by MC-Cases is an unbeatable choice. What makes it such a fantastic buy is that it is completely waterproof with an IP67 rating to ensure you never have to worry about water ruining your expensive gadgets.
Besides keeping the elements outr, this car can take a lot of abuse as it has rugged housing that is hard to damage even with rough handling. The interior includes a custom foam to ensure you have an easy time with the organization. Overall this is also a compact and easy to carry case with a sturdy but flexible handle.
Features
IP67 waterproof rating
Weighs 2.6 lbs
Sturdy carry handle
Custom-foam interior
Compact design
Pros
More rugged frame
Completely waterproof
Comfortable carry handle
Lightweight enough design
Easy to organize
Cons
Limited drone compatibility
No carry strap
7. Mavic Mini 2 Hard Case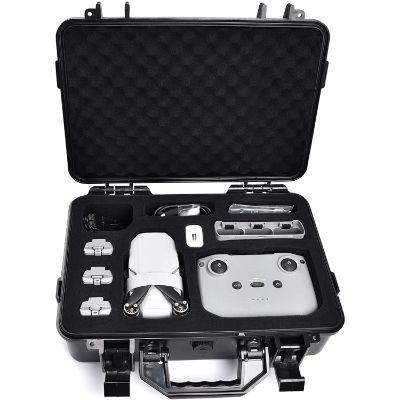 Buy now from Amazon
Mavic Mini drones are some of the most popular in the market, and if you have one of these fantastic drones, this case is for you as it is specially dsigned for them. It has a custom design that ensures it holds everything you need to use your Mavic Mini, including the batteries and charging cables.
The high-capacity storage drone is also well-built with a hard casing that is also completely waterproof to ensure you can carry your drone with ease even in bad weather. Better still, the surface can withstand the occasional impact and abrasion. But, despite the outer section being tough, the interior has soft fiber to ensure it is gentle in your drone. Also, this case has some secure latches and a comfortable carry handle.
Features
Waterproof hard case
High capacity storage
Abrasion and impact-proof shell
Soft inside fibers
Secure latches
Pros
Hard and protective housing
Effective at keeping water out
Takes a lot of abuse
Gentle on the drone components
More secure locks
Nice carry handle
Cons
The strong chemical smell when new
Only ideal for Mavic mini drones
8. L3 Tech Hard Storage Case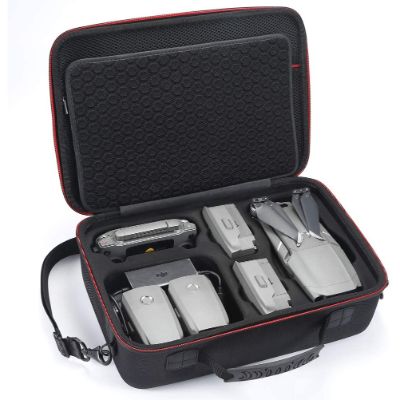 Buy now from Amazon
This case's custom design is meant to ensure you have an easy time storing or carrying your DJI Mavic 2 drone. However, it can also fit a few other drone models with similar or close dimensions and accessories. It is also a durable drone made with heavy-duty EVA material to ensure you get many years of service.
For storage, you have a well-organized interior with excellent dividers that make it easy to organize everything you need to carry. Additionally, extra storage spaces such as a zippered mesh pocket ensure you can use the case to carry much more than your drone and its accessories. What's more, you can be sure that all your components are safe as the surface does not scratch them.
Features
Custom design
High-density EVA material
Zippered mesh pocket
Carry strap and handle included
Protective middle divider
Pros
Super easy to carry
Well-organized interior
Mesh pocket provides extra storage
Heavy-duty and durable material
Does not scratch or damage components
Cons
Pre-moded inserts are not as good as foam ones
The strap could be better quality
9. Hermitshell Travel Case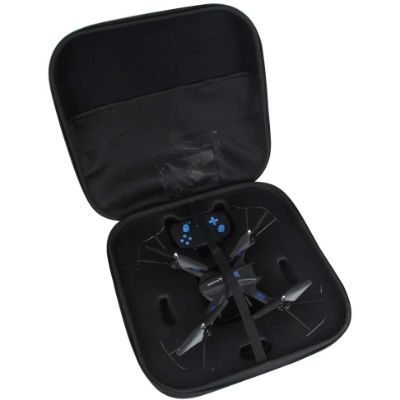 Buy now from Amazon
With this small and compact Hermitshell case you should have an easy time carrying your SNAPTAIN S5C drone, but it should also fit a few other models with similar dimensions. The case is made for long service life with a durable EVA foam and a soft foam interior that keeps your drone remote safe and scratch-free when in transit.
There is also a drone tie-down strap inside that ensures the drone stays in place when transporting it with no ratting or moving around, resulting in damages. Besides the drone and remote control compartments, there is also a spacious mesh pocket with a zipper on the inside that you can use to carry other essentials.
Features
EVA frame material
Drone tie down strap
Extra mesh pocket
Compact and lightweight
Soft foam inside the material
Pros
Highly durable design
Keeps drone securely tied down
Soft interior does not scratch drone
Nice mesh pocket for extra storage
Easy t carry around
Cons
Does not hold a lot of accessories
No carry strap
10. Djipart Mavic Mini Carrying Case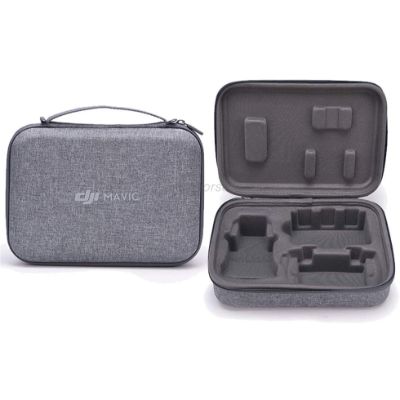 Buy now from Amazon
With a mini handheld case like this one, you have the perfect storage for your nano and mini drones. Despite being small, this case still holds all your drone essentials, including the battery, remote, and charger. Better yet, it is quite durable as it has precision molding from covered with a soft fabric for a sleek look.
The interior has various compartments to make sure you have an easy time organizing yor stuff. Better still, there are solid blocks on the lid to ensure the components will not rattle when in transport or storage. Additionally, the case has a sturdy carry handle to ensure you have an easy time holding it.
Features
Precision molding frame
Handheld design
Sturdy carry handle
Fabric-covered frame
Lid blocks including
Pros
Holds all drone essentials
Easy to handle and carry
Durable housing
Well-partitioned interior
Sleek-looking with fabric cover
Effective at preventing rattling
Cons
Conclusion
For any drone enthusiast, a carrying case is an essential item that you must have to ensure you have an easy time storing or carrying your small planes. And if you are looking for a good one, there is something for you above.
However, to make the pick even more effortless for you, the Smatree Carrying Case is our top overall recommendation. Simultaneously, the Smatree DJI Tello Drone Carry Case should serve you well if you prefer something more affordable.