There is no better way to explore the underwater world than with an underwater drone. You can take some fantastic images and record high-quality videos of the underwater wor with a good one. Additionally, these drones can be handy when it comes to fish finding, making fishing more straightforward and successful.
When it comes to underwater drones, there are plenty of good options out there. You do not have to spend a lot of time comparing different models as here we do the hard work for you. Below we present a list of some of the top underwater drones currently out there to help you find the perfect model.
List of The Best Underwater Drones in 2021
1. PowerVision PRW10 Underwater Drone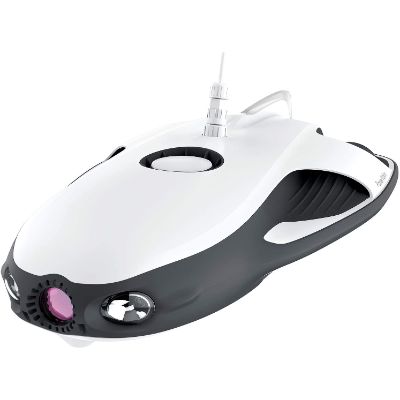 Buy now from Amazon
PowerVision PRW10 makes the top of our list as our best overall product as t offers a high-quality camera that allows you to take some fantastic underwater images and videos. It uses WiFi for live transmission of the photos to distances up to 260 feet and has a long 250-foot tether.
For those that plan to use it for fish finding, you will be happy to know that it has a casting range of up to 00 meters, which is quite impressive for its price. Other things like the 64GB memory card that provides lots of storage space, VR goggles, and wheeled carry case make this an even better buy.
Features
4K UHD camera
250-foot long tether
Dives up to 98 feet
100-meter casting range
Wheeled carry case
VR goggles included
64GB memory card
Pros
Comes as a complete package
High-quality camera
Deeper dive and casting range
Nice carry case for easy storage
Large internal storage capacity
Cable-free design
Real-time image and video transmission
Cons
Setup requires you to create an account
A little complicated for beginners
2. Chasing Dory 1080p Full HDUnderwater Drone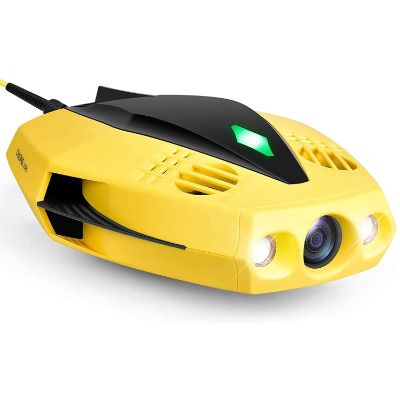 Buy now from Amazon
This model is perfect for those that prefer something more portable they can easily carry to different fishing or water sports locations. It comes in a palm-size and with a nice carry case to ensure you have an easy time transporting it. The drone offers a more stable WiFi connection and allows for real-time transmission of the videos and images.
The videos you get are also top-notch quality as the drone has a 1080P camera. Additionally, the drone has a high-quality battery that can last up to 1 hour, ensuring you have more than enough time to enjoy the underwater scenery. Users will also love that it has dual control capability with app remote control capability.
Features
1080p full HD camera
Real-time viewing
App remote control
Carry case included
WiFi bouy
4,800 mAh battery
Pros
Decent battery life
Allows you to see images and video in real-time
Easy to operate remotely
Nice carry case
Stable WiFi connectivity
Quick and easy social media sharing
Can be controlled with two devices
Cons
On-screen control is not the best
3. PowerVision PowerDolphin Wizard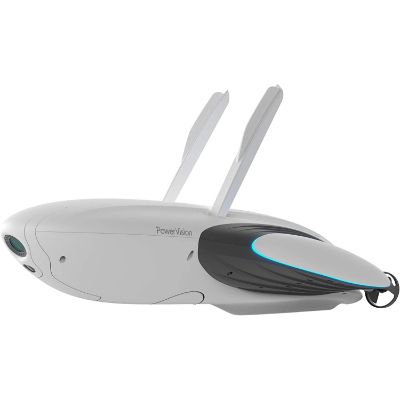 Buy now from Amazon
Everything about this underwater dorn is just perfect, and it is the kind that will work well for almost anyone regardless of their preferences. To start with, it has a top-quality 4K UHD camera that provides some fantastic quality images and videos. When it comes to the operation, it has a remote control for effortless wireless control.
The camera on the drone is 220-degree rotatable to allow you to capture images from various angles. What's more, it has mobile fish-finding capabilities and a waypoint mapping function to enable you to map out your favorite fishing spots quickly. When it comes to navigating it underwater, the self-righting flips and one-button home return are very handy.
Features
4K UHD camera
Remote controller
Mobile fish finding capability
220-degree rotatable camera
One-button home function
Waypoint mapping function
Self-righting flips
Pros
High-quality camera
Very ideal for finding fish
Perfect for mapping fishing spots
Returns home easily
Easy remote operation
The camera is rotatable fro different view angles
Cons
Camer has to be tilted manually
No sensors for detecting obstacles
4. CellBee Underwater Sea Scooter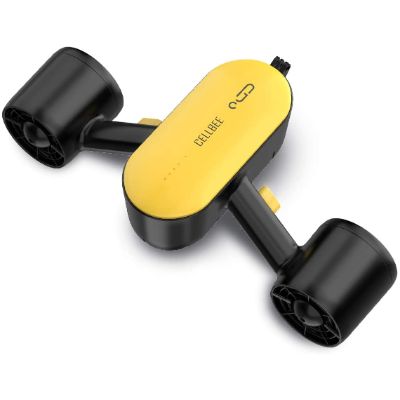 Buy now from Amazon
A scooter like this one is perfect when you want to enjoy water sports and ideal for kids. When kids are using it, you still have full control as it includes remote parent control mode to help keep your little one safe. The built-in GoPro camera is also an excellent addition as it allows users to take some fantastic underwater videos and photos.
Controlling this underwater is easy as you can use the app to do it wirelessly straight from your phone. What's more, it has a more powerful 360-watt motor that delivers a speed of up to 4 miles per hour. It can go down to 100 feet for the diving depth, and other things like the ultra-compact design make this an even more fantastic drone.
Features
45-minute run time
Smart app control
Remote parental mode
100-foot max depth
360-watt motor
4MPH top speed
Pros
Ultra-compact design
Decent running time
Easy and precise remote control
Dives deeper than most others
More powerful motor
Equipped with a high-quality camera
Cons
A little slower than expected
The charging area is not entirely rustproof
5. Gladius Mini Underwater Drone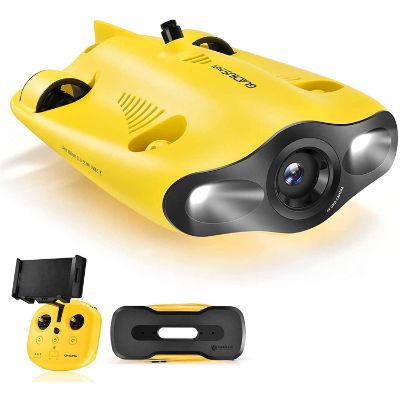 Buy now from Amazon
The real-time viewing and streaming are perhaps what many users will love most about this drone as it ensures you see everything underwater with no wait time. Also, it has a high-quality 4K UHD camera that provides a 1080P quality camera and some superior quality photos. And you can be sure of an easy time when controlling this drone as it is remote app controllable.
Additionally, the drone has a 330-feet dive depth, which is among the deepest on our list, making it very ideal for finding fish in deeper fishing spots. It also has a smooth underwater flight with adjustable tilt function and decent speeds as it can move at speeds of up to 4 knots, which is quite impressive.
Features
Real-time viewing
4K UHD camera
App remote control
330-feet dive depth
Adjustable tilt-lock
Up to 4 knots top speed
Pros
Allows for real-time viewing
High-quality camera
Easy control via the app
Controlled remotely
Deep diving depth
High-speed drone
Heavy-duty and thick plastic housing
Cons
Comes with a learning curve
6. GENEINNO Professional Underwater Drone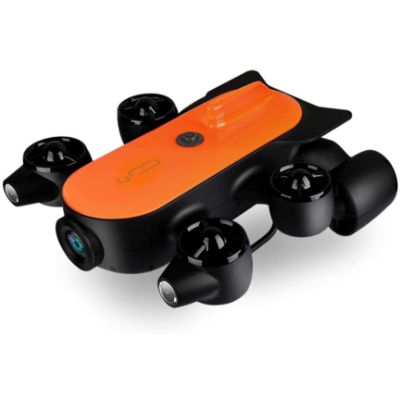 Buy now from Amazon
Suppose you are a professional looking for an underwater drone that guarantees to give you exceptional service. In that case, this model is unbeatable. To start with, it has a 4K UHD action camera that delivers some premium quality images and videos. What's more, the drone provides real-time transmission of the content to ensure you never miss anything and it has 64GB of internal storage.
This professional-grade underwater drone has one of the deepest diving ranges on our kist as it can dive up to an impressive 150 meters. Also, the drone has a top-quality battery that provides continuous service for up to 4 hours. Better still, it has a smart hovering function and a 160-degree wide-angle lens for capturing large areas.
Features
4K UHD action camera
150-meter dive depth
160-degree wide-angle lens
4-hour running time
Smart hovering function
64GB storage
Pros
Premium-quality design and features
Detects and records fish automatically
Superior depth dive
Good quality camera
Long-running time
Larger internal storage memory
Cons
7. Trident Underwater Drone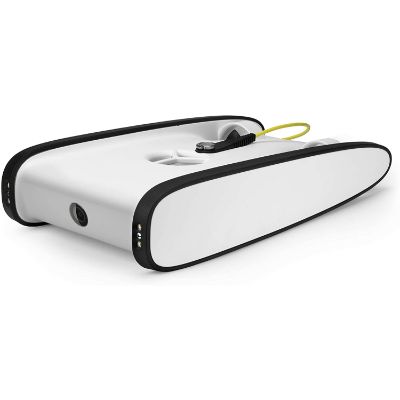 Buy now from Amazon
This Trident underwater drone is also made for more professional use as it has a super tough construction to ensure it withstands more abuse. Also, the lens is heavy-duty and scratchproof to longer service life. The camera records in 1080P to ensure you always end up with the best quality images and videos.
Overall, this is a small and light drone designed for portability so that you can carry and deploy it almost anywhere. It is easier to control via app, and because it has WiFi connectivity, it allows for wireless operation. Other things like the brushless motor that provides enough power and are highly durable, make this an even better drone.
Features
100-meter dive depth
1080P HD camera
Light and small
WiFi connectivity
Ultra-thin tether
Custom brushless motor
Hardened sapphire lens
Pros
Super tough construction
Lightweight and highly portable
More stable wireless connection
Easy to pilot
Powerful and durable motor
Tough, scratchproof lens
Cons
Not very good dor use with iOS devices
Requires lengthy updates before use
8. Youcan Robot Underwater Drone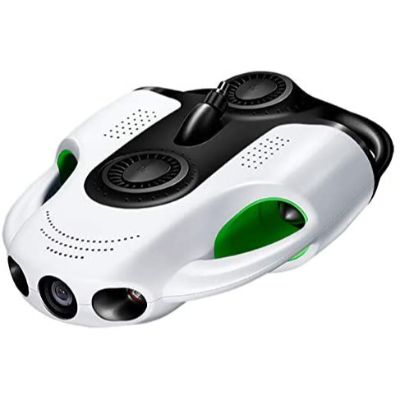 Buy now from Amazon
Youcan Robot Underwater drone is another option you can be sure will never disappoint you as it has everything you need. Essential among its top traits is the 4K video capture that provides high-quality 1080P videos and 12MP camera that captures fantastic photos in real-time. Additionally, the drone can dive up to 100 meters.
With this drone, you get a high-capacity battery that provides up to 7 hours of continuous use and a 130-degree wide-angle lens to ensure you capture more expansive areas. You never have to worry about storing your content as there is 64 GB of internal storage space that should be more than enough for most users.
Features
4K video capture
100-meter max dive depth
7-hour battery life
130-degree wide-angle lens
12MP photo shooting
64GB storage capacity
Pros
Super long battery life
Deep enough dive depth
Comfortable design
Easy to carry around
High-quality video capture
Enhanced image stabilization
Cons
9. Aquarobotman Nemo Underwater Drone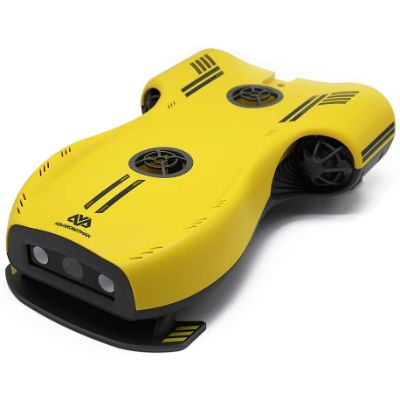 Buy now from Amazon
The pleasant LED fill lights are among the most impressive elements of this underwater drone as they create a nice underwater show and enhance visibility. The drone also has a top-quality camera that provides some fantastic videos and photos. Besides just taking pictures, this drone is ideal for finding fish as it has a fishfinder.
With this drone, you get a 6.6 ft/second diving speed to ensure it dives fast and safely without having to waste a lot of time. Additionally, it can go up to 328 feet deep, which is quite impressive for its size and price, Because the battery is detachable, it should be easier to recharge and change if you ever need a new one.
Features
LED fill lights
4K UHD Camera
Fishfinder
6.6ft/s diving speed
328-foot long tether cable
Detachable battery design
Pros
Convent battery with a decent life
Nice LED lights
High-quality camera
Handy fishfinder capability
Long tether cable
Fast and safe diving
Bright color for easy spotting
Cons
Longer battery recharge time
No sensors to prevent bumps
10. Aquarobotman Underwater Sea Scooter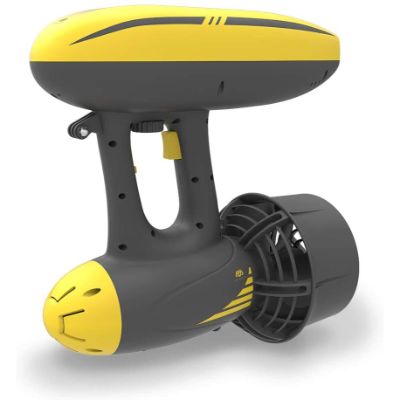 Buy now from Amazon
If you are looking for a drone that you can use for water sports and adventure, this model will be [erfect and the good news is that it is ideal for both kids and adults. The drone has a 164-foot diving depth that is quite decent for its size and price. Also, the drone provides a decent speed of up to4 miles per hour.
Although it does not come with a camera, it has 3 camera mount spots to ensure you can mount the cameras anywhere. It has a dive speed of 1.8 meters per second to ensure you can have it under water within no time when it comes to diving. Additionally, the drone has an eco-friendly design to ensure it never disturbs the water.
Features
164-foot diving depth
4 MPH top speed
3 camera mounts
1.8m/s dive speed
Eco-friendly design
Pros
Indicates remaining battery capacity
Faster diving speed
Multiple camera mounts
Decent dive depth
High-speed drone
Cons
No built-in camera
Shorter battery life
Conclusion
An underwater drone provides an easy but effective way of viewing what is underwater, making it very ideal for water sports and fishing. If you are on the market for a good one, this piece provides good recommendations, and so you only need to choose one from the list.
For those who prefer to go straight to the choice, the PowerVision PRW10 Underwater Drone is our best overall and top recommendation. The Chasing Dory 1080p Full HDUnderwater Drone, on the other hand, is what we recommend for those looking for a portable model.